From Spring 2009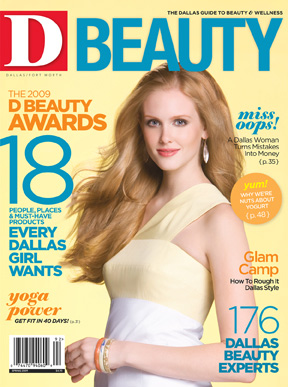 By the time you read this, spring will have sprung and resolutions will have been broken. But as I sit here and type, change is still top of mind. Personally, I have vowed to drink more water and do more cardio. (Keep your fingers crossed for me.) But the more exciting change is happening within the pages of D Beauty.
For one, the magazine has a new look, thanks to art director Jamie Laubhan-Oliver. We love it because it's bolder and more stylish—changes that we hope better reflect our personalities as well as yours. Or, at the very least, we hope it inspires you to be bold and stylish. Because, ladies, you deserve it.
Perhaps what better represents this celebration of change is the article you'll find on p. 50 called "Wonder Women." As you might suspect, in this line of work, we meet a lot of people. And one common theme has emerged, especially among the women we've interviewed: life is short, so you'd better do what you love. The four women we profiled chucked unfulfilling corporate jobs to follow a dream. Or, stated less cliché, they simply decided that they wanted to wake up and love going to work every day, whether that's teaching yoga, running a community coffee shop, or peddling funky and fun wares out of an old house.
Creating this magazine has inspired us. We hope that reading it inspires you.
Get our weekly recap
Brings new meaning to the phrase Sunday Funday. No spam, ever.