From Spring 2009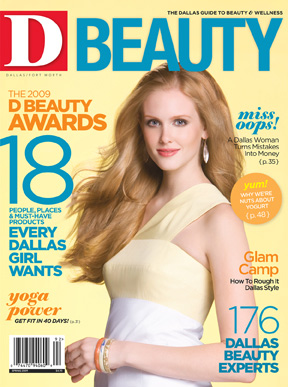 Forty days.
Does that seem like a lot to you? It did to me. I'd never done 40 days of anything before. Okay, maybe I've done some fad diet for that long, and I've probably checked Facebook each day for that length of time. But I decided to participate in the 40 Days to Personal Revolution program at YogaSport after an age-old problem arose.
My jeans were too tight.
No matter how much I heaved, hoed, squirmed, or shimmied, that button just wouldn't fit through that hole. Would. Not. Do. It. As I pulled on a dress (plenty of extra room there), reality sunk in. Drastic measures needed to be taken. And practicing yoga for 40 days straight seemed like a good way to get my butt in gear.
I had no idea just how challenging it would be.
At this point, I had been practicing yoga for about a year. I had grown tired of pounding the treadmill and getting no results, and all the fittest people I know practice yoga. It wasn't long before I was hooked. The type of yoga I practice is called Baptiste Power Vinyasa Yoga, and it's based on the teachings of Baron Baptiste, an internationally renowned yogi. Basically it's a mix of Power and Vinyasa, a more cardiovascular type of yoga in a heated room (88 to 90 degrees), with sun salutations, balancing poses, and more. I loved it, but I was happy going to YogaSport two or three times a week and calling it good.
That was until the jeans got tight.
So I signed up for 40 days of yoga. But I had concerns, to say the least. Could my body handle yoga every day for 40 days? Would my friends leave me behind when I could no longer attend happy hour? How would my new boyfriend like this new, more scheduled Sarah? I wasn't so sure.
DAY 1
YogaSport owner Angela Barrese, a tiny, adorable blonde, leads our group of about 25 people through introductions and an overview of the program. Here are the guidelines: we are to practice yoga six days a week. We are to work on a "balanced diet," including a three-day fruit fast. We are to journal and read 40 Days to Personal Revolution by Baron Baptiste. We have to meditate. And we have to promise to support others during the process. Okay. At least I get one day off. I love yoga! I can do this. No problem.
DAY 7
I'm a yoga machine. I've got this thing down. I'm journaling and writing down what I eat. I'm even trying to meditate. I'm tired, but I feel good. I recognize other 40 Day'ers in my classes and mentally high-five them. Those people who come only twice a week, like I used to? Wimps. I don't like scales, so I didn't weigh myself before starting, but I can tell I'm slimming down already. Watch out, jeans!
DAY 10
ll of my friends are going to the Old Monk. I pout as I head the other direction. After yoga, I call my friend. "You didn't miss anything," she says. "It was actually kind of boring." This makes me happy.
DAY 15
Hello, wall. The third week is hitting me hard. I struggle through a 6 am practice because I'm so nauseated I can barely down-dog. I've also been feeling bored with the yoga. Instead of concentrating on my breathing, I can only think, "Man, how many more sun salutations until I can get out of here?" I e-mail Angela and the group with my concerns. "Fight fatigue with B12!" says one yogi. "Focus on your alignment, instead of the pose," another suggests. A third friend recommends more home practice, and I decide to try that. It works. Changing my routine for just one day made the blahs disappear.
DAY 18
I just did a backbend at a party. Is that crossing the line?
DAY 20
Meditation is hard. At this stage of the program, I'm supposed to be doing 15 minutes in the morning and at night. It isn't happening. As soon as I plop down on my "meditation pillow" (a cushion from my couch), my brain goes to errands, breakfast menus, and the like. I decide to try for just five minutes in the morning and night, and that's much more manageable. "Be still," I say to myself as I breathe in and out. I think it's actually making me calmer. Huh.
DAY 25
I almost did a handstand tonight. I was closer than I've ever been.
DAY 28
It's time for the fruit fast. I'm scared. Will I pass out? Will I be starving all day long? I can eat any fruit I want, but that's it. No vegetables. No spices, oils, or seasonings of any kind. No caffeine. For three days. The BF said he would do the first day of the fast with me, so we go to Central Market and load up on apples, pineapple, avocados, tomatoes, cantaloupe, and bananas. Day one is easy. We make smoothies for breakfast, avocado and tomato salad for lunch, and baked spaghetti squash for dinner. Everything is going fine, until about 8 pm, when the BF declares his fast "over." Somehow, I manage to not strangle him as he devours two slices of pizza right in front of me. Days two and three are hard—especially because I'm skipping coffee and trying to drink green tea, ew—but when I go to yoga, I actually feel really light and energetic. I feel so good, in fact, that I fast for an extra day. The key? Avocados. I can't get enough.
DAY 32
I want to slack off. I have to repeat, "I am not a quitter." Only seven more days. I can do it.
DAY 40
It's over. I can't believe it. I feel like I'm in my best shape, physically and emotionally, in years. And guess what? My friends didn't leave me. They were really supportive. My boyfriend actually prefers the "Zen-ed out" version of me better than the carefree one. As for the jeans, they not only buttoned; they're officially too big. Turns out, 40 days isn't too long. It's just the amount of time I needed to pull myself together again.
Get our weekly recap
Brings new meaning to the phrase Sunday Funday. No spam, ever.