From Spring 2009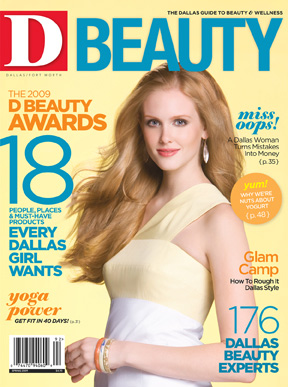 1. It helps boost our immune systems.
According to the National Yogurt Association, thanks to the live and active cultures (LAC) found in yogurt, it may increase our resistance to immune-related diseases such as cancer and infection, particularly gastrointestinal infection. So get yourself a light-size acai berry at OrangeCup (8687 N. Central Expwy., Ste. 2202. 214-890-7710; www.myorangecup.com), which has received the coveted LAC seal from the NYA. And throw on some mixed berries while you're at it. Doctor's orders.
2. We like exotic flavors.
Sure, you can get chocolate at most of these places. But why would you when there's a world of flavors before you: pomegranate, green tea, taro, coconut, and more. We crave the pink guava from Natsumi (2323 N. Henderson Ave., Ste. 105. 214-823-1707; www.natsumiusa.com), made with organic yogurt and milk. Kinda makes vanilla seem so, well, plain.
[inline_image id="1″ align="" crop=""]
3. It's an excellent source of calcium.
We know we have to worry about bone density and osteoporosis and all that, and sometimes the only calcium we get is in our morning latté. Research also suggests that calcium can help keep off weight and improve premenstrual mood. Snap! Off we go to Berry Berry (4145 Belt Line Rd., Ste. 218, Addison. 972-991-6002; www.berryberryyogurt.com) for tart and tasty YoGo topped with granola.
4. We're mad about mochi.
Mochi are those squishy little tapioca balls that taste a bit like marshmallows. While we're still not sure if they make a great topping for fro-yo—you can find them at most of the yogurt shops around town—we like to eat them like, well, candy.
5. We get to BOO (build our own).
Thanks to the self-serve concept, we can mix and match to our tummy's content. California-based I Heart Yogurt (10720 Preston Rd., Ste. 1006; www.ihearty.com) claims to be the first self-serve yogurteria in the country; Yogurtland (2625 Old Denton Rd., Ste. 316, Carrollton. 214-483-3553; www.yogurt-land.com) is another self-serve import. Yogurtville (3220 E. Hebron Pkwy., Ste. 114, Carrollton. 972-862-8000) deserves a nod for its toppings, but of the self-serve shops, Yogilicious (3000 Blackburn St., Ste. 160. 214-521-7888; www.yogi-licious.com) is the yummiest.
[inline_image id="2″ align="r" crop=""]6. It's cheery.
With neon walls, mod seating, bursts of accent color, and good lighting, you can't help but have a smile on your face the second you cross the threshold. Who couldn't use a little happy?
7. It feels naughty.
But it's not—assuming you don't pile on the cookie dough. A light size at OrangeCup runs about 100 calories, and the label on the cup is a handy reminder. The calories range from 112 to 168 for 10 ounces at Berry Berry, and a half-cup at Yogurtville will set you back 100. So when it comes in flavors such as cookies and cream, it's a good way to be oh-so "bad." But if you can't be trusted to control your portions in the self-serve line, then go to a shop where they serve you—or fill your cup with a healthy dose of antioxidant-rich blueberries. Your waistline will thank you.
Get our weekly recap
Brings new meaning to the phrase Sunday Funday. No spam, ever.