From Summer 2008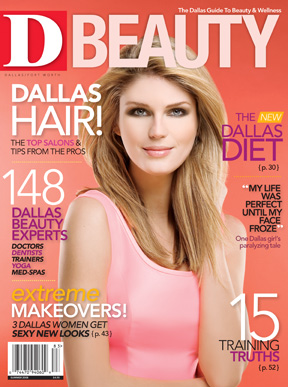 I'm a bad sister. Recently I drove out to my sister's house in Frisco to pick up an old dog crate. I guess I hadn't seen Stephanie with her hair down in a while, because I just blurted out, "Your hair looks awful!" She was understandably taken aback and acted sufficiently wounded by my words. But a sibling should be able to take that sort of criticism, right?
Well, I must have hurt her feelings, because she had been repeating this story about how I had told her she looked terrible. (I may have also mentioned that her eyebrows were a bit too bushy—also said out of love.) However, my sister's misery was my good fortune, because I needed a candidate for a makeover. What girl wouldn't want that? Besides, in addition to getting the editorial I needed, I would also score some points with my mother. And my sister could finally get a new haircut, something she had been postponing for the last six months—which explains her, ahem, less-than-stellar appearance.
I won't give away all the details of my sister's makeover, but I will say that hanging out at Studio One Ten, watching her shed those grown-out layers and learning new makeup tricks, was the most fun we've had together in a long time. She had told me she didn't want her hair "too short," but she gave in to the excitement and embraced real change. She left looking years younger and grinning from ear to ear. Not to mention we have a snazzy new photo to give our grandparents for Christmas.
Now can I say I'm a good sister?
Happy reading,
Jennifer Chininis
Executive Editor
[email protected]
Get our weekly recap
Brings new meaning to the phrase Sunday Funday. No spam, ever.