From Summer 2008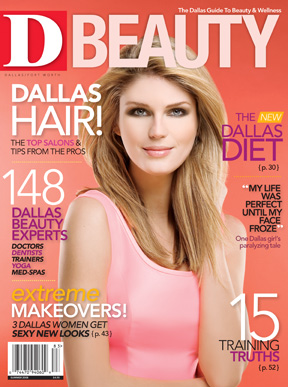 produced by Kristin Hull, photography by Larry Travis, product photography by Maxine Helfman, product styling by Brad Hatton, additional reporting by Kristin Haun, makeup by Linda Sembera/Seaminx Sam Mastropolo/IA Agency and Sara Domi/Kim Dawson Agency
"For dark skin, pick matte foundations in two shades that match skin tones and blend together." —Linda Sembera
(clockwise from top) MAC Pressed Powder in Solar Riche ($20/MAC); MAC Eye Shadow in Submarine ($14/MAC); MAC Pigment in Bell-Bottom Blue ($19.50/MAC); Chanel Écriture de Chanel Automatic Liquid Eyeliner in Noir ($33/Barneys New York); Bobbi Brown Long-Wear Gel Eyeliner in Sapphire Shimmer Ink ($19/Neiman Marcus Downtown); DuWop Cheek Venom in Diamondback ($24/Sephora); Haute Face Cream Lipstick in Kiss N Tell ($20/hauteface.com).
"For summer, mix foundation with a high SPF moisturizer to make it light in texture."
—Sam Mastropolo
(clockwise from top) Dior 5-Colour Eyeshadow in Stylish Move ($54/Sephora); MAC Full Coverage Foundation in NC20 ($27/MAC); MAC Eye Kohl in Fascinating ($14/Macy's); MAC Eye Kohl in Prunella ($14/Macy's); MAC Cream Colour Base in Fabulush ($15/Macy's).
"The way to make a bright color work is to use a neutral with it." —Sara Domi
(clockwise from top) Bobbi Brown Glitter Lip Gloss in Nude ($19/Neiman Marcus Downtown); Dior Diorshow Mascara in Rich Black ($24/Sephora); MAC Sheertone Shimmer Blush in Peach Love ($17.50/Nordstrom); Bed Head Big Fat Fun Eye Liner in black ($16/Toni&Guy, NorthPark Center); Laura Mercier Eye Colour Pot in Solid Gold ($32/Saks Fifth Avenue); MAC Solar Bits in Bronzescape ($19.50/Nordstrom); Youngblood Crushed Mineral Eyeshadow in Peridot ($18/Ultimate Skin); MAC Tendertone Lip Balm SPF 12 in Sweet Tooth ($14.50/Nordstrom).
Get the ItList Newsletter
Be the first to know about Dallas' best events, contests, giveaways, and happenings each month.