From Summer 2008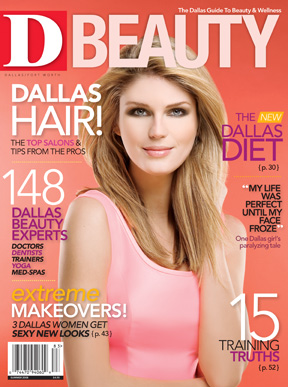 photography by Kevin Hunter Marple
photography courtesy of Stoneleigh Hotel
The historic Stoneleigh Hotel reopened in March, with someone special on the payroll: David Bull, executive chef of the hotel's new restaurant, Bolla. We wanted a taste of Bull's fare at home, so we asked for a recipe: bronzini with micro arugula salad. "The fish is a raw preparation, but the effect of the hot red pepper oil almost cooks the fish," he says. Intimidated? We were, too, so we asked for some tips on buying fish. The bronzini is as good for you as it is delicious. Sometimes the simplest dishes are the most sublime.
Bronzini with Garlic Chips, Arugula, and Red Pepper Oil
Serves: 4 | Total Time: 1 hour | Prep Time: 20 minutes
12 ounces bronzini (or sushi-grade hamachi), uncooked, sliced into 16 thin pieces
32 garlic chips (recipe to follow)
1 cup micro arugula
1 shallot, sliced thin
olive oil, as needed
salt, to taste
1/4 cup red pepper oil (recipe to follow)
In a bowl, toss the arugula and shallots with olive oil. Season with salt, to taste. Place four slices of bronzini along the center of an elongated, rectangular plate. Between each slice, place a small pile of arugula salad (three total). Scatter the garlic chips around the plate and drizzle everything with red pepper oil.
Garlic Chips
Preheat oven to 250°. Slice thin 10 garlic cloves. Lay the garlic slices on a Silpat (silicone baking mat), and bake in the oven eight to 10 minutes, or until crisp and golden.
Red Pepper Oil
In a small sauce pot, heat one cup of extra virgin olive oil, four tablespoons of red pepper flakes, and two tablespoons of minced garlic over medium heat. Strain the red pepper flakes and garlic through a fine mesh sieve and cool.
Chef Bull's Tips for Buying Fish
The fish should look fresh, with clear eyes if whole, and it should feel fresh to the touch, with crisp, clean flesh or skin—certainly not slimy.
The next is smell. Fresh fish will smell like clean water—or the ocean, depending on where it comes from.
Perfectly fresh salmon smells like watermelon! It should never smell like "fish." If it has any odor at all besides clean and crisp, don't buy it.
Get our weekly recap
Brings new meaning to the phrase Sunday Funday. No spam, ever.