From Summer 2008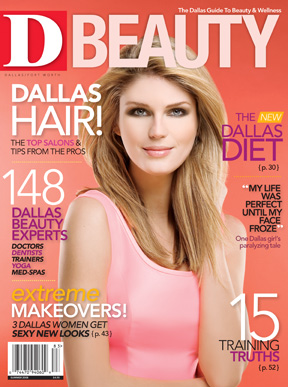 Legendary Dallas blonde Mary Kay Ash always said God came first, family second, and career third. Judging from her perfectly coiffed, perfectly platinum hairdo, hair care ran a close fourth.

And she's not alone. We're hair-obsessed in Dallas. Let the girls in other cities have their fedoras and newsboy caps. In this town, those are troublesome distractions from our blunt bangs, fabulous highlights, and angled bobs. After all, it's not about who you know. It's who does your hair that counts.

And, on that note, we present those who do the best hair in Dallas.

Makeover #1: The Color Correction
Blaine's Color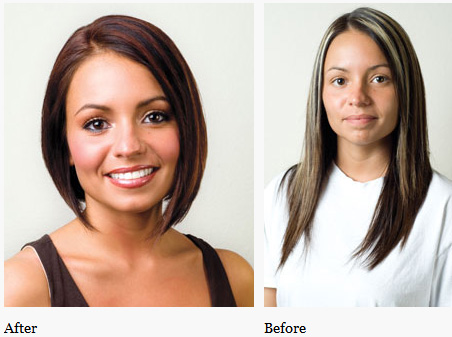 The priority for Giovanna Bauman, 25, was to tone down those big bands of highlights, but Blaine knew he could have some fun with her. "My husband doesn't think I am trendy enough," she said. But, she added, "I like crazy."

Blaine began with a color remover to tone down the bleached bands. Giovanna's new highlights would be red, which are tricky to do on Hispanic hair; Blaine didn't want the highllights to read too orange. He filled in the highlights by putting pigment back into the hair with permanent color, then he toned them with semi-permanent color. For Giovanna's new, edgier bob, Blaine cut it wet, then texturized it while dry. By finishing the cut while dry, he was able to texture the hair to blend all colors for a photo finish.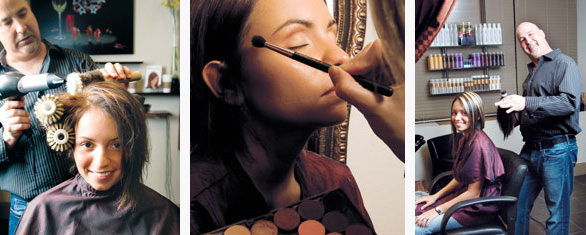 On face:
MAC Studio Moisture Fix SPF 15 ($28); MAC Fast Response eye cream ($28.50); MAC Face and Body foundation ($31); Mineralize SPF 15 loose powder ($29) in a shade darker to contour cheekbones.
On eyes:
MAC Studio Finish SPF 35 concealer ($14.50) under eyes and on eyelid; MAC Paint Pot in Rubenesque ($16.50) on lid up to brow line; MAC eyebrow pencil in Spiked ($14); MAC eye shadow in Shroom ($14) on inside of eye; MAC eye shadow in Saddle ($14) on crease; MAC Solar Bits in Bronzescape ($19.50) on lid; MAC Fluidline in Blacktrack on upper lash line ($15); MAC Eye Kohl in Tarnish ($13.50) on lower lash line; MAC Pro Lash mascara in Coal Black ($11).
On cheeks:
MAC Blushcreme in Posey ($17.50).
On lips:
MAC lip conditioner ($12); MAC lip pencil in Mahogany ($12.50); MAC Viva Glam V lipstick ($14); MAC Dazzleglass lip color in Rags to Riches ($16.50).

All MAC products available at MAC, 403 NorthPark Center. 214-360-0990. www.maccosmetics.com.

Makeover #2: Celebrity Style
Studio One Ten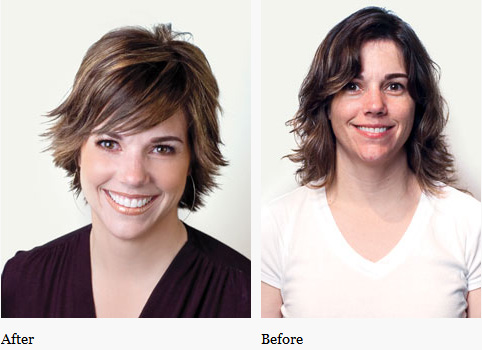 Stephanie Chininis, 38, hadn't gotten a haircut in six months, because she was unhappy with the choppy layers of her last cut and wasn't sure where to go for a change. She mostly just pulled her hair back in a ponytail, and old blond highlights had gotten brassy.

Studio One Ten owners Tori Harris and Betty Payne did the consultation, flipping through a book full of pictures of celebrity hairstyles. They pointed to a photo of Lisa Rinna and said, "We want to do that."

Stylist Alaina Jech did a rough cut before Frankie Martinez applied the color, because Stephanie's new honey highlights needed to accent her new haircut. Frankie painted on the color without foil for a more natural effect. Then Alaina fine-tuned the cut and gave it a final blow-dry for a red-carpet-ready look.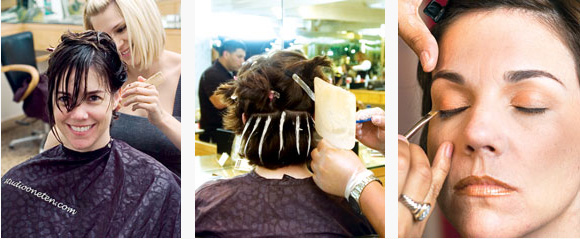 On face: MAC Prep + Prime Skin ($22); MAC Studio Moisture Fix ($28); MAC Studio Fix Fluid SPF 15 ($25) applied with MAC 190 brush ($32); Studio One Ten Sunlight mineral foundation powder ($28); Studio One Ten Canyon bronzer ($30); Studio One Ten Wishful Gold loose bronzer ($30); MAC Fix+ spray ($15) to hydrate and finish makeup. On eyes: Studio One Ten medium-toned concealer ($15) on lid, under shadows (and used to conceal under-eye circles); Studio One Ten Honey pressed eye shadow ($13) in crease; Studio One Ten Coral pressed eye shadow ($13) under crease; Studio One Ten dark brown cream eyeliner ($15) on upper lash line; Studio One Ten Sun Bisque eye pencil ($15) and Studio One Ten chocolate brown shadow ($13) on lower lash line; Studio One Ten Ice pressed eye shadow ($13) under brows; Studio One Ten True Black mascara ($15); Studio One Ten #600 eyelashes ($20). On cheeks: Studio One Ten Honey pressed eye shadow ($13) used as blush and in "v" around cheekbone and under chin. On lips: Studio One Ten Cola lip liner ($13) and Studio One Ten Sun Drop lip gloss ($15).


All MAC products available at MAC, 403 NorthPark Center. 214-360-0990. www.maccosmetics.com. Studio One Ten products available at Studio One Ten, 4514 Travis St., Ste. 110. 214-521-4110.

Makeover #3: Long Locks
The Salon at Eaton Court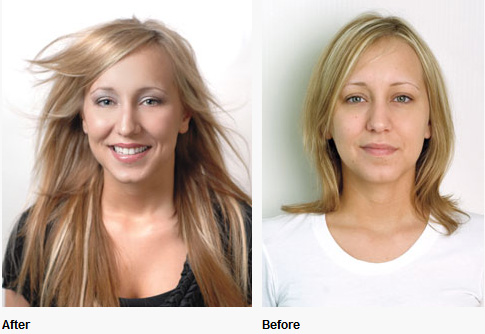 For a new summer style, Jessica Vaughn, 24, went long, choosing 16-inch Great Lengths human hair extensions. She arrived with her hair clean, dry, and product-free, and stylist Misty Budra prepared the light brown and blond bundles of "virgin hair"—so called because the hair has never been salon-treated and is collected from sacred temples in India, where women offer it as a religious sacrifice when they marry—by cutting each section into smaller bunches for a more natural blend.

But this was no easy process. Misty adhered the first extension at 10 am and didn't secure the last bond until 3:24 pm. Then she got to styling, using a dry slide cutting technique because "the layers help with the illusion." Then makeup artist Debbie Weeks added the finishing touches for Jessica's sassy summer look.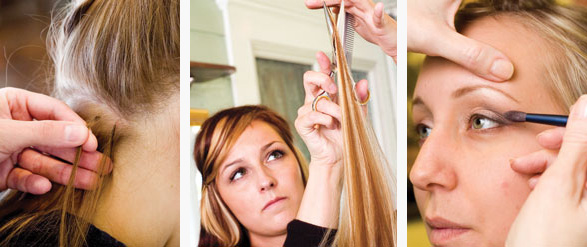 On face: Jane Iredale PomMisst Hydration Spray ($17.50) to prep skin; Jane Iredale PureMatte Finish Powder ($36); Jane Iredale PurePressed Powder Base in Warm Sienna ($48). On eyes: Jane Iredale lid primer in Petal ($18); Jane Iredale Brown Sugar Triple eye shadow ($27); Jane Iredale Active Light under-eye concealer ($25); Jane Iredale Brown/Black Plus eyeliner ($26); Jane Iredale mascara in Black Ice ($32); Jane Iredale Super-Shape Me Eyebrow Kit in Blonde ($62). On cheeks: Jane Iredale In Touch Cream Blush (multi-use color for lips, cheeks, and eyes) in Clarity ($26). On lips: Jane Iredale lip pencil in Nude ($9); Jane Iredale In Touch Cream Blush in Clarity ($26); Jane Iredale PureGloss for Lips in Pink Candy ($19).


Jane Iredale makeup available at the Salon at Eaton Court, 202 S. Austin Dr., Allen. 972-727-2333. www.salonateatoncourt.net.

Hair Dos
Hot Tips From Local Stylists


"Hair accessories are huge!" Use clips, side-combs, and scarves to add oomph to your summer 'do. —Dayton Mast, L'Image Salon and Spa


For a "wet" look by the pool, apply a conditioner such as a deep mask from Phyto. "The effect is cool and confident, and the conditioner is nourishing." —William Carr, WM. CARR Salon


Reds are out, and auburn is chic. "Spice it up and combine some maroon or burgundy accents. Brunettes should have fun with butterscotch or mango highlights … and blondes can go platinum (great for the fringe bob) or dirty for a natural, softer look." —Rose Zuniga, Salon La Coupe


To beat Dallas' summertime heat and humidity, try Moroccan oil for a shiny, smooth texture all day. —Diane Story, Diane & Company Salon & Spa


Tame your mane with a more inspired take on the ponytail. "Try a fishtail braid to show off those summer hair tones." —Clive Lamb, Clive & Co.


Ask your colorist to apply a gloss treatment after your color services. "[It] makes hair shiny and helps preserve and prevent fading." —Glorianna Jonas, Jonas Aveda Color Salon


"Just like our skin, hair can get sun damaged, too." Apply a leave-in product with SPF, such as Kérastase Soleil Voile Protecteur, before heading out in the summer sun. —Darla Koske, Daireds Salon


"Bangs are a definite." —Todd Allen, Orange


HAIR RAISERS
Whether you need a cutting-edge cut, a color lift, or a complete makeover, you'll find the right stylist in one of these top salons.



[NEW LISTING] ANTHONY PAUL SALON & SPA 2110 Eldorado Pkwy., Ste. 103, McKinney (972-562-5181) anthonypaulsalon.com. Hair color is the specialty at this Aveda salon, which is upscale but friendly. Anthony Paul also offers facial, nail, and body treatments.


[NEW LISTING] ARTISTIK EDGE 8420 Abrams Rd., Ste. 208 (214-349-3888) www.artistikedge.com. This Redken-only salon, which offers color, cuts, and facial waxing, just finished a big remodel. Stylists work as a team, and clients feel at home: they can take off their shoes during services if they please.


AVALON SALON & SPA West Village, 3699 McKinney Ave., Ste. 412 (214-969-1901) avalon-salon.com. Multiple locations. Each location has its own flavor, with Aveda products as the common ingredient. The Snider Plaza location is the cozy original; the West Village spa has an Asian flair. Shop LFT or V.O.D. after your appointment at Victory Park. Coming in 2009: The Shops at Legacy in Plano.


[NEW LISTING] BACA SALON 2412 Allen St. (214-219-1212) This Uptown hair-exclusive salon has four stylists, including two who just do color and one specializing in cuts. Service here is more one-on-one than in larger salons, but the place is still trendy and fun.


BELLA RETREAT SPA & SALON 5031 Camp Bowie Blvd., Fort Worth (817-377-2457) www.bellaspaandsalon.com. Bella Retreat might be smaller than other fashionable stops within a mile, but sometimes that's just the ticket. Book a spa night with the girls, which includes deep conditioning treatments, manicures, and massages.


BLAINE'S COLOR 8335 Westchester Dr. (214-378-5150) www.blainescolor.com. Blaine, who trained at the Sassoon Academy, has more than 20 years of experience. He specializes in color and glazing, though he offers precision cuts, too. Check out his product line.


BLOW SALON 2019 Abrams Rd. (214-841-0099) A smaller salon by Dallas standards, this mid-century modern space is hip and open. Owner Warren Augustus has a way with wavy hair in need of taming. A recent expansion means more services: manicures, pedicures, massage, facials, peels, waxing, microdermabrasion, plus an ionic foot bath and detox.


THE BLUE ROOM STUDIO 3023 Routh St. (214-953-1400) www.artmusichair.com. You might see a famous local musician in the chair next to you at this artsy salon, which sells art right off the walls and always has music playing in the background. Color correction specialist Michelle Johnson, a local musician herself, can fix anything. The Blue Room caters to bridal parties and special events, offering massage, facials, and makeup services.


THE BOARDROOM SALON FOR MEN 5550 W. Lovers Ln., Ste. 169 (214-358-7565) www.theboardroomsalon.com. Multiple locations. Imagine lots of dark wood and a reception counter that looks like a high-end hotel bar. That's what The Boardroom is all about—a masculine environment for male clients to enjoy haircuts, massages, facials, hot lather shaves, and waxes.


CLIVE & CO. 5301 Alpha Rd., Ste. 46 (972-934-0500) www.cliveandco.com. Clive & Co. stylists use luxurious products and the latest in coloring and cutting techniques—no curling or flat irons—to create looks that emphasize natural potential. The location is new, as are the Shu Uemura products (sold and used during hair services).


COMPAGNIA DELLA BELLEZZA 18810 Preston Rd. (972-801-2521) www.compagniadellabellezza.com. Claudio and Valentino are the Italian owners of this Kérastase-exclusive salon featuring stylists from around the world who do expert cuts and color. The two men split their time between their Dallas, Rome, and Chicago salons.


CRAZE SALON 4217 Herschel Ave. (214-521-4185) This three-person salon offering cuts and color is down-to-earth yet edgy. It's not your typical high-dollar Dallas salon, but that's part of the appeal. Our only complaint is the parking (or lack thereof).


DAIREDS SALON & SPA PANGEA 2400 W. I-20, Arlington (817-465-9797) www.daireds.com. This one-of-a-kind facility has a high-energy hair salon, two spas (one pampering, one medicinal), cafe, and conference center. The salon's award-winning stylists create modern looks to suit any personality. The med-spa, staffed with a doctor and two nurses, offers Botox, cosmetic peels, and laser services.


[NEW LISTING] DAVID MORALES SALON AT SALON BOUTIQUE 8335 Westchester Dr., Ste. 201 (214-521-8817) Salon Boutique at Preston Center has 45 private salons, and David Morales is one of the best. He's known for his highlights: "I've had so many people tell me that I am color." His best advice? "Not everyone should be blond—even in Dallas, Texas."


[NEW LISTING] DEAR CLARK HAIR STUDIO 3317 McKinney Ave., Ste. 101 (214-397-0700) www.dearclarkhairstudio.com. Owners Holly Dear and Kaycee Clark lead a team of four colorists and 16 stylists at this mod hair and lifestyle studio. Big bonus: the salon is open until midnight. (No, that is not a misprint.)


DIANE & COMPANY SALON & SPA 4520 Frankford Rd., Ste. 300 (972-735-8909) www.dianeandcompany.com. The five stylists at the salon specialize in European color, which they believe has more science behind it than traditional color. The full-service spa offers microdermabrasion, massage, pedicures, facials, body wraps, and scrubs.


[NEW LISTING] DIVINE TOUCH HAIR STUDIO 4485 Trinity Mills Rd., Bldg. 200, Ste. 26 (469-231-1807) www.hair-dallas.com. Owner Voya Ghamari and one other stylist make up the team at Divine Touch, offering traditional hair services, threading, and waxing. The salon offers cold-fusion extensions, which are gentler on the hair than other methods.


FACE SALON SPA RETREAT FOR MEN 3000 Blackburn St., Ste. 190 (214-520-1103) www.faceformen.com. Named the No. 1 spa in America by Playboy, Face offers all hair services, facials, waxing, massage, manicures, pedicures, shaves, shoe shines, and "manscaping," a less painful hair-removal process. Women can come, too—just so you know.


[NEW LISTING] FREDERIC FEKKAI 47 Highland Park Village (214-219-3600) www.fekkai.com. The name implies ritzy, but there is nothing intimidating about this comfortably chic salon. Creative director Brian Keller, an expert in the innovative coloring technique Balayage, relocated from Palm Beach to open the first Fekkai salon in Texas. Peach champagne and selections from the Celebrity Café menu are nice touches.


GARRISON MOORE SALON 6120 Camp Bowie Blvd., Fort Worth (817-731-7000) www.garrisonmooresalon.com. Owners Jana and Jack Garrison want you to look as good outside their salon as you do inside; that's why they style and teach. The salon also offers manicures, pedicures, Botox, nonsurgical facial sculpting, and other medical services by Dr. Jay Burns, a Dallas plastic surgeon.


GARRY COX & CO. 3858 Oak Lawn Ave., Ste. 161 (214-522-4849) Customers love the Zen feeling at this totally hip and glamorous hair-and-nails-only salon. Anderson, Cox & Co is the new location at Stanley Korshak.


GRAND SPA 5100 Belt Line Rd., Ste. 620 (972-392-9393) www.grandspa.com. All 13,000 square feet are designed to groom and pamper you from head to toe with products like Kérastase and Billy Jealousy. The menu includes facials, massage, waxing, hair and makeup, nails, hydrotherapy, and an exclusively designed gentleman's spa.


[NEW LISTING] GREEN PERIDOT 6959 Lebanon Rd., Ste. 105, Frisco (469-362-7980) www.greenperidot.com. Look for owner Daniel Lewis on the upcoming season of Shear Genius on Bravo. Lewis created the first Green Peridot in Tallahassee, Florida, and opened his second location here in the fall of 2006. Services at this Aveda salon include thermal ionic straightening and facial waxing.


HAKAN INTERNATIONAL HAIR & BODY CONTOUR 5601 W. Lovers Ln. (214-352-7555) www.hakanintl.com. Hakan offers haircuts, color, and thermal hair straightening, which requires retouching only once or twice a year and can be done on colored hair. Other services include facials, microdermabrasion, Vita-derm nonsurgical facelifts, endermologie, fotofacials, and body wraps. This is the only Dallas salon to use ultra-luxurious J.F. Lazartigue hair-coloring products.


HEIDI'S SALON AND SPA 120 N. Main St., Grapevine (817-416-5666) Heidi Kilman's recently expanded salon and spa offers hair and nail services as well as waxing, massages, microdermabrasion, and customized facials. The stylists' uniquely designed private workstations in the new portion of the salon are a big plus.


HUMPHREY'S SALON 4000 N. MacArthur Blvd., Ste. 112, Las Colinas (972-717-1111) humphreysalon.com. This full-service salon specializing in human hair extensions boasts 25 stylists, including several industry educators. Other services include cuts and styles, coloring, and nail and skin treatments, with products by Kérastase, Wella, and Shu Uemura.


JB SALON 2800 Routh St., Ste. 107 (214-559-2895) JB Holman makes you feel like you're the only client in the room. Because, well, you are. JB has been in the business for 32 years and concentrates much of his talent on natural-looking color. A single manicurist completes the intimate experience.


JEAN-PHILIPPE SALON 5600 W. Lovers Ln., Ste. 125 (214-350-7897) www.jeanphilippesalon.com. The Jean-Philippe Salon is known for complete image makeovers. Stylists here specialize in hair design, color and maintenance, and makeup artistry. Ask about Cellophanes, a semi-permanent color and conditioning treatment for lustrous and lovely locks.


JKS INTERNATIONAL SALONS 6040 Camp Bowie Blvd., Ste. 3105-A, Fort Worth (817-731-7575) www.jksusa.com. Owner John Kaytaz is inspired by the beauty of the Mediterranean and Italian hair colors. JKS has its own hair care line, which Cyprus-born Kaytaz says is better than Kérastase. JKS services also include nails, makeup, massage—even photography.


THE JOHNNY RODRIGUEZ SALON 5450 W. Lovers Ln. (214-987-1919) www.johnnyrodriguezsalon.com. The stylists at Johnny Rodriguez Salon stick to what they know: hair and makeup. In addition to the traditional hair services, the salon offers wedding hair and makeup, as well as portrait services. A couple of times a year, the salon throws a Botox party with a board-certified plastic surgeon—and a charity enjoys the proceeds.


JONAS AVEDA COLOR SALON 4343 W. Northwest Hwy. (214-358-4370) www.jonassalon.com. Glorianna Jonas' salon offers a classic yet cutting-edge fusion of massage, facial, and hair treatments formulated to enhance each client's natural beauty. The salon boasts 11 master stylists, 10 of whom are also color professionals.


[NEW LISTING] JUMP JIVE & WAIL HAIR SALON 6935 W. Main St., Frisco (214-705-1630). Owner Diane Bevan is picky about whom she hires. In fact, two of her six chairs don't have stylists. The salon does only hair and waxing, specializing in custom color. You may get a follow-up phone call to see how you liked your service.


KEVIN CHARLES SALON 2222 McKinney Ave., Ste. 210 (214-720-9200) www.kevincharlesimage.com. Kevin Charles is the "official hairdresser of the Academy Awards." So, of course, his Uptown salon (as well as his original salon in Santa Barbara) is so very five-star. Stylists here provide signature cuts, color, special-occasion up-dos, hair extensions, and Kérastase hair treatments.


L'IMAGE SALON AND SPA 13465 Inwood Rd., Ste. 150 (972-934-8080) www.limagedallas.com. As owner Dayton Mast says, borrowing a bit from Steel Magnolias: "It is our ability to accessorize that separates us from the animals." The stylists at L'Image consider hair the ultimate accessory. The full-service salon, which just moved to this Broadstone Parkway location, also has a boutique filled with gifts and accessories from around the world.


LIVE HAIR GROUP 3609A Greenville Ave. (214-522-7600) www.livehairgroup.com. This hair-specific salon has a staff of six who specialize in high-end hairdressing. Live Hair is currently undergoing a remodel.


LOVELL'S SALON INC. 5620 Malvey Ave., Fort Worth (817-377-8031) Lovell's intimate, upper-echelon hair salon caters to bridal parties—either at the salon or at your chosen location. The salon also offers facials, manicures, and pedicures.


LUXE 4017 Preston Rd., Ste. 525, Plano (972-781-1720) www.luxesalondesign.com. This modern salon specializes in color, cut, and design, using only Kérastase and Shu Uemura products. Luxe, known for its enzymatic peel facial, has a European-trained aesthetician who uses the Rene Guinot skincare line. The salon also has a retail area and offers professional shopping services.


MATTHEW TULLY HAIRDRESSING 2815 Allen St., Ste. 126 (214-999-1116) Matthew Tully's hip, hot pink and white salon of six stylists specializes in classic, quality hairdressing in an intimate environment. Clients are pampered with treats and beverages during their visit. The salon offers hair services and eyebrow waxing. Watch for Matthew on Bravo's Shear Genius.


[NEW LISTING] MAZARY HAIR & EXTENSIONS STUDIO Polo Towne Crossing, 2108 N. Dallas Pkwy., Ste. 220, Plano (972-473-8888) www.mazary.com. Owner Miriam Azary is a cosmetologist, certified master colorist, and trainer in hair extensions. In addition to precision cuts, color, and color correction, Mazary's offers extensions, cold smoothing, thermal reconditioning, and up-dos for special occasions.


MODA SALON, SPA & YOGA CENTER 6318 Camp Bowie Blvd., Fort Worth; 4001 Arlington Highlands Blvd., Ste. 123, Arlington (817-732-3733) www.modasalonandspa.com. This Aveda salon treats your follicles and your chakras. The salon's "headmapping system" offers a new approach to hair color, breaking it down by preference and price point. The center offers manicures, pedicures, massage, body treatments, facials, and daily yoga classes.


MOKARA SALON & SPA 215 E. Las Colinas Blvd. (972-402-8883) www.themokaraspa.com. Located on the canal in Las Colinas, this salon offers hair care services in addition to a variety of spa selections. Mokara offers some hard-to-find treatments such as eyebrow threading and all-natural airbrush tanning. The salon easily accommodates large groups and bridal parties.


[NEW LISTING] MUSE THE SALON 2323 N. Henderson Ave. (214-821-3434) Muse focuses on hair and makeup, although the cucumber water makes it feel more like a spa. Clients here rave about the comfort of the salon, which shows an old movie like Gone With the Wind (without the sound) each week.


NORWOOD & COMPANY HAIRDRESSING 1003 N. Collins St., Arlington (817-794-0101) www.norwoodandcompany.com. The six stylists at this Aveda salon keep your needs and wants in mind while offering their professional opinion. Your Marcia Brady locks will never look like Erykah Badu's, but these trained stylists will help you love your hair anyway.

ON THE AVENUE SALON 4125 N. Central Expwy. (214-599-0013) Three of this salon's four stylists specialize in curly hair. In addition to cuts and color, the salon offers VascuTouch treatment for spider veins, color correction, microdermabrasion, waxing, lash extensions, and permanent makeup services.


ORANGE 2932 Main St., Ste. 104 (214-698-2006) The 18 stylists at Orange focus only on hair. Owner/designer Todd Allen and stylist Matthew Taylor are known for their blowouts. Located in Deep Ellum, this white and orange salon is retro and fun. The Blenko glass is a major hit with customers and passersby.


OSGOOD-O'NEIL 6932 Snider Plaza (214-373-6336) www.osgoodoneil.com. Multiple locations. Osgood-O'Neil focuses on hair services, including cuts, color, hair extensions, thermal reconditioning, and luxurious hair and scalp treatments. Roxanne at the Snider Plaza location will analyze your hair, giving you her best prescription, as well as a hand, shoulder, and scalp massage.


PATRICK O'HARA SALON 5563 W. Lovers Ln. (214-350-9128) This boutique salon is staffed with highly trained stylists who specialize in color, cuts, and thermal straightening. Eyelash extensions are also available.


PERRY HENDERSON SALON 3878 Oak Lawn Ave., Ste. 100-A (214-522-2870) You might recognize some of Perry Henderson's clients as Dallas' most elite. The 11 stylists here have more than 200 years of experience among them, specializing in classic looks. The salon, which has an aesthetician on staff, also offers select nail, eyebrow, and eyelash services.


PEYTON THOMAS SALON 2600 E. Southlake Blvd., Ste. 150, Southlake (817-748-2103) A large, full-service salon featuring Kérastase, Shu Uemura, and Bumble and bumble products, Peyton Thomas serves a wide range of clientele, including a large percentage of men. Some stylists are previous salon owners; several are trained in hair extensions. An aesthetician offers facials, waxing, and body treatments.


PHILLIP K. THOMAS SALON 4411 Lemmon Ave. (214-521-9900) www.phillipkthomas.com. The Phillip K. Thomas Salon is an upscale, full-service salon and spa offering haircuts, color, and hair extensions. The salon sells and uses Kérastase products and also offers massage, facials, waxing, pedicures, manicures, and makeup services.


PREMIER ATELIER SALON & SPA 8201 Preston Rd., Ste. 110 (214-696-4074) www.halcyondayssalonsandspas.com. Premier Atelier focuses on hair services, using products such as Kérastase and Bumble and bumble. The staff's 27 stylists come from all over the globe, including South America and Europe. The salon also offers makeup services.


PURE SPA & SALON 5555 E. Mockingbird Ln., Ste. 300 (214-827-4200) www.purespaandsalon.com. This Mockingbird Station full-service spa, which offers Kérastase products, has a contemporary, modern flair. Enjoy a signature foot bath in the coed Waterhouse with steam cave, rain shower, and oversize Whirlpool.


RICHARD HAYLER COLOUR SALON & SPA 400 NorthPark Center (214-891-1252) www.coloursalon.com. Now located in Neiman Marcus, this 16-year veteran of the Dallas salon scene specializes in hair, specifically color. Standing appointments are available.


RIVIERA SPA 4445 Travis St., Ste. 102 (214-521-2112) www.rivieraspadallas.com. The two stylists here, Josef Joshua and Alex Rastegar, are known for color, although some come to Josef just for his cuts. Riviera also offers massages, facials, body wraps, scrubs, and manicures.


ROMEO & JULIET SALON SPA 2831 Eldorado Pkwy., Ste. 106, Frisco (214-618-3367) www.romeoandjulietsalon.com. Owner Julie Katz uses top-of-the-line Pureology products and offers many services, from trendy or classic cuts to brow threading, massages, and manicures. She even has a stylist who specializes in haircuts and styles for African-American hair.


SALON D 13615 Inwood Rd., Ste. 160 (972-788-0975) www.salond.com. The 42 stylists at Salon D give clients a wide range of options when it comes to their hair—cuts, color, thermal straightening, conditioning, and hair extensions. Also offered are massages, manicures, and facials.


THE SALON AT EATON COURT 202 S. Austin Dr., Allen (972-727-2333) www.salonateatoncourt.net. The Salon at Eaton Court is a homey, full-service salon and spa, offering services from haircuts and Great Lengths extensions to all-natural facials. The salon, which is housed in a beautifully restored Victorian cottage, uses Kérastase and Shu Uemura products.


SALON AT THE HOUSE ON FAIRMOUNT 3622 Fairmount St. (214-219-1411) This salon specializes in color, cuts, and waxing. The atmosphere is intimate and relaxing. Customizable packages are available and can be enjoyed in the salon or off-site. The salon also caters to wedding parties.


[NEW LISTING] SALON LA COUPE 6440 N. Central Expwy., Ste. 105 (214-750-7766) www.salonlacoupe.net. Owner Valerie Novotny, who grew up in Budapest, opened this salon 10 years ago. Stylist Rose Zuniga, one of nine, is known for her way with curly hair and highlights on dark hair. The salon also offers facials, massage, manicures, and pedicures.


SALON ORÉA 3407 McKinney Ave. (214-855-5900) www.oreasalon.net. This modern Uptown salon specializes in blondes. Why? They're tricky—or at least their hair color is. The 15-person staff includes a facialist and nail technician. The salon, which is open until 9 pm, also offers makeup and waxing and features products from Hempz, Osis, and Pearatin.


SALON POMPEO 3227 McKinney Ave., Ste. 103 (214-979-0440) www.salonpompeo.com. Salon Pompeo caters to hair, skin, body, and nails. All 28 stylists do cuts and color, so you see one stylist for everything. The salon also has a beer and wine license and stays open until 10 pm.


SALON THREE THIRTY 2510 Cedar Springs Rd. (214-219-1100) www.salonthreethirty.com. Testimonials on the web site include accolades from George Michael and former Spice Girl Geri Halliwell. Stylists who specialize in color or cuts here work with your hair's natural texture and movement, using Kérastase and Shu Uemura products. Works from the Goss Gallery's collection are on display.


SEBASTIEN SALON 2812 Vine St., Ste. 330 (214-871-8822) Sebastien is a quiet, private salon with European flair (the outgoing message repeats in French) and client-focused, highly trained stylists. Five of the eight stylists—who specialize in either color or cuts—are from France, as is owner Sebastien. An aesthetician specializes in microdermabrasion, and the salon offers waxing and nail services.


SELECT STUDIO & SALON 3526 Cedar Springs Rd. (214-727-9879) www.selectsalon.com. Five of the stylists have been here for 16 years. Located in three adjacent 100-year-old homes, the salon has a Moulin Rouge feel, as owner Mark Mahan describes it. The full-service salon also offers manicures, pedicures, massages, and has its own personal trainer. The "studio" part is Mahan's commercial photography studio.


[NEW LISTING] SHELTON'S SALON & DAY SPA 2731 S. Hulen St., Fort Worth (817-276-1330) www.sheltonssalon.com. Multiple locations. Forty-four years after Shelton and Linda Ogle opened this salon, their sons and longtime manager have brought it back into the family. Stylists here get what you want and have the talent to pull it off. Other services include hot stone massage and a reflexology pedicure.


STUDIO ONE TEN 4514 Travis St., Ste. 110 (214-521-4110) If you don't know what you want in a makeover, Studio One Ten does. This is the go-to salon for expert makeovers, which often involve just a bit of tweaking for big results. Every employee is a specialist, from cuts and color to makeup. The salon also offers a custom spray-on tan.


[NEW LISTING] THE STYLING HUTCH 3948 Legacy Dr., Ste. 105, Plano (972-943-0732) www.stylinghutch.com. The newly remodeled Styling Hutch specializes in cutting and styling curly hair, using the Ouidad method and products. The salon also offers facial waxing.


[NEW LISTING] SUAVIZAR SALON 977 Hwy. 121, Ste. 500, Allen (214-383-9747) suavizarsalon.com. This salon, in Jerry Jones' Star Creek development, features 15 departmentalized stylists. (You see one for your cut and another for color.) Other services include a separate, in-studio bridal hair company, a special waxing technique called "Hollywood eyebrows," and Davines products from Parma, Italy.


[NEW LISTING] TERRACE RETREAT SALON & DAY SPA 1422 Main St., Ste. 263, Southlake (817-442-0800) www.terraceretreat.com. Multiple locations. Terrace Retreat offers a full-service spa as well as a medical spa, with laser hair removal, endermologie, and laser facial treatments. This Aveda salon's newest location is in Southlake Town Center's Hilton Hotel.


TONI&GUY 6030 Sherry Ln. (214-696-3825) www.toniguy.com. Multiple locations. Toni&Guy emphasizes educational programs, innovation, and creative genius to nurture its stylists. Founded in Dallas more than 20 years ago, Toni&Guy salons specialize in creating trendy yet sophisticated haircuts, color, and makeup.


[NEW LISTING] TONY CAO SALON & DAY SPA 9288 Hwy. 121, Ste. 200, Frisco (972-335-7778) www.tonycaosalon.com. Multiple locations. Owner Tony Cao says we all have an individual beauty, an energy, that he assesses before styling. "I put my technique into their rhythm," he says. "Everyone creates different rhythm."


[NEW LISTING] TRIO GALLERY SALON 2404 McKinney Ave. (214-855-0500) www.triogallerysalon.com. Trio is composed of, not surprisingly, three parts: salon (hair and makeup), gallery (everything, including the furniture, is for sale), and special events venue (from MTV castings to wedding receptions and cell phone commercials). The salon's 12 stylists are all independent contractors.


TROY RICHARD SALON 1279 Legacy Dr., Ste. 120, Frisco (214-618-8071) www.troyrichardsalon.com. Only the best products are used in this hip and trendy salon. Add some length with Great Lengths human hair extensions or get beautifully bronzed with Bronze BioLOGIC all-natural spray-on tanning. Facial waxing and eyelash extensions and tinting are also available.


[NEW LISTING] UPTOWN HAIR STUDIO 2707 Guillot St. (214-922-9997) www.dallasuptownhairstudio.com. Owner Michael Landers has had other stylists in his studio before. Now he's a one-man show in a little Victorian house next to Angela's Bistro 51 in Uptown. He offers his professional clients an exclusive atmosphere without the chemicals floating around a spa.


VICTOR'S 4916 Camp Bowie Blvd., Fort Worth (817-737-4820) When Victor Marcos opened this boutique-like salon, he brought a steady stream of clients with him. (Color is his specialty.) The staff also does nails and a delightful massage.


[NEW LISTING] VIDA'S SALON 18208 Preston Rd., Ste. D-11 (469-241-0985) The stylists at Vida's are known for making naturally curly hair straight and smooth. Their high-tech secret: a round ceramic brush. Ninety percent of their clientele is Jewish, many who come in twice weekly for blowouts. Vida's also offers Japanese thermal straightening, laser hair removal, waxing, and nail services.


WARREN WILKES SALON 2811 McKinney Ave., Ste. 14 (214-855-5133) The Warren Wilkes Salon has been an Uptown favorite for 18 years. The salon's seven stylists specialize in hair coloring, extensions, and Japanese thermal straightening. Aestheticians are also on staff to do microdermabrasion and the more serious facials.


[NEW LISTING] WILLIE & COOTE SALON 2303 Abrams Rd. (214-887-8647) www.willieandcoote.com. If you're looking for Aveda without pretense, this Lakewood salon is for you. The women who run Willie & Coote are not only into hair; they're into art (each month, a different local artist's work hangs on the wall) and charity (stylists pay $10 to wear jeans each Friday, all of which is donated).


WM. CARR SALON 3301 Oak Lawn Ave., Ste. C (214-520-0116) www.wmcarrsalon.com. The goal at WM. CARR is to provide clients with the ultimate hair salon experience. Styles range from fashion-forward to corporate day wear to evening glamour. Services include hairstyling, coloring, straightening, massage therapy, waxing, and natural-nail manicures and pedicures.


ZEN LUXURY NAIL & BEAUTY BAR 1377 Legacy Dr., Ste. 110, Frisco (214-618-4936) www.zensalons.com. The fountain and reclining chairs encourage relaxing, even snoring, says owner Mai Caldwell-Wong. Zen, which features Kérastase products, combines the luxury of an upscale spa with the convenience of a walk-in salon, offering all hair services, manicures, pedicures, threading and sugaring, and eyelash extensions.



Get our weekly recap
Brings new meaning to the phrase Sunday Funday. No spam, ever.