From Summer 2008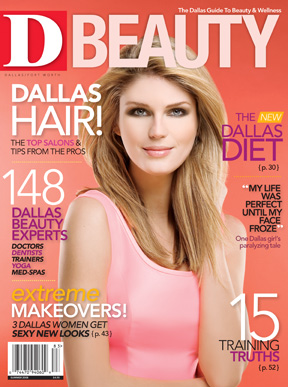 Most people never drive deep enough into Napa Valley to reach Calistoga, the quaint burg famous for its natural springs and mud baths. I didn't when I first visited; I was too busy eating patty melts and drinking mint chocolate chip milkshakes at Taylor's Automatic Refresher in St. Helena to be bothered to get back on the highway. But soon I had good reason to continue north on Highway 29: Solage Calistoga, the hipper sister property to Calistoga Ranch. Today, more than a century after California millionaire Sam Brannan set out to make Calistoga the "Saratoga Springs of California," visitors still come for the hot springs and mud baths—plus they get some darn good food and wine to boot.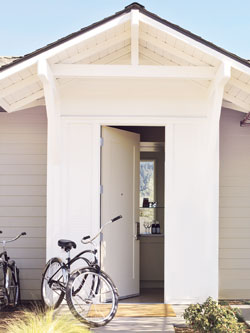 Speaking of mud baths, Solage has its own spin called the
Mudslide
. You belly up to the bar at the
Bathhouse
, choose your essential oils, and a staff member mixes your mud cocktail. Then you spread the mud all over your person and bake for 20 minutes in a personal sauna. A knock on the door signals that it's time to rinse off, put on your robe that's been resting against the warm tiles (cozy!), and head over to a treatment room, where you soak for 10 minutes in a tub of mineral water. Then you get wrapped up like a cocoon and spend 20 minutes in a zero-gravity chair, listening to soothing music with a cold compress on your eyes. Once you emerge, you can take a dip in the 98-degree naturally heated pool or grab a magazine and curl up in a chaise near the fire pit. But don't stop with the Mudslide. Take it all the way with a
Solage on the Rocks
, which incorporates hot and cold stones into the massage.

In addition to its commitment to your total relaxation, Solage is committed to lessening its footprint on this planet. The staff rides around on bicycles rather than motorized carts, geothermal energy heats the spa buildings and pools, and reclaimed water irrigates the grounds populated with drought-tolerant plants. Rooms are furnished with recycled or sustainably grown materials, and the chef uses organic and locally grown produce. (Our only quibble: no recycling bins in the rooms!) Guests are encouraged to get in on the green action, with two bicycles per room. The town is only minutes away on bike; it's just plain silly to drive the quarter-mile to Calistoga Roastery for your morning latté. Those bikes come in handy, too, when you want to take a hike and bike tour with criminally handsome and affable fitness director Donavan Almond.

All that exercise will no doubt stimulate your appetite, and a meal at Solbar hits the spot. The menu is smartly divided into two parts: lighter fare on the left, and naughtier nibbles on the right. We surprised ourselves by ordering mainly from the left side: raw and grilled endive with avocado, grapefruit, and a sprinkling of tarragon; agnolotti stuffed with ricotta and kale; and bibb lettuce topped with chunky chicken salad loaded with pink lady apples and Point Reyes blue cheese. For dessert, super-tiny naval orange pot du crème with grapefruit ice cream held just the right number of sweet spoonfuls.
Where to eat
You don't have to stray too far from Solage to find a remarkable restaurant.
All Seasons Bistro
1400 Lincoln Ave. 707-942-9111
www.allseasonsnapavalley.net
This is great for a date, because the lighting at night is so very flattering. Risotto—that evening with walnuts and spinach—was magnificent, as was the crisp-skinned chicken, so salty and juicy and delicious, with garlic mashed potatoes. Say no to the so-so salad but yes to the bread pudding. If McManis Viognier or Teira Zinfandel is on the wine list, get a glass.
Brannan's Grill
1374 Lincoln Ave. 707-942-2233
www.brannansgrill.com
The service here wasn't as good as it should have been, but we made a nice lunch out of shared dishes: plump and earthy potato gnocchi with mascarpone and wild mushrooms; a salad of baby lettuces, candied walnuts, green apples, and blue cheese with balsamic vinaigrette; and oh-so-good grilled cheese with manchego, accompanied by tomato soup with a heavy dose of sherry.

Cafe Sarafornia
1413 Lincoln Ave. 707-942-0555
It calls itself the oldest diner in Napa, and who are we to argue? The menu claims the huevos rancheros, slathered with guacamole and sour cream and served with extra-crispy hash browns, are the "best you've ever had!" (We have no complaints.) We also adored the spongy and light oat bran pancakes with a hint of orange. Breakfast and lunch only.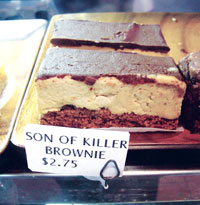 San Marco Cafe
1408 Lincoln Ave. 707-942-0714
The "Home of the Killer Brownie Family" is a must-stop for an afternoon sugar rush. The Beyond Killer Brownie was a gooey, delicious mess of marshmallow, nuts, fudgy chocolate, and graham cracker crust. We vow to return for the Almost Famous Carrot Cake.
Wine Spectator Greystone Restaurant
2555 Main St., St. Helena. 707-967-1010
Nothing is more fun than watching chefs-in-training sear, sauté, and slice at The Culinary Institute of America's restaurant. (Don't be fooled into thinking that because it's a school, it'll be inexpensive.) Butternut squash soup was as thick as sherbet, and the soufflé on top of the French onion soup was outrageous but beautiful. Hanger steak was tender if a bit salty; we wish they would have taken some of that salt and doused the hand-torn pasta with mushrooms, spinach, and black truffle. Try to catch one of the cooking demos the restaurant offers several days a week. You'll definitely learn something.
Fast Facts How To Get There
American Airlines (www.aa.com) flies nonstop daily to San Francisco, Oakland, and Sacramento airports. You will need to rent a car, and the Solage web site provides detailed driving directions. The Sacramento airport is easy to get in and out of, and the rental cars there are more affordable.
Where To Stay
Solage Calistoga
755 Silverado Trail, Calistoga
866-942-7442
www.solagecalistoga.com
Get the TravelClub Newsletter
Explore the best deals, inspiration, and opportunities for your next travel destination to escape in style.