For years, you've likely dodged potholes and felt the pavement of the city streets deteriorating under your vehicle's wheels. Perhaps you've thought it would be nice if you could ride your bike from the Design District out to the Trinity River Levee Trail by cycling along the edges of the southern end of Turtle Creek, without ever having to fight the traffic of Irving Boulevard. Maybe you've considered it archaic that our traffic signals seem completely out of touch with what's happening on the street itself. Or, maybe you're just tired of your neighborhood flooding when it rains.
On Nov. 7, voters will take to the ballot box to decide whether to issue the city $1.05 billion in debt that will go toward these sorts of projects. Early voting on the bond package started this week. There are 10 propositions in total, in areas as specific as streets and transportation to ones that seem a little bit more difficult to make sense of, such as economic development. There will be about 35 percent interest and principal on the debt that we take out, but the city believes that the anticipated jump in property tax values will be enough to pay it all off without a tax hike.
The city also believes it will have no trouble selling the bonds, and isn't concerned about its credit rating, which fell amid police and fire pension woes. A plan to fully fund the pension is in place, although credit rating agencies are holding their breath before raising the ratings. The city's financial executives believe the Dallas economy is strong enough that the worst is behind us.
You'll vote on each proposition separately. This was apparently to appease the Texas Attorney General, but it was also done to the chagrin of some on the council. After all, packaging projects across the city would make each prop easier to pass, by putting more residents' skin in the game. Separating them out makes their fate a little dicey. Let's take facilities, which are separated into five propositions: The two libraries that eat up much of the $15.6 million allotted for them are in North Dallas. There's concern that residents in other districts won't want to pay for that. But there's an argument that it's a public good, despite where in the city these projects occur. Which is why it's important to know what's in each proposition.
There's a lot of money on the table here, and Assistant City Manager Majed Al-Ghafry, the man in charge of the bond package, says he plans to have all the projects complete within five years. That's an ambitious goal, considering the
millions of dollars of unsold bonds
and unfinished projects remaining from the 2006 and 2012 bond packages approved by voters.
Things are running differently in the city manager's office since the arrival of Al-Ghafry's boss, T.C. Broadnax. Al-Ghafry, early in our conversation, highlighted policy changes with the new administration as it pertains to the bond package. He vowed to make the language in the bid procurement documents clear, to establish deadlines and expectations for the vendors and the city, including the assurance that minority-owned, local businesses are involved. The administering of the bond projects will also be centralized so that one entity is overseeing execution. Previously, it was spread across the plates of the assistant city managers. On Tuesday, 
The Dallas Morning News 
reported that a city audit found that three city departments did not have clear policies as it came to bidding out the sort of construction and design projects in the bond. Al-Ghafry's policy talk seemed aimed at correcting those mistakes.
The city is also commissioning a website that will allow real-time tracking of the progress of the projects, from the smallest to the largest. Al-Ghafry says the City Council will be briefed monthly to aid in accountability.
"It starts with us," he says.
Sure, but it's now time for the voters to choose. We hope this guide provides the context necessary to make your decision at the polls.
Find your precinct here
.
Streets and Flood Control
Propositions A and D: Put some significant investment into our city's failing infrastructure.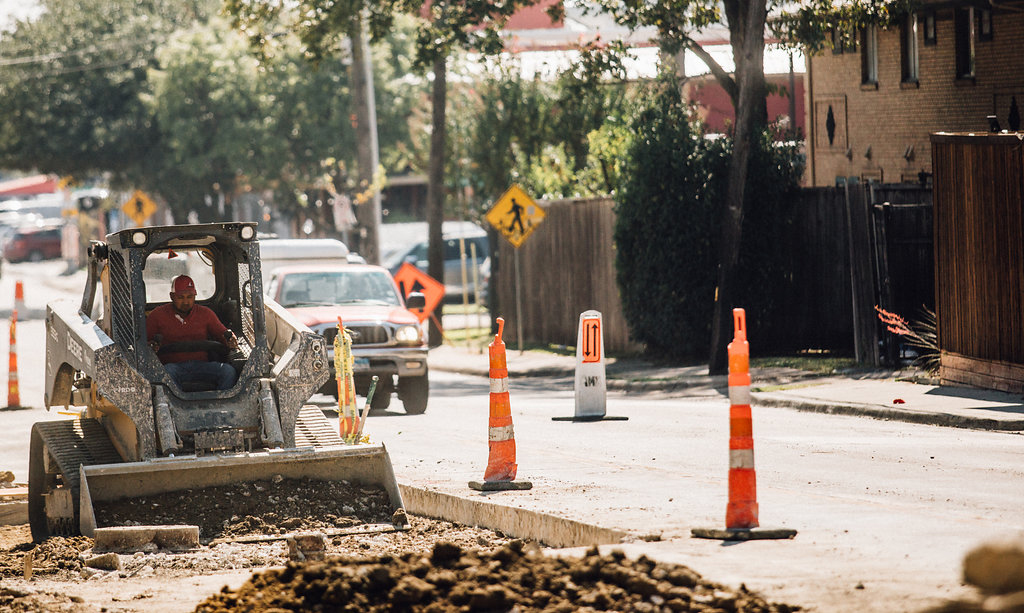 Proposition A
: The issuance of $533,981,000 general obligation bonds for street and transportation improvements, the estimated amount of repayment, including principal and interest based on current market conditions being $724,650,750.
Last October, the City Council began holding public hearings on what would become the $1.05 billion bond package. The primary concern of residents who attended: Streets. It is the largest of all the propositions, accounting for more than half of the entire package: $534 million. There are resurfacing and reconstruction jobs. There is a program to upgrade our aging traffic signals. There is money to establish a traffic management center that would allow the city to control the timing of the lights based on what's occurring on the streets. There are assignments to remove lanes and add sidewalk space along roads in Deep Ellum, East Dallas, and South Dallas. There are millions of dollars set aside to fix critical bridges throughout the city. It is a broad package, intended to not only fix decaying infrastructure, but to help make the streets and sidewalks safer for pedestrians and cyclists.
"Some people talked about drainage, some people talked about libraries, some people talked about public safety, some people talked about parks," says Al-Ghafry, who is in charge of the bond program. "But streets were the overarching theme."
Surveys of taxpayer-satisfaction rates of the city's streets have plummeted from 81.8 percent in 2012 to
71.9 percent last year
. The goal is 87 percent. In all, there are 1,027 projects as part of Proposition A. Of those, 986 are district-specific, whether that be resurfacing cracked concrete or outright reconstruction of the roadways and the alleys behind residences and businesses—pathways that are frequently used by hulking sanitation trucks. The city's Pavement Management Division has spent years mapping the quality of Dallas' streets, which has informed what ended up in the bond package. The two-fold process accounts for the objectivity of data culled from testing devices known as falling weight deflectometers, which estimate the structural capacity of the city's streets, and the subjective analysis of engineers.
They examine cracks, dilapidated pavement, and other conditions that signal the degree of maintenance necessary and combine their observations with the findings from the deflectometer. The streets are listed in order of priority; some get repaved, others get torn up and rebuilt. This is the maintenance portion of Proposition A, and it's the most likely way you'll get that lingering pothole in your neighborhood fixed. Some, like Councilman Lee Kleinman, have decried using credit to pay for deferred maintenance that would ideally come from the city's general fund. City staff, however, maintain that it's the only way we can afford to keep up.
"In a perfect world, yes. But we don't have a perfect world," Al-Ghafry says. "I wouldn't call this deferred maintenance. This is exponentially aging maintenance. The infrastructure is aging faster than what we can fund it for."
There are 664 resurfacing projects. The most expensive are in North Dallas: the one-mile stretch along Walnut Hill from Marsh Lane to Midway Road will cost $2.2 million, the half-mile resurfacing of Forest Lane from Cromwell Drive and Marsh Lane is $1.1 million. There are hundreds of smaller, neighborhood resurfacing jobs: the $58,859 resurfacing of 300 feet of E. 7
th
near Bishop Arts, the little offset from Beckley to Crawford; $84,229 to resurface Haskell Avenue from Garland to Parry in East Dallas. All of these projects can be browsed
here in a searchable PDF
, and
here in an interactive map
. Also of note: McKinney Ave. and Cole Ave. will be converted into a two-way road, paid for with $8 million in bond funds and $12.8 million in money from the North Central Texas Council of Governments; the matching funds which will have to be in city coffers before bonds can be issued.
Almost $40 million is earmarked to begin to upgrade the traffic signals. Phase 1 of the so-called Traffic Signal Synchronization Project will cost $20 million and includes the creation of a traffic management center. Another $18.35 million is to install traffic signals at 63 of the most highly-trafficked intersections throughout Dallas.
Here is how Al-Ghafry explains it: "For example, God forbid, I have an accident
here
, and I want traffic to be diverted
here
. I may have a side street that has specific signal timing, so what I want to do is be able to expand that timing so I'm not creating a jam (by the accident). Or, if and when we have a parade and I want to do a detour plan, I can."
The proposition sets aside $6.3 million for critical bridge repairs, the money distributed evenly across the 14 districts. The city will pitch in $9.2 million for the construction of a new four-lane bridge in Southeast Dallas over the Union Pacific railroad tracks, just south of Forney Road. The NCTCOG has vowed to pitch in $9.9 million of matched funding.
The NCTCOG and the Texas Department of Transportation are also vowing to give about $4.45 million to put in sidewalks, crosswalks, bike lanes, and additional lighting near U.S. 75 between Mockingbird and Lovers lanes. The city's share on that will be $1.1 million. The Skillman and LBJ corridor will require a buy-in of $6.5 million from the bond package, but TxDOT will throw in $65 million of its own money to improve the lighting and street-scaping at the busy interchange.
Another chunk of the package involves six "Complete Street" makeovers, which allot for a divided roadway, larger sidewalks, and dedicated bicycle lanes. Those include Commerce Street from Good Latimer to Exposition in Deep Ellum, which will turn into a two-lane, two-way street with sidewalks and bike lanes ($9.7 million). Canada Drive from Westmoreland to Hampton in West Dallas will become a four-lane divided roadway and also get new sidewalks and bike lanes ($7.6 million). Casa View in East Dallas will go from six lanes to four, the extra space filled with sidewalks, lighting, and landscaping. ($6.3 million). Columbia Ave. and Main Street will get a redo ($4.25 million). Skillman and Walnut Hill will receive pedestrian safety improvements like new sidewalks($1.59 million).
"I want to be able to feel safe on the street. I want to be able to walk without getting hit by a car. I want to be able to ride my bike and enjoy the scenery," Al-Ghafry says. "You really want to create that balance among all users. Everyone is important."
Proposition D: 
The issuance of $48,750,000 general obligation bonds for flood protection and storm drainage improvements, the estimated amount of repayment, including principal and interest based on current market conditions being $66,088,750.
Before getting any kind of OK from voters for $48.75 million for flood management and storm drainage, the city will first seek to issue $350 million in bonds for projects from
past bond packages
, the biggest of which — an almost $250 million project, Al-Ghafry says — will go toward flood prevention near Baylor Medical Center.
This latest proposition would bankroll 85 "flood protection, storm drainage and erosion control projects" in
neighborhoods throughout the city
. This covers $2.6 million for erosion control near Coombs Creek in Oak Cliff, the $5.6 million Vinemont Channel flood management project near the frequently flooded Dixon Branch in East Dallas, and dozens of other smaller upgrades and improvements.
Go here
for a full list of projects, which include the building of new storm drainage tunnels and improvements to existing infrastructure.
Especially after Hurricane Harvey, some have raised the alarm
about Dallas'
flood preparation
, as climate change and new development exacerbate the risks of old weather events. But it doesn't take a hurricane or major disaster to create problems. Flash flooding, common in North Texas, can
take advantage of poor infrastructure
to harmful, and sometimes deadly effect. As with streets, Dallas officials say investment in flood infrastructure is necessary to keep up with the region's growth.
This bond package puts a dent in the long list of wish list flood management projects on the
city's needs inventory
, which makes plain just how much work is needed.
Parks and Trails
Proposition B: Connect our trail system, build new parks, and consider plenty of other quality-of-life projects.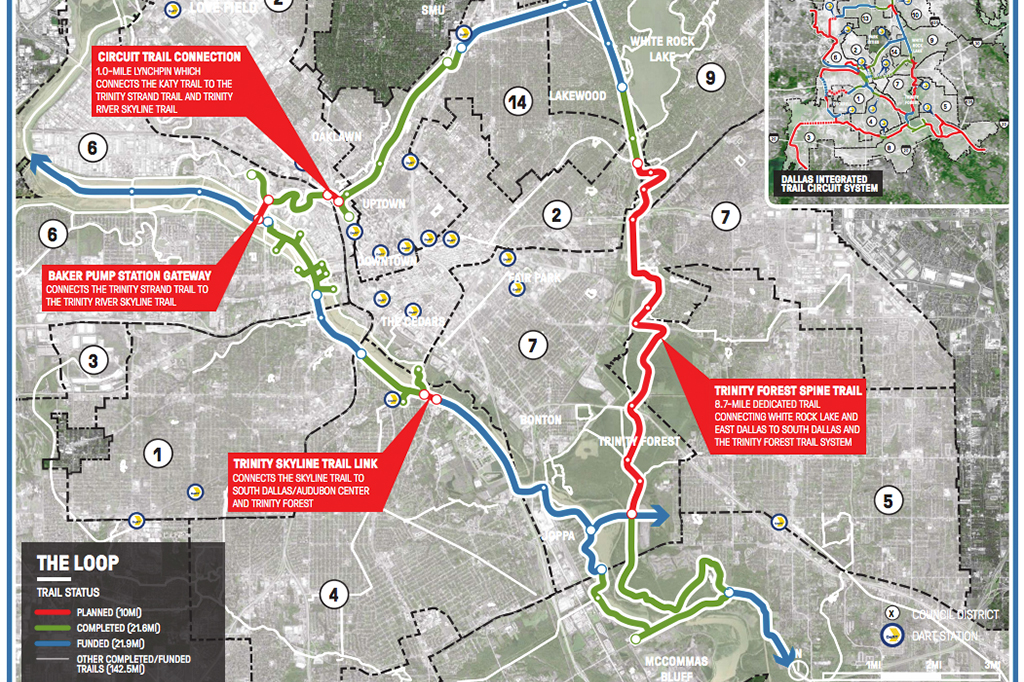 Proposition B
:
The issuance of $261,807,000 general obligation bonds for parks and recreation facilities and improvements, the estimated amount of repayment, including principal and interest based on current market conditions being $355,610,250
The $261.8 million price tag for proposed parks and recreation spending does not account for the more than $150 million pledged in matching funds, from entities both private and public.
For the development of three downtown parks alone,
Parks For Downtown Dallas
, a nonprofit started by the Belo Foundation in 2015, has promised $43.6 million to complement a proposed $35 million from the city. (In what is perhaps a sign that the nonprofit is willing to put its private money where its mouth is, Parks For Downtown Dallas is already footing the entire $15 million bill to transform a downtown parking lot into the
Pacific Plaza Park
, without any bond funds). Also downtown, the Woodall Rodgers Park Foundation has committed another $10 million to the expansion of Klyde Warren Park.
The Circuit Trail Conservancy, Dallas County, and the North Central Texas Council of Governments have raised $23 million to match a proposed $20 million in bond spending on the long-discussed Circuit Trail, also known as
The Loop
, a 50-mile network that would connect all of the city's major trails. Much of that money would go toward the Trinity Forest Spine, more than eight miles of trail that would link White Rock Lake to the Great Trinity Forest in southern Dallas.
Proposed big-ticket items can be found across the city. In Far North Dallas, there's the Midtown Park ($6 million, with $6 million matching from the
Dallas Midtown Park Foundation
), 20 acres of green space envisioned as part of the development rising in the place of the old Valley View Mall. NCTCOG is offering $40 million (to match $7.1 million in the bond proposal) to build the foundation for a deck park linking north and east Oak Cliff over I-35 at Ewing, near the Dallas Zoo. In the Cedars, $7 million (matching $10 million from the Dallas Wetlands Foundation) would go toward the
Dallas Water Gardens
.
Along with those splashier items, the bond proposal calls for more than $86 million to go toward neighborhood parks — more than 160 projects are planned throughout the city, from new benches and playground equipment to soccer fields and spraygrounds. A separate $24 million for an Aquatics Master Plan, split in two phases, calls for the construction of seven new aquatics centers and upgrades to the Bahama Beach Waterpark. The city has designed
an interactive map
that will show you projects in your neighborhood.
The amount of matching funds dedicated to parks and recreation projects serves as one indicator of the support of powerful private and public interests. While streets were residents' No. 1 priority in town hall meetings last year about the bond, parks were also at the top of many improvements wish lists, according to city officials.
Vocal parks supporters
in Dallas point to the quality of life benefits residents can enjoy from a robust parks system, as well as the
environmental pros
of plentiful green space within a city.
Others are quick to note the economic benefits of parks, some citing
a 2015 study
by HR&A Advisors, which put a 7:1 figure on the return on public investment in parks. According to the study, that comes in the form of real estate development, tourism, and local spending. Trails, in themselves, can provide better connectivity and transportation. And that same study found that, in comparison to peer cities like Atlanta and Minneapolis, Dallas spends about 38 percent less per resident on park operations. This in a city where only 58 percent of residents live within a 10-minute walk to a park,
according to
the national nonprofit Trust For Public Land.
City officials say they are confident that, for those bigger projects dependent on matching funding, the money is there, as long as voters approve Proposition B. It will have to be, to an extent: the city can't issue bonds for projects dependent on matching private funds until that money is in hand,
according to the bond ordinance
.
Some of the 160 projects included in the bond package are near "shovel-ready," while others will require more design and planning. All of them are feasible, Al-Ghafry says.
Elements of some of the bigger projects may prove controversial. For example, should the expansion at Klyde Warren Park include an above-ground parking garage? Who will
pay for programming
at the Oak Cliff deck park?
Those debates remain contingent on what voters decide.
Fair Park
Proposition C: Give the city $50 million to repair its most controversial prized possession.
Proposition C: 
The issuance of $50,000,000 general obligation bonds for Fair Park improvements, the estimated amount of repayment, including principal and interest based on current market conditions being $67,781,500.
The proposition to spend $50 million on Fair Park improvements and maintenance is likely to prove the most contentious on the ballot.
Not that many dispute the need for repairs and upgrades to Fair Park's aging and neglected facilities. But that may be where the unanimity ends, particularly with so much of Fair Park's future unclear: three groups
are bidding
to take over management of the park's 277 acres, each with a different vision and expectations when it comes to taxpayer support. The State Fair, often the villain in discussions about how to fix Fair Park,
agreed with the city
recently to use excess revenue to pay for some repairs to buildings, including
at least $6 million
this year to be used as the city sees fit. State Fair critics have said that is long overdue and still falls short of the fair's obligations — and, regardless, the total estimated price tag for repairs to Fair Park's infrastructure is closer to $250 million.
Former Trammell Crow Co. CEO Don Williams
has said Fair Park
needs tenants that can make the buildings sustainable without taxpayer money. Dallas County Commissioner John Wylie Price has said the bond focuses on Fair Park to the neglect of the impoverished neighborhoods surrounding it. In the
Dallas Observer,
Jim Schutze
raised the specter
of the Trinity Toll Road and the possibility that a $50 million "blank check" for Fair Park would be misspent.
At City Hall, Al-Ghafry dismisses the idea that repairs should wait until Fair Park is under new management. Whatever happens with Fair Park, and whatever role the State Fair will play, the fairgrounds will remain a city asset valued at about $2 billion, he says. The city will, in other words, remain the landlord, with none of the money for repairs attached to or dependent on a particular management group.
"When you're renting from me, I'm still the property owner," Al-Ghafry says. "You expect me to keep that property to standard."
The entirety of the $50 million would be devoted to building and mechanical repairs and equipment replacement. More than $14 million would be spent on the Hall of State alone, funding architectural repairs, plumbing fixes, and "dehumidification issues," among many other things. The Fair Park Coliseum is due for $9.5 million, the Music Hall for $4.3 million. The remaining money is spread across nine other facilities, including the African American Museum and the Science Place, which has "mold testing" listed along with repairs.
Facilities
Propositions E, F, G, and H: Throw the city millions for libraries, cultural centers, public safety hubs, and municipal buildings.
Proposition E
:
The issuance of $15,589,000 general obligation bonds for library facilities and improvements, the estimated amount of repayment, including principal and interest based on current market conditions being $21,124,500.
The $15.589 million allotted for library improvements will go toward three projects: The design and construction of a new library in Vickery Meadow, the replacement of the Forest Green Branch in Lake Highlands, and some plumbing and roof maintenance for the J. Erik Jonsson Central Library downtown.
The city's been sitting on the land on which it will build the Vickery Meadow Branch Library for about a decade. Located at 8225 Park Lane, the 3.86 acres near the intersection of Greenville Avenue have long been an empty promise billowing out of City Hall despite us having spent $5.6 million on the land. Voters were first promised a branch in the 2006 bond election. Now in 2017, this program earmarks $7.79 million to finally bring the largely immigrant community of Vickery Meadow its library, complete with the educational resources available to residents in nearly every other part of the city.
Head north on Greenville up to Forest and you'll find the other $7.79 million in the bond package for libraries: The aging Forest Green Branch Library, the smallest in the city, first opened in 1976. The money here will replace the existing branch, which struggles to serve the six public schools in its area—at 9,000 square feet, it's just under half the size of the city's more recently-built libraries. The new location, at 9619 Greenville Ave., is about a quarter mile south of the existing branch.
Editor's note: City bond documents indicated that the new Forest Green branch would be located at 3728 High Vista Drive, six miles away. Those documents were incorrect. The story has been updated with the correct location. 
Proposition F
: The issuance of $14,235,000 general obligation bonds for cultural and performing arts facilities and improvements, the estimated amount of repayment, including principal and interest based on current market conditions being $19,294,500.
Much like the city's streets, its cultural venues are degrading faster than we can afford to pay for them. Many were built with private donations—but those private donations didn't include a plan for upkeep. That fell to the city, as did paying for it. This is the first time since 2006 that a bond package has addressed costs related to maintenance.
What wound up in the $14.235 million Proposition F: Repairs for nine of the city's cultural centers, three of which were built in 1930 or before. The Dallas Museum of Art will receive $6 million in total, the most of any facility. The building, which dates back to 1984, will get exterior improvements and waterproofing. The museum, which frequently floods in its basement and its parking garage after heavy rains, will also improve its drainage system. The rest will pay for mechanical updates and a replacement of its fire alarm panel. I.M. Pei's beloved Meyerson Symphony Center, which opened in 1989, will get $3.8 million to replace its leaking roof, its old elevators, and the reverberation door controller system for improved acoustics.
The Bath House Cultural Center, which opened in 1930, is getting $1.5 million for interior renovations that will get it up to compliance with the Americans with Disabilities Act. It'll also get plumbing and kitchen improvements. The Dallas Black Dance Theatre, another building that dates back to 1930, will get $900,000 for waterproofing, exterior restoration, and repairs to cracks in the building.
The Sammons Center for the Arts on Harry Hines will also receive $900,000 for repair of its façade and roof. The facility was built in 1909. Frank Lloyd Wright's beautiful 1959 Kalita Humphreys Theater will receive $525,000 for electrical improvements and repairs from water damage. (Oddly, it won't get a new lobby.)
The South Dallas Cultural Center will get $250,000 for erosion control, repaving and re-landscaping, and security upgrades like cameras and improved lighting. Dallas Heritage Village will also get a quarter of a million dollars for refurbishment and renovation of its old house. And the Oak Cliff Cultural Center, located in a storefront on Jefferson Ave. near the Texas Theatre, will receive $110,000 for new heating and air conditioning systems.
Proposition G
: The issuance of $32,081,000 general obligation bonds for public safety facilities and improvements, the estimated amount of repayment, including principal and interest based on current market conditions being $43,491,250.
In June 2015, a man named James Boulware parked a dark van in front of the Jack Evans Police Headquarters in the Cedars just after midnight. Moments later, the sound of gunfire echoed down Lamar Street as a barrage of bullets pierced through the glass at the police headquarters. Miraculously, no one was injured in the assault. Boulware was shot dead hours later after a standoff south of town. But it was the rudest awakening anyone in the department could imagine—HQ wasn't safe, and Dallas police needed help making it so.
They'd have to wait more than two years. In September, the City Council approved $2 million in upgrades to the lobby. The bond package sets aside $1.25 million for further security enhancements at Jack Evans. It is among $6.8 million in security upgrades that will be divvied out to each of the seven police substations—central, northeast, northwest, north central, southeast, south central, and southwest.
The proposition also sends some love to the fire department. About $7 million will go toward replacing the 63-year-old Fire Station No. 36, at 3241 Hampton Road in West Dallas. Close to $7.5 million will be used to replace the 56-year-old Fire Station No. 46 in Oak Cliff, which has a poor air conditioning system for the firefighters. An all-new fire station further south, at South Jim Miller Road and Loop 12, will be built with $6.9 million. Another $2.3 million is set aside for renovations at a dozen other fire stations throughout the city.
Proposition H
: The issuance of $18,157,000 general obligation bonds for repairs and improvements to city hall and to various city service and administrative facilities, the estimated amount of repayment, including principal and interest based on current market conditions being $24,608,750. 
This proposition includes no money for district offices or ground-up construction projects. Thirty-nine-year-old City Hall gets a $7 million renovation, with new roof, parapets, skylights, ADA-compliant restrooms, and electrical panels. The Oak Cliff Municipal Center, where you go to fight those parking tickets, is getting $2 million for new restrooms, common areas, and office space. The West Dallas Multipurpose Center will get a $2.5 million expansion to include a community court. Thirty-seven city facilities will get new electric panels, for $1.3 million. About $325,000 will go toward a new mosquito abatement storage building in North Dallas, so that staffers don't have to go south for equipment and chemicals.
Economic Development
Proposition I: Trust the city with $55 million to spur development in underserved areas.
Proposition I
: The issuance of $55,400,000 general obligation bonds for funding the city's economic development program, the estimated amount of repayment, including principal and interest based on current market conditions being $75,109,500.
Each district will receive a portion of money that will be kept aside for incentives and other bait for economic development opportunities. Let's take a look at the city's language: "Funding to facilitate the revitalization of commercial corridors, transit oriented development, mixed income housing, mixed use development and neighborhood revitalization."
What?  
We posited that question to Al-Ghafry, who said the language was purposely broad. It's impossible to plan for citywide economic development opportunities that will come between this bond election and whenever the next one will be. But when those opportunities do come, the city wants to ensure that it has the money to lure developers in. And it wants to be able to buy into developers that will address a community's need, be that groceries or retail or housing. The city is now studying what and where those needs are in order to pursue what it believes to be the right investments.
"It's not purposely in the sense of, 'We don't want to tell the public what we're doing.' What we're doing right now is market value analysis, it's being studied. We're looking at more housing studies around I-345, around I-30, around some of the more distressed areas," Al-Ghafry says. "And so having the opportunity to look at a specific area and say, 'What does that area need? Does it need more revitalization in the commercial corridor? Does it need more mixed-use? Does it need more housing? … I think the biggest mistake for a city is to limit itself on its opportunities."
The city's asking you to trust it. That $55 million, Al-Ghafry says it can be shared between districts, that if a project comes that can benefit the region, that others would volunteer to share their money. In fact, that's the type of development that the city manager's office wants to create, to get away from the one-offs and get into business with developers that can create a lasting, sustainable change in a community that needs it.
For instance: The City Council's Housing and Economic Development Committee
last week voted
to ask the full Council to approve a study of the economic and housing potential of the 245 acres currently occupied by I-345, the 1.4-mile highway that could be torn out at some point. Al-Ghafry hinted up above that the economic development funds could be used to help kickstart development there.
In a sense, the proposition is a vote of confidence—new City Manager T.C. Broadnax has made strides to increase transparency in his time at City Hall. But will Dallas residents be willing to authorize $55 million in debt to be used on philosophy?
"We're probably going to be dealing with the most distressed properties in our city," Al-Ghafry says. "You know where they are."
Homeless Assistance
Proposition J: Help the city find transitional re-housing for its neediest residents.
Proposition J: 
The issuance of $20,000,000 general obligation bonds for permanent, supportive and transitional housing facilities for the homeless, the estimated amount of repayment, including principal and interest based on current market conditions being $27,115,750.
The language for this proposition, and the breakdown of how its $20 million would be spent, is intentionally left a little vague. This is partly to give the city flexibility in creating partnerships with other agencies that help Dallas' neediest residents — and find significant matching funding from those sources — and partly to avoid a backlash from residents who may resent having housing for the homeless in their neighborhood.
The money will not go toward building new shelters, but toward creating at least 500 new housing units for the homeless or people at risk of homelessness.
"Part of the challenge with homelessness is you have the NIMBYs," Al-Ghafry says. "The NIMBYs is a big detriment to this. That's why we're not specifying an area [where housing will be built]. It could be really all over the city and you don't want to single it out in a big facility. You could be building, you know, 15 units here, 10 units here, five units here."
The focus would be on permanent housing, and on transitional and "rapid rehousing," accompanied by social services that can help individuals and families before they end up on the street, or in overcrowded shelters. Those same services and programs would be part of a long-term plan for alleviating homelessness. Along with building or buying property for new housing, the city could repurpose or rehabilitate property it already owns to that end, addressing a housing shortage and creating spaces for the kind of programs that help the vulnerable get back on their feet.
While the chronically homeless, seen in encampments under overpasses or emergency shelters, are often more visible, the city intends for this bond money to also go toward vulnerable families and young people on the precipice of homelessness.
"We're building opportunities for permanent housing and services attached to those housing," Al-Ghafry says. "We have a very vulnerable community of families or single mothers with children, and young adults, 18-24."
Al-Ghafry likens it to preventive medicine, and says that the bond, the first the city has taken to voters to address homelessness specifically, should be viewed of a piece with Proposition I, for economic development. In both cases, the bond would fund programs and facilities for the city's most vulnerable people and neighborhoods.
Get the D Brief Newsletter
Dallas' most important news stories of the week, delivered to your inbox each Sunday.