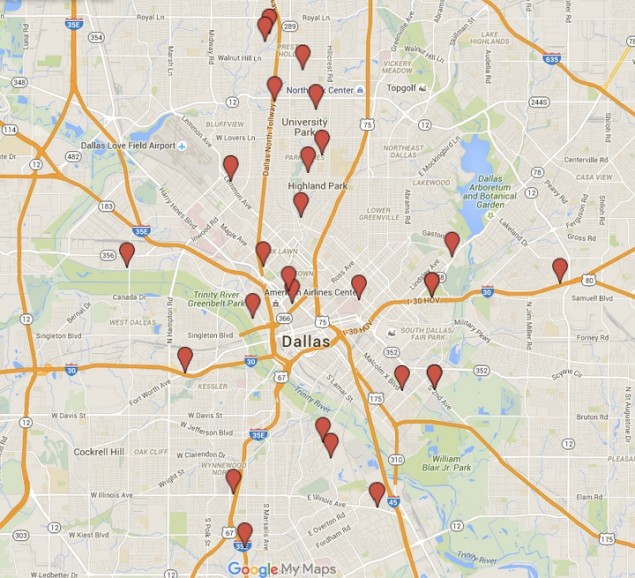 Earlier I had a look at where John Wiley Price's money has come from, given that he accused his main opponent, Dwaine Caraway, of hiding the fact that he was taking lots of contributions from white people in North Dallas. Now that Caraway's filing are online (late!), it's time to do the same with him.
I am only looking at contributions of $1,000 or more that have come from North Texas, and I'm only looking at the last two campaign finance report filings. That's why you won't see Wick's contribution of $2,500, which I learned about this morning when I read the paper. A few observations before you start clicking around on the map to see who contributed what.
The Patel family loves Dwaine Caraway. If there is a Patel in North Texas, chances are he or she gave to Caraway. If Price wants to single out a racial group that is giving to Caraway, it ain't white people he should be talking about. But, yes, in general, his claim that Caraway is taking money from North Dallas does bear out. In these two filings, Caraway took in $122,620 in contributions. His big-money donors (those giving $1,000 or more) accounted for $115,000 of that, or about 94 percent. And it looks to me like about 90 percent of his big-money donations came from "North Dallas," for the purposes of this post defined as not "the community."
One final note: Caraway's filings are a mess. At least Price's contributions are printouts of an Excel document. Caraway's are handwritten. In several cases, addresses aren't provided for donors. I had to track them down myself. One of them I couldn't identify. If you know who Frank Howell is, give me a shout. He contributed $5,000, and I have no idea who he is.
Get the D Brief Newsletter
Dallas' most important news stories of the week, delivered to your inbox each Sunday.