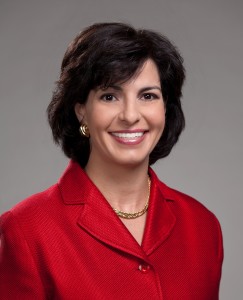 Texas Railroad Commissioner Christi Craddick won't talk yet about a preliminary report to the commission ruling out a link between earthquakes near Azle and a disposal well operated by XTO Energy—findings that contradicted an earlier study by scientists at SMU, which did find a connection. But during an appearance in Dallas yesterday, Craddick said the commission, which regulates the Texas oil and gas industry, is working with its recently hired staff seismologist to investigate seismic activity and to hold "conversations" with concerned communities.
The commission's seismologist, Craig Pearson, "has done a very good job, we believe, having conversations with industry, as well as working with SMU, which was the group on the ground, and figuring out how to work with SMU," Craddick said during a luncheon talk sponsored by the North Texas Commission. "And within a very short time … [Pearson] proposed what we believe are [good] rules to deal with [the monitoring of seismic activity by well operators]. We think we are now leading the country again in some of our rules. He also has continued the conversations" with various communities concerned about hydraulic fracking activity.
In addition, Pearson will be one member of a new technical advisory board created when Gov. Greg Abbott signed legislation authorizing $4.47 million for an expanded seismic monitoring program in Texas, Craddick said. Led by the Bureau of Economic Geology at The University of Texas at Austin, the new program calls for dozens of new permanent and mobile monitors to help detect earthquake activity around the state.
"Because the bottom line is, we don't know, and we don't know what we don't know, in some respects," Craddick said of a possible connection between quakes and drilling activity. "Dr. Pearson will continue to be involved with that conversation. … I think you'll see them try to be up and going, and data start coming in, early next year. We look forward to seeing what the data is, and seeing if we need to readjust our rules. We want to have best practices and make sure we have good regulations."
Asked after the talk about the preliminary findings regarding the Azle well by railroad commission investigators, Craddick said she could not comment because the commission has not ruled yet on the Azle situation. "It's preliminary, and I have not seen it yet, and I cannot comment until we rule on it," she said of the tentative findings. "It is a pending case in front of us; it is proposed from staff. It will come before the commissioners probably sometime this fall. … I'm sorry, but in fact I checked with my legal counsel and he said, 'You can't comment.' "
Get the D CEO Newsletter
Stay up to speed on DFW's fast-moving business community with weekly news reports, interviews, and insights.