Thirty-six lanes of traffic. If the Trinity toll road were built, that's how many highway lanes of concrete, in parts, would separate downtown Dallas from the river. Bear in mind that Dallas, through its CityDesign Studio, recently went through an exercise to figure out how we can connect downtown to the river.
On Twitter, Angela Hunt pointed out that the NTTA image you see above is what we voted to build. Here are the current drawings. Follow the link if you want more detail. But here's an aerial perspective of the road as it is imagined today: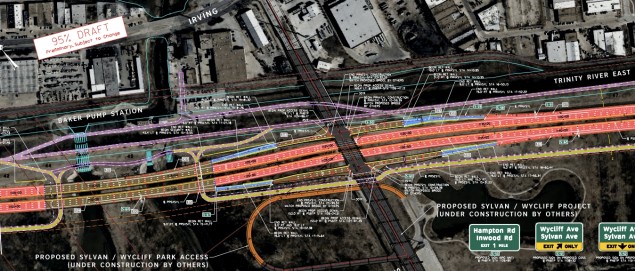 And here's a cross section:
Patrick Kennedy started counting lanes. He calls it 15 lanes for the Trinity toll road, plus 21 lanes of Riverfront and I-35. Brings us to 36 lanes. Not for the entire length of the toll road. Just in parts. But still. That doesn't feel connected to me. It feels like the opposite of connected.
Get the D Brief Newsletter
Dallas' most important news stories of the week, delivered to your inbox each Sunday.