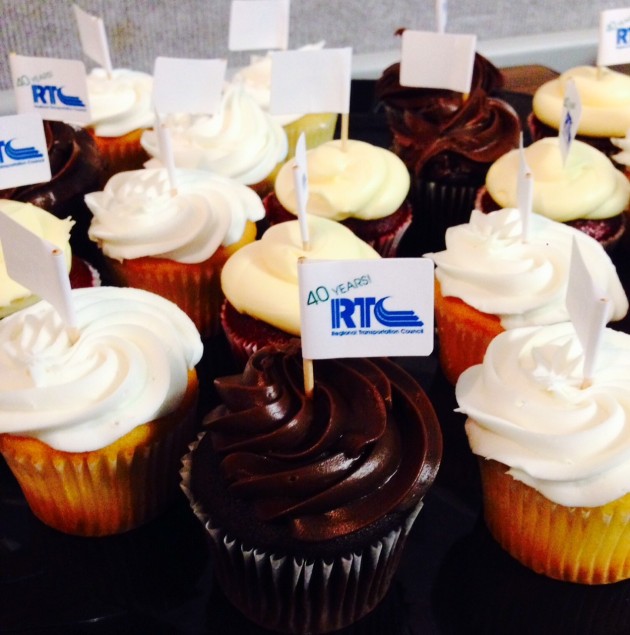 Seriously, if you spend one minute reading this post — especially if you take the time to listen to the audio — then you really need to reevaluate your life, figure out where everything went so pear shaped that you had the time and interest to dive into this. That said, here's your prep guide for the audio that I recorded today out in Arlington at the HQ of the North Central Texas Council of Governments' Tom Vandergriff Conference Center (decor theme: gray on gray). First, you need to know that cupcakes were served, on account of the NCTCOG's 40th birthday. Keep that in mind. Second, I loitered in the NCTCOG lobby before the meeting and spotted not one, but two gentleman attendees wearing cowboy hats. In other words: my kind of meeting. I stayed for about 25 minutes, just the part where they discussed I-345. I'm only going to give you the highlights. Okay, here's what you'll hear:
[d-embed id="regional-transportation-council-meeting-audio"]
We open with NCTCOG transportation director Michael Morris restating for the 40-plus members of the council and the 50 or so gathered his apology. That was nice.
You'll hear a beep at the one-minute mark. That's my sweet, sweet Garage Band editing skillz.
Then you'll hear a very sane Sandy Greyson saying that some people are "astonished" that Morris has linked the (dead) Trinity Parkway with the notion of an I-345 teardown. Morris explains to her how he thinks the two are related, and at the 0:02:40 mark, you'll hear Greyson tell Morris that the linkage is "premature." He backs down.
At the 0:02:50 mark, you're going to hear Vonciel Jones Hill make her aural entrance. Hill, as always, sounds like she's teaching a class in diction. She wants everyone to know that she's against an I-345 teardown as staunchly as she can possibly be against it. Like, hard against it.
At the 0:05:00 mark, Greyson pipes in to let everyone know that she's not for a teardown. She has no position on it. She just wants the conversation to to proceed without Morris' prematurity (my word).
At 0:05:34, Sheffie Kadane, sounding like he has crawled out of his deathbed to attend the meeting, asks Morris to explain how he thinks the (dead) Trinity Parkway and I-345 are related. I can only guess that Sheffie (can't call him Kadane) was sleeping during the earlier part of the meeting, just minutes ago, when Morris explained how he thinks the (dead) Trinity Parkway and I-345 are related. Morris takes a deep breath and explains it all again, in terms that Sheffie can understand. ("A road is a thing that cars drive on …")
Then, at the 0:08:15 mark, Sheffie tries to pick a fight with Greyson, and the Tom Vandergriff Conference Center (which is really just a room, not a center) gets all murmur-y. So Morris shuts down the whole conversation and moves on to the next agenda item. Don't blame him at all. They had a lot more to cover.
And are you still reading this? Get a life.
Get the D CEO Newsletter
Stay up to speed on DFW's fast-moving business community with weekly news reports, interviews, and insights.