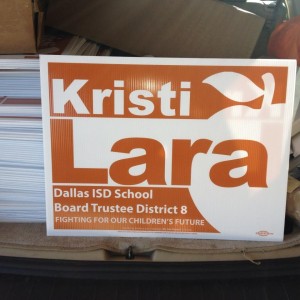 With just over a week to go before the DISD board special election, the campaign between Miguel Solis and Kristi Lara is heating up. Last week, Lara challenged the residency of Solis. (Clearly bulsh, but a solid campaign tactic.) Then, late Friday evening, John Loza, the campaign treasurer for Solis, filed a complaint with the Texas Ethics Commission accusing Lara of violating the Texas Election Code by "knowingly representing in campaign communications that she holds a public office that she does not hold." (I obtained a hard copy of the complaint by probably mysterious, possibly nefarious, obviously kick-ass means, which is why there has yet to be a news story about the filing, although there probably will be later today.)
It seems like a pretty straightforward (and amateurish) violation for Lara. Her campaign posters and stickers and mailings simply mention the office she seeks. This clearly implies that she currently holds said office. Such wording is explicitly forbidden by the Texas Election Code, which states the campaign material is out of bounds if "the communication does not include the word 'for.' "
The state election folks could demand she remove the offending campaign items, or fine Lara's campaign, or both. Or neither. But it seems, according to the letter of the law, that it's a clear violation. We don't need to wait for a ruling to know it's a silly misstep. If I've properly figured out how to upload .PDFs, the complaint is below.
Get the D Brief Newsletter
Dallas' most important news stories of the week, delivered to your inbox each Sunday.