I've made the case that the four Dallas ISD school board members aligned against Mike Miles – Lew Blackburn, Elizabeth Jones, Bernadette Nutall, and Carla Ranger – are odd bedfellows. IMHO, they each have very different reasons for wanting to run Miles out of town. If you want to hear what those are, as well as Jim and me talking about Brett Shipp and Mike Miles and lawyers and other DISD-y stuff, listen to the KNON show from this past Saturday.
But a perusal of the trustees' recent expense reports  reveals a glaring similarity between the anti-Miles trustees: they spend WAY more DISD money than the other four trustees — combined, almost 19 times more in 2012-'13.
See the chart below: Last fiscal year, the fearsome foursome spent $31,549 between them, while the four pro-mile trustees spent $1670.38.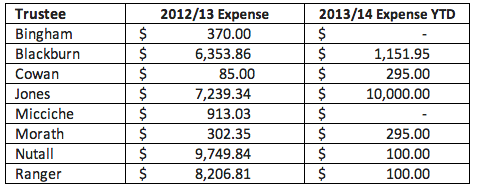 This is not in any way illegal or unethical — board members can spend up to $10,000 a year for travel and professional development training, categories most of the expenses fall under – it's just very spendy.
Of special interest to me are the conferences Elizabeth Jones attended on DISD's dime. In June 2013 (which falls under last year's budget), DISD paid for her to become a member ($675) of the National Association of Corporate Directors, as well as paid the costs to attend a conference for said organization. Total cost for attending was $5,152.48: registration ($3,950), lodging ($670.66), and airfare ($531.80). I had never heard of NACD, but this member testimonial from a Winn Dixie executive sums it up: "There is no better preparation for effectively serving on a Fortune 500 board than the timely articles and professional development courses offered by NACD." Which is I guess maybe sorta relevant, I guess, maybe.
That's nothing compared to what Jones expensed the next month (which falls into this year's budget): All $10,000 of her yearly allowance for fiscal '13-'14 was spent in July on a three-week course at the Harvard Kennedy School Senior Executives in State and Local Government. Now that three-week course is certainly more relevant to her role as a school board member. I'm not saying it's not. I'm just saying.
Get the D Brief Newsletter
Dallas' most important news stories of the week, delivered to your inbox each Sunday.