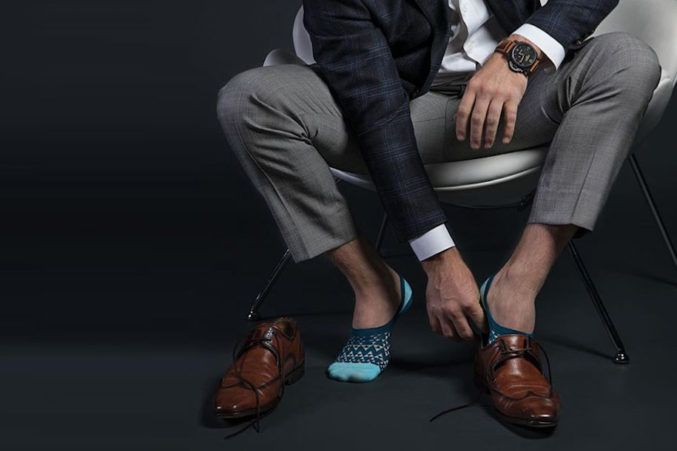 How This Innovative, Dallas-Based Sock Company Plans to Give Back
Jason Simmons' non-slip socks benefit more than just your feet.
In addition to having an incredible name, DeadSoxy has a couple of honorable missions. The first: to give the people a sock that won't stretch, develop holes, or — crime of crimes — slip off your heel while you're just minding your own business walking. This it accomplished by creating no-show and dress socks for men and women with upcycled poly-yarn and bamboo. "We just want to be your favorite pair of socks," says Jason Simmons, who launched Dallas-based DeadSoxy in May of 2015. Since then, the company has been featured in gift guides for Forbes and Reader's Digest, and was just recently awarded Fashion Group International of Dallas' Rising Star Award for menswear.
The second goal is to partner up with local charities. "I'm not a big believer in the buy-one-give-one model, but collaborations are something we can get behind," says Simmons.
The company's first partnership is with the nonprofit Best Buddies Texas, whose mission is to promote inclusivity by fostering one-on-one relationships between people with and without IDD. Simmons and his team created a limited-edition Best Buddies sock in support of the nonprofit's local Friendship Walk in Frisco on April 7. Five dollars from each purchase of the colorful, balloon-filled socks, designed by a Best Buddies Ambassador named Alex from Wylie, Texas, will be donated to the BBTX chapter of your choice. "Our ultimate goal is to donate $100,000."
A collaboration with Dallas-based charity The Birthday Party Project is also potentially in the works as the brand continues to grow. "The opportunity to use DeadSoxy to do some good in the world was right up at the top of my reasons for starting this company," says Simmons.
SaveSave
SaveSave
SaveSave
SaveSave
SaveSave