Ideas can grow from the most unexpected places. Sometimes a dream might create a goal that we didn't know was there. Or a movie plants a seed, turning a thought into action. Or, in the case of Carole Ann Brown and Scotty Buehler, a shared love for afternoon tea might just kickstart a celebrated fundraising tradition.
Back in 1988, Brown was leaving a Women's Council event with Buehler, the then president of the organization, when the topic shifted to the Dallas Arboretum. "Most people don't even know it exists," Brown recalls Buehler saying of the Dallas attraction. "I want you to create an event that brings awareness to how beautiful the gardens are." The idea hit them almost simultaneously: a tea party.
They filled in the Women's Council on their idea and got to work. "When you're trying something new, you never really know if it's going to work. I just remember feeling hopeful," says Brown. "[Mad Hatter's Tea] started off as a novel idea, but became a raging success."
A parade of themes (from Under the Tuscan Sun to Under the Cherry Blossoms) and over-the-top headwear have made Mad Hatter's a photographer's dream come true. Ahead of Thursday's 30th Mad Hatter's Tea (this year's theme: A Garden by the Sea), we caught up with Brown to discuss the most memorable hats and themes of tea parties past.
Why a tea party?
There had been a group of ladies who did a tea party a couple of years before. It seemed like a good idea because they had just done it for fun. No one really wore outrageous hats, just tea party hats. Just going to a garden party didn't seem interesting — it needed a touch or creative idea to back it. There are Mad Hatter-themed tea parties all over the world, but we didn't want it to be ordinary.
Has a fashion show always been a part of Mad Hatters?
There was always was a fashion show. For the first three or five years, hat designer Frank Olive was brought in from New York.
When did people the over-the-top hat trend begin at Mad Hatter's?
Immediately. I sent an invitation to all our friends and they came in outrageous hats  — not just tea time hats. People were thinking that this is just too much fun. Through the years, hat categories were created like "Most Botanical," "Most Outrageous," and "Most Sophisticated."
Eventually, people would come from everywhere to see the event. Now it's grown the point where you just wonder, what could possibly happen this year?
What are some of the memorable themes?
One of my favorite ones was Alice in Wonderland in 2015. In 2004, Connie Carreker was the chairman and she had the idea for Hats Off to Heritage, honoring ten ladies (known as the "Heritage Ladies") who were some of the early members and founders of the Women's Council.
Last year, Linda Stina was the chairman and her theme was Under the Tuscan Sun. Everything was yellow, including the invitation, which had a big daisy on it.
How are the themes chosen?
Themes are strictly up to the chairman, with the approval of the president of course. The president gives the chairman the opportunity to make their selection in every way — themes, hat categories, everything.
Is there a hat in particular that stands out to you?
One year, one of the ladies wore a hat with a birdcage and a live bird inside of it. The hat stood about three feet off of her head!
Another year, my friends Yvonne Crum and Jill Rowlette dressed as Lucy and Ethelle and wore hysterical hats and burlap dresses. They won an award but I cant remember which one.
What should people know about the event that they may not already know?
The event is open to anyone who would like to come. You can call the Dallas Arboretum or the president and tell them you'd like an invitation at least six weeks in advance of the event.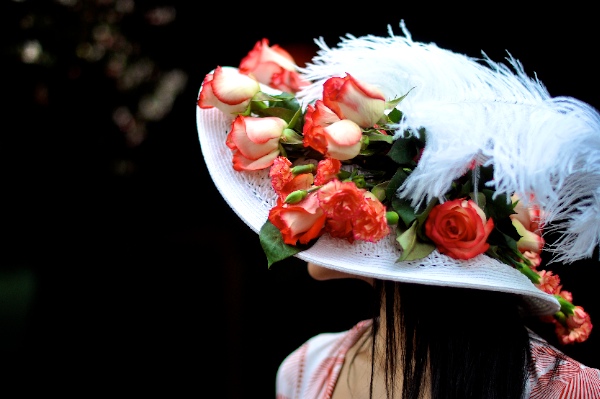 What has been the most rewarding part of Mad Hatter's?
I remember when Scotty asked me to create the event. She said, "I don't care if you raise any money. We just need people to understand all the Dallas Arboretum has to offer." That made it really easy for me, because I could just do the things that will bring beauty and interest to the event. And wouldn't you know when you don't have any pressure, you do well.
It's been so great to watch an idea hatched between two people after a party turn into our signature fundraiser — that's the greatest joy.
Get the Living Newsletter
Get the insider's guide to the best in Dallas style, beauty, and wellness delivered right to your inbox each month.