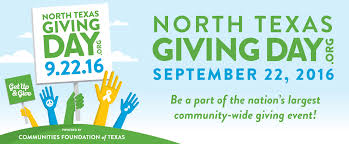 By now, you surely know how this works. You donate money to your favorite local charity, and through the Communities Foundation of Texas, that charity becomes eligible for bonus money and matching funds. It's a great way to multiply your charitable contributions. Last year more than $33 million was raised for a total of more than 2,000 nonprofits, making it the biggest "giving day" in the country. Let's break that record. Here's where to give.
You also know by now that I like to crow about my alma mater, tiny Cistercian Prep, which won last year's North Texas Giving Day. Sure, sure. You can say it's not a competition, everybody wins, etc., etc. That's because your organization didn't destroy the competition like Cistercian did last year. Burn! Anyway, Cistercian currently sits in the No. 2 spot on the leaderboard, in terms of dollars (KERA has the top spot in terms of number of contributions). Westlake Academy, which has the No. 1 spot, had best watch out. Hox vobiscum.
(Full disclosure: my wife is part of the PR effort for this event. (Fuller disclosure: she has been a real peach to live with for the past couple of days, as the stress of the gig has taken its toll. (Fullest disclosure: I'm gonna catch hell for that fuller disclosure joke.)))
Get the D Brief Newsletter
Dallas' most important news stories of the week, delivered to your inbox each Sunday.