On March 2, Chad Houser and I announced Uncle Nancy's Tongue in Cheek Café. The idea was to raise money for Café Momentum. I volunteered to cook dinner for the winner and seven of their friends. The winner also won the right to write a review of the evening. Below you will find Alyson Brown's report along with pictures by Elizabeth Lavin and Scot Miller.  No, I did not cook every dish, but asks my sous chefs Andre Natera and Chad Houser: I'm no slacker when it comes to throwing a party. Thanks to a generous matching donation by Shannon Wynne, Larry Richardson, and Keith Schlabs we raised almost $12,000 for Café Momentum. And took a African-style safari and dinner took place in Dallas. I created a style-over substance Modernist African Landscape Cuisine menu. Here's Alyson's review: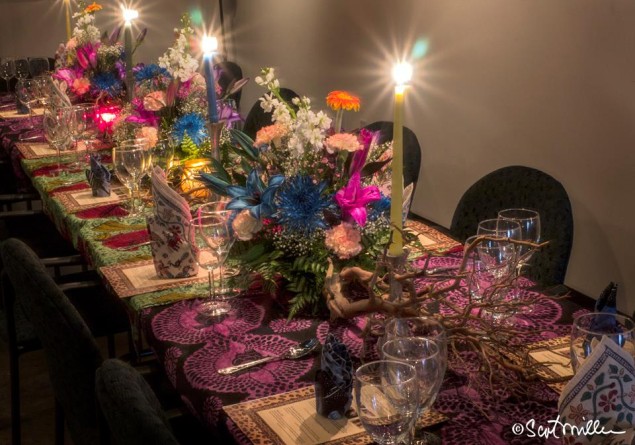 Earlier this year, Café Momentum launched its grass roots "Get the Doors Open" fundraising campaign. Headed by Chef/Executive Director Chad Houser, the pop-up restaurant series provides a culinary training program for at-risk young men residing at Youth Village Resources of Dallas County. Café Momentum's long-term goal is to open a permanent restaurant to provide jobs and continuing culinary training to young people who seek a fresh start, mentors and opportunities.
Through "Get the Doors Open Campaign," Café Momentum raised over $72,000 earmarked for restaurant décor, furniture, equipment and other operating expenses. Chad Houser and Nancy Nichols (of D Magazine) teamed up to offer a unique Café Momentum experience as a special donor incentive raffle—a night at Uncle Nancy's Tongue in Cheek Café.  One lucky donor won a special dinner for eight, prepared by Nancy (with a little help from some friends), served by Chad, and joined by some of the young men of Café Momentum.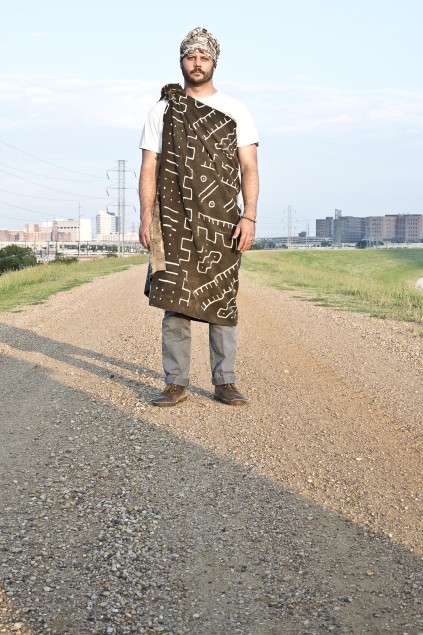 The invitation to the May 31st Style-Over-Substance Safari-Inspired Supper specified "safari attire" and instructed guests to leave the high heels at home. Our hosts for the evening, Scot and Marilyn Miller, opened their Sun to Moon Gallery for the evening, with Nancy, Chad, and guest chef Andre Natera (making a Dallas cameo, sneaking away from his new gig at Austin's Omni Barton Creek Resort), doing the heavy lifting in the kitchen.  House of Plates, raided Nancy's house for safari souvenirs to create an intimate African dining salon.  The "soundtrack" included wild bird and animal sounds to round out the safari theme.  Each dish was paired with a new Oak Cliff Cellars release, courtesy of Jim Richardson.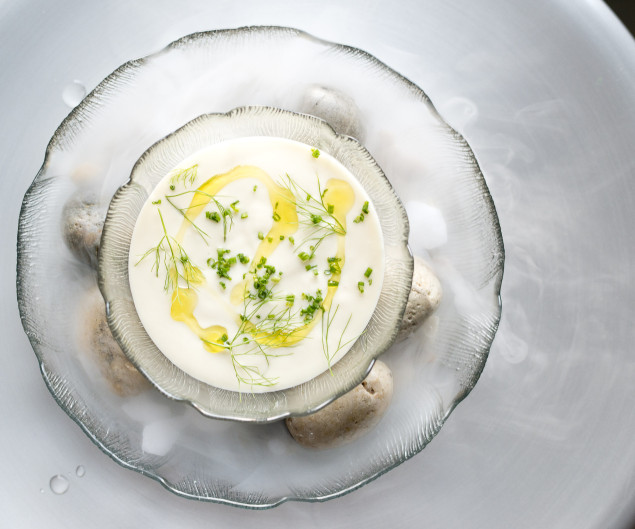 Our evening began with "Sundowners," a rum cocktail traditionally served at sundown during safari. Nancy, who has traveled to Africa many times, introduced us to the safari tradition of stopping in a beautiful place at sundown to enjoy a cocktail and the view. We hiked to the top of the Trinity River levee to overlook the water, Dallas skyline and birds. As the sun set, Chad (in his alter ego Godwin, the trusty safari Sherpa) served Biltong, a variety of cured meat commonly found in South Africa. We enjoyed two preparations, a Korean-marinated sirloin and a salt and pepper cured Waygu tenderloin, accompanied by the not-to-sweet rum punch.
The food was the star of the evening, with dishes displaying both style and substance. The first course, The Smoke that Thunders Porridge, was a creamy vichyssoise garnished with herb fronds. The bowl of slightly cooled potato leek soup rested on a saucer filled with river stones with a dry ice fog rising above the plate. The presentation saluted Victoria Falls, the world's largest sheet of falling water located on the Zambezi river at the border of Zambia and Zimbabwe.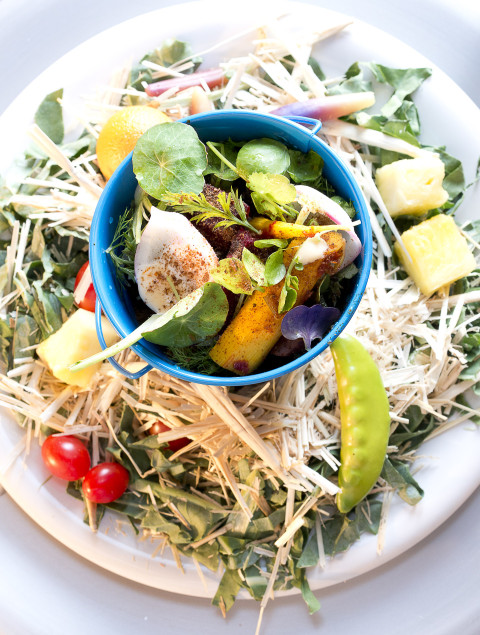 Chad/Godwin whisked away our empty soup bowls and replaced them with bright buckets of Elephant Salad.  No elephants were harmed in the making of this salad—instead we enjoyed types of vegetation eaten by elephants—fruits, leaves and greens. With the addition of pickled root vegetables, shaved raw vegetables, hazelnut and rye soil with honey and miso kewpie mayo, we were treated to flavors of elephantine proportions.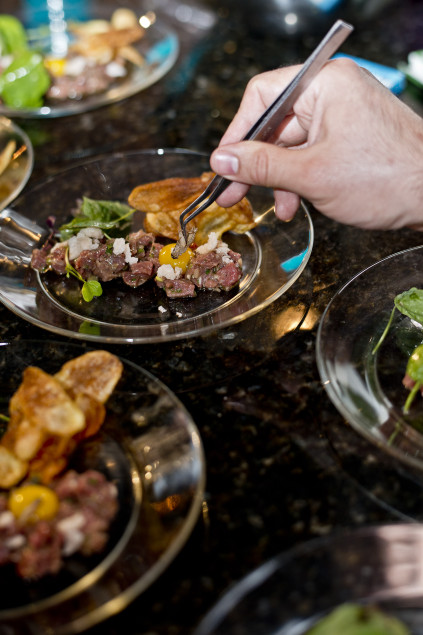 The third course highlighted the Serengeti ecosystem, the wildlife-rich region that runs from northern Tanzania and extends to southwestern Kenya and the Masai Mara. Our wild game course featured bison tartare prepared with shallots, chives, Dijon and Meyer lemon olive oil, confit egg yolk and potato crisps. The combination of crunchy and silky textures cohesively blended the savory and acidic components of the dish.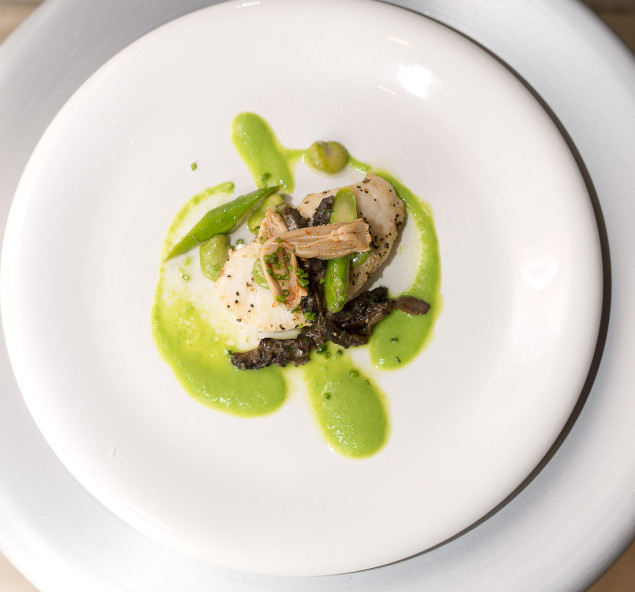 The Delta Dish saluted the African wetlands —bountiful with fish and fowl–in true "tongue in cheek" fashion. Braised halibut cheeks were topped with pickled duck tongue nestled in a spring pea sauce with morels, asparagus and fava beans. The earthy morels provided the balance between the delicate fish, tart duck tongue, and savory pea puree.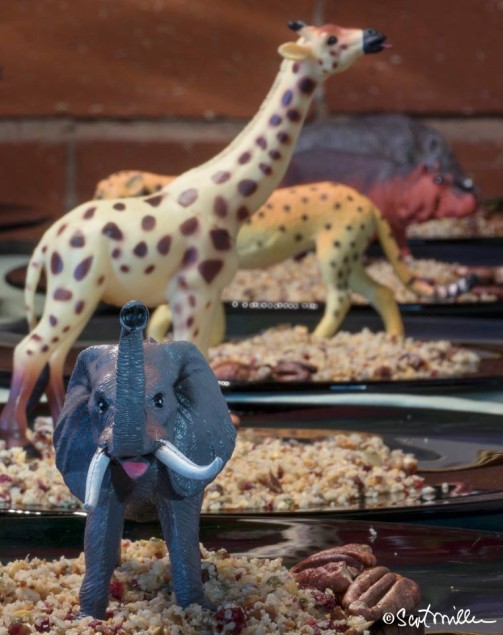 The Kalahari Desert Dessert delighted with a fanciful homage to the Kalahari Desert: ice cream "boulders" on a plate covered with a "desert" of crushed mixed nuts and dried fruit, each dish accompanied by a take-home African animal figurine. In a whimsical interactive finish, guests chose their "global warming" technique to complete the dish:  solar ray (a blow torch), a hot wind (a blow dryer) or an ice storm (self-explanatory).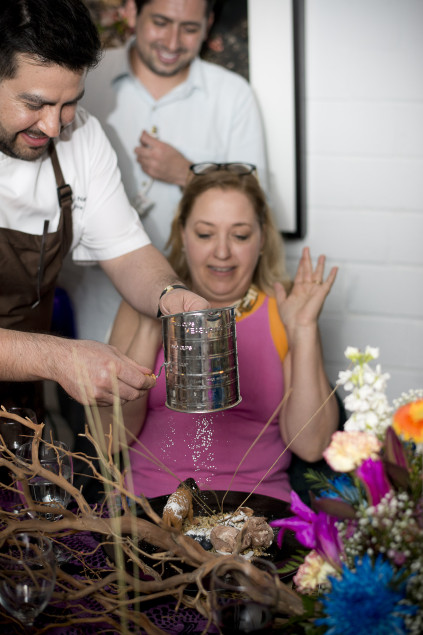 Apres dinner we climbed to the roof-top deck for after-dinner drinks and cigars. The F-Bomb, a play on the Irish Car Bomb, paired Jameson Black Barrel Irish Whiskey with a coffee porter ice cube. Against the backdrop of the illuminated Dallas skyline, we all recognized the magic of Café Momentum, and how lucky we are to have the opportunity to Eat***Drink***Change Lives.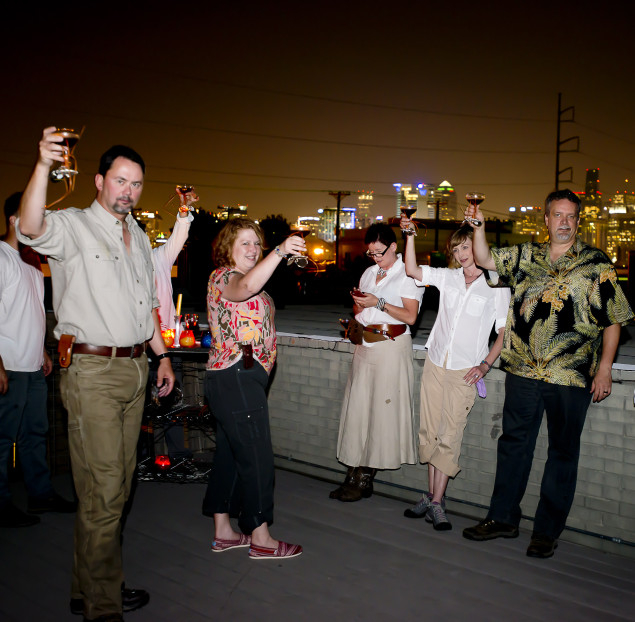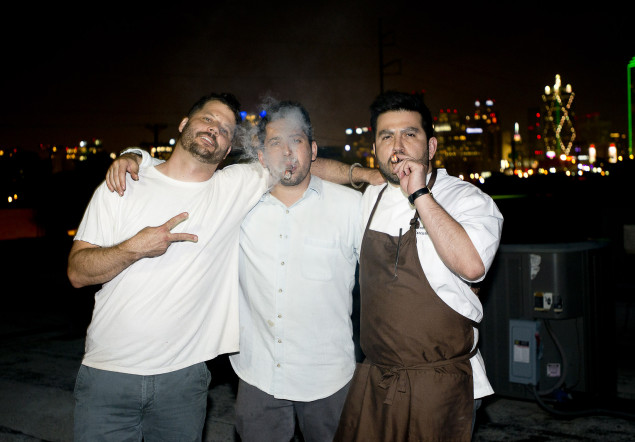 Get the SideDish Newsletter
Dallas' hottest dining news, recipes, and reviews served up fresh to your inbox each week.