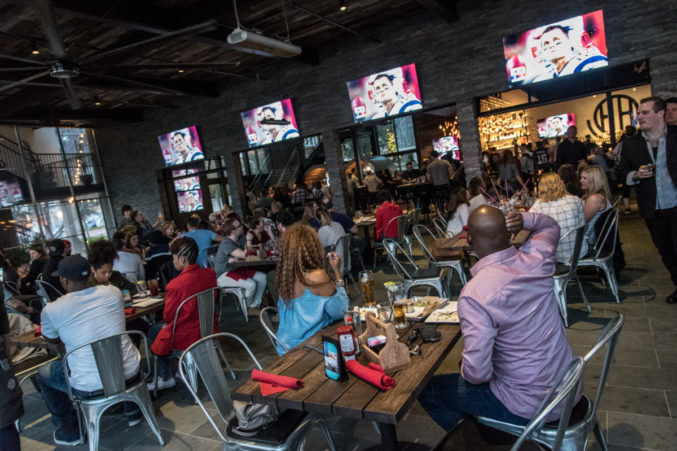 The Best Super Bowl 52 Watch Parties in Dallas
Where to watch the big game involving the hated Philadelphia Eagles and the despised New England Patriots. Plus: the best food and drink specials.
By The Event Listings Committee
Published in Nightlife
February 1, 2018
1:39 pm
The Dallas Cowboys are not only not in the big game Sunday, the two teams that are—Philadelphia and New England—are so despised here that to watch them play the most important football of the year feels in many ways like a cruel cosmic joke. Nevertheless, it is the Super Bowl, and we love a good Super Bowl watch party.
The ingredients for a good Super Bowl party are simple: A big screen, food and drink specials, maybe some prize giveaways. But some bars and restaurants have perfected it. To that end, we've rounded up some of the best places in Dallas to watch the game this Super Sunday. First, the basics.
When is the Super Bowl? Kickoff is at 5:30 p.m., but the pregame starts hours before.
What channel is the Super Bowl on? NBC, aka Channel 5.
Who is playing in the Super Bowl? See above, but the Philadelphia Eagles and New England Patriots.
Onward.
Where To Watch
Cost: Free
When: Doors open at 4:30
Where: 3524 Greenville Ave.
What: Three of the biggest screens in town at one of our favorite concert venues, with $3 domestics, $6 jack rye and ginger ales, and a $7 NACHO BAR WITH ALL THE FIXINS', a prospect so intriguing we had to type it in all caps. Email or call ahead (follow the link above) if you have a big group or want to reserve seats.
Cost: Free
When: Doors open at 4
Where: 2713 Canton St. in Deep Ellum
What: Another one of our favorite concert venues, with one very big 30-foot HD screen. Sportsradio 1310 AM/96.7 FM The Ticket is hosting this shindig, with host Donovan Lewis on hand to, well, host. Wiles BBQ is bringing the grub, and there will be lots of games and raffles and drink specials and assorted giveaways to keep you occupied during any downtime.
Cost: Free
When: Happy hour prices and buffet start at 4:30
Where: 2908 Greenville Ave. on Lower Greenville
What: Free food, cheap drinks ($4 wells, $5 call drinks, $1 off drafts and bottles) and lots of televisions, plus a pick-the-score contest with a $500 prize.
Thirsty Lion Gastropub & Grill
Cost: Free
When: Happy hour specials all day
Where: 350 West Las Colinas Boulevard, Irving
What: The newest bar-restaurant to open at the Toyota Music Factory in Irving, Thirsty Lion is introducing itself to North Texas with deals on drinks ($4.95 wells, $1 off draft beers, a $5 to $7 food menu) for its all-day Super Bowl party.
Cost: Free (VIP Tickets available for $25)
When: 4:30
Where: 2616 Olive St.
What: Plenty of room inside and out on the patio, along with more than 20 screens. Bud Light pints are going for $3, and menu items will be "team-themed," if you can stand the taste of anything associated with the hated Philadelphia Eagles or the dreaded New England Patriots. Buying a VIP ticket will get you onto the exclusive rooftop.
Cost: Free
When: Televised pregame begins at 2 p.m.
Where: 5624 Sears St.
What: Lowest Greenville's finest backyard patio will fire up the outdoor projector screen for the occasion, with the screens inside the bar serving complementary roles. Eat at the food trucks, drink the $4 wells and domestic cans of beer, and $18 buckets o' beer (domestic).
Cost: Free
When: "Come early to claim your spot." The television pregame starts at 2 p.m.
Where: 2900 Thomas Ave.
What: It's a sports bar. Buckets of Bud Light and Miller Light for $20 for Super Bowl LII, plus other specials on drinks and food. More than 12 TVs, fewer than 20.
Cost: Free
When: Whenever, man, as long as it's after 11 a.m.
Where: 2811 McKinney Ave.
What: The single best sports bar in Uptown, and in Dallas, that's what. But if that's not enough, beer bucket specials and more than 60 television screens.
Cost: Free
When: All day
Where: 3300 Ross Ave.
What: Free cup of queso (and presumably chips) with every bucket of beer, plus "random shot specials" after points scored during the game. Nice patio, 20 TVs, not bad.
Cost: Free
When: At your convenience
Where: 1711 S. Lamar St.
What: Great bar, good drinks, big TVs with the sound on, nice company, won't be suffocatingly crowded. Walk a couple doors down for a pizza from Zalat. Works for us.
Bonus
If, God help you, you are an Eagles or Patriots fan and want to watch the game with your own kind, Philly fanatics of North Texas are going to T's Bar and Grill in Lewisville, with the pregame starting at 12 p.m., while area Pats fans will be gathering at Buffalo Joe's in Dallas.
Note: If you think your Super Bowl watch party is missing from this list, email [email protected] for consideration.