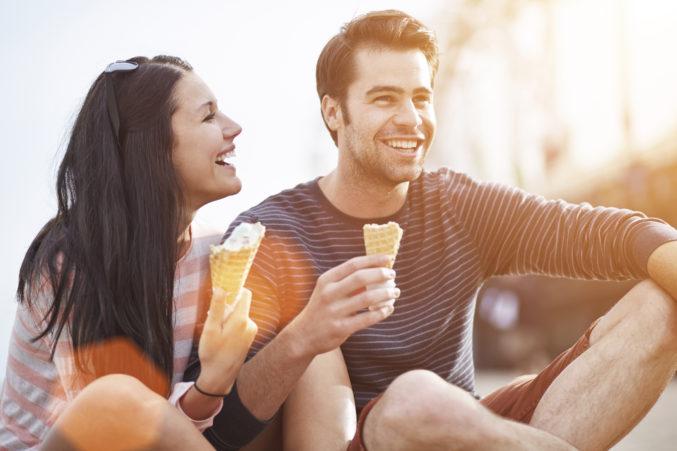 9 Ideas for a Hot Dallas Date
Cool suggestions for those triple-digit days.
By Susannah Hutcheson
Published in Nightlife
August 12, 2016
11:58 am
As the temperatures rise and the heat becomes sweltering, it can get a little tricky to plan dates that won't have you both a sweaty mess before you've even made it to the car. From brewery tours and stargazing to a ride through Downtown Dallas on the historic M-Line Trolley, here are date ideas that will keep you cool and happy way beyond the typical dinner-and-a-movie.
GO ON AN ADVENTURE.
Take a sunset trip across White Rock Lake on a tandem kayak or stand-up paddleboard for a date that keeps it interesting. (You can rent either for $22.99 an hour.) Follow it up with a picnic lunch on the beautiful trail. If you and your date are looking for something a little more extreme, sail through the sky on a water-powered jetpack with flyboarding.
GET YOUR DRINK ON.
What better way is there to stay cool than with a cold pint of beer? Learn about the history and processes of your favorite breweries with a tour—most of which have air-conditioned tasting rooms. Pro Tip: If you go take a tour at Franconia Brewing, your tour ends in the beer cooler.
HAVE A NIGHT AT THE MUSEUM.
You can have a unique experience, but you have to time your visit just right. The third Friday of each month, the Dallas Museum of Art is open for Late Nights from 6 p.m. to midnight. Take in all the museum has to offer and enjoy concerts, readings, and special programs. The Perot Museum of Natural Science also offers Social Science, a 21-and-up night filled with unique cocktails and eclectic experiments for the adults. You'll want to plan ahead for this one. It sells out fast, but it's worth it.
MAKE A SPLASH.
When you could, quite literally, fry an egg on the concrete, why not hit up the pool? Hang out in SISU's cabanas or head inside for a frozen drink and music. If you're trying to relax poolside, book yourself a staycation. The NYLO, The Joule, Omni, and the W have gorgeous pools with pretty views—and bars. Get yourself a room, stop by the hotel bar, and make friends with the sun.
TAKE A RIDE.
Give your date an old-fashioned feel with a ride through Uptown on the restored (and air-conditioned) M-Line Trolley streetcars. Hop on the trolley (it's free) at a number of stops, and enjoy exploring Downtown Dallas and Uptown. Grab a snack at the food trucks in Klyde Warren Park or find Dory and Nemo at the Dallas World Aquarium.
STARGAZE.
There's possibly nothing more romantic than a night of staring up at the stars. If you're willing to drive a few miles outside Dallas' city limits, you will find a pretty, dark sky at Cedar Hill State Park. Spend the night counting stars away from the light pollution of Downtown Dallas. Also, the Texas Astronomical Society hosts weekly star parties at a variety of locations every weekend. Learn more about the sky above you and see the bright constellations from different spots in North Texas.
GO DANCING.
On Saturdays through August, head to Addison for the Vitruvian Salsa Festival where you'll get 30 minutes of salsa instruction. You can also swing your date around with dance lessons from the Dallas Swing Dance Society with live music, or head over to Sons of Hermann Dance Hall for some beginner dance lessons and karaoke.
GET CINEMATIC.
Skip the traditional dinner and a movie in favor of a more cozy experience at the Inwood Theatre. Cuddle up on one of the many couches, sip on a glass of wine, and munch on some buttery popcorn. You can also catch a flick at The Angelika, where the atmosphere is a little more upscale and you can grab lunch or a carefully crafted coffee at the café.
STAY IN
Sometimes, the best kind of date is a simple night indoors with a home-cooked meal and a freshly uncorked bottle of wine. Beat the heat and take a trip to Lower Greenville's Trader Joe's or the Dallas Farmers Market and pick up everything you need for a bright summer meal. (Don't forget a fresh bouquet of flowers and wine!) Go Chopped on your date and recreate a dish from one of your favorite Dallas restaurants. Don't forget to swing by Steel City Pops for a frozen treat. (Try a creamy avocado pop.)