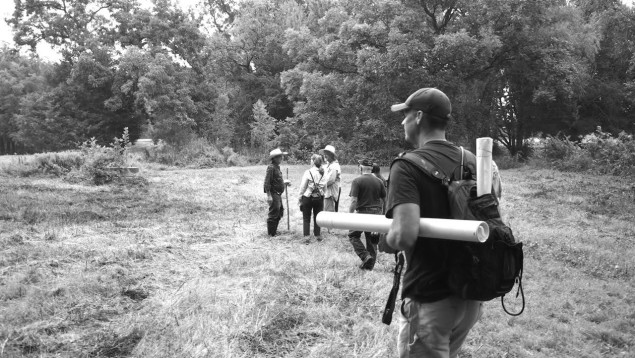 Robert Wilonsky has a great story in today's paper that you should take the time to read. It's about a private citizen named Ben Sandifer who is dealing with the city's shit — literally. In this case, a city worker drove a massive excavator onto sensitive parkland so that he could take a dump. The excavator got stuck in the mud, and a front-end loader had to go in after it to pull it out. A whole bunch of Norbuck Park, off Buckner Boulevard, got torn up in the process. Sandifer saw it happen. He took video. He asked questions. If it weren't for him, people who use the park would have wondered why it had been torn up, and the crappy city worker would never have been held accountable. (A city official told Wilonsky Wednesday that he wasn't sure if the city employee would be punished, which is difficult to understand. Here's how it should be handled. Supervisor: "Did you drive your excavator into a park so that you could take a shit?" Worker: "Yes." Supervisor: "You're fired.")
Anyway, that's all a preamble for what I really want to tell you. Hopefully you know about Big Spring and the effort to give it a historic designation. The Dallas City Council is scheduled to vote on the matter April 27. But there aren't many reasons to be hopeful at this point that Big Spring will get the protection it deserves. For example, the city gave permission to the BattleFrog people to hold an 8k race through the Big Spring area last weekend. There is one reason to be hopeful, though: Ben Sandifer. There are other people, too, fighting the good fight. He's not alone. But Sandifer is taller than they are (he's 6 foot 8).
Sandifer will speak at the open mic session April 27. For a taste of what he might say next week, I offer a few emails from him. (I get many of these emails, too. As do other members of the Dallas media.) Wilonsky's story in the DMN makes reference to how many emails Sandifer sends to city staff and the Council. He is dogged. Thankfully. Here's what he wrote on April 19, after he had learned about the race:
Forefront in my mind is the old idiom that familiarity breeds contempt. One that seems to ring true when interfacing with Dallas City Hall. It grinds, even on me after awhile. One must often put personal feelings and emotions aside in order to interface city government in this locale.

My concern is over the validity of Z156-120(MP) [ed: this is the proposed Big Spring historic designation]. If the Landmark Designation Committee, Landmark Commission and Planning Commission criteria, votes, and debate to protect Big Spring as a nominated City of Dallas Landmark are disregarded, then withdraw Z156-120(MP) from a final vote by the City Council. It holds no teeth and no enforcement, I reckon. See attachment enclosed that Z156-120(MP) is now on the April 27, 2016 city council agenda.

PD 883 has proven to be an impotent document as a city ordinance. It is widely disregarded and unknown to many tasked with the enforcement of the document. I have contacted ONCOR and they are currently investigating the issue.

Big Spring and the archeological site have existed long before the City of Dallas was a wide spot on the prairie. Long before Texas existed as a Republic. Long before the Queen's English was ever spoken on this continent. Long before Rome fell as an empire. Perhaps to associate such an important site with Dallas City Hall and their contractors is not the right fit. Perhaps people not aware of City Hall's stewardship and management problems will get the wrong idea that an ancient spot along the Trinity is safe. It ain't.

One can only hope that Dallas City Hall realizes that Big Spring does not belong to them. It belongs to the future generations of Texans yet to be born. City Hall's track record for historic preservation is dismal. It worries many greatly that the premise of landmark protection status is a false one.

I look forward to the three minutes of speaking time afforded to me as a citizen when this issue is brought before the City Council April 27th.
The following day, Sandifer addressed an email directly to Mark Doty, a city of Dallas historic preservation officer.
Ten years ago this very week, Weir Brothers demolished the historic MKT Freight Station at the corner of Ross and Houston. In order to resolve legal issues stemming from the demolition, Weir Brothers sold a large tract of land along the Trinity River to the City of Dallas. A portion of the proposed Big Spring Landmark area south of the ONCOR ROW was part of that purchase. That portion of land could possibly hold some of the best preserved Native American history in North Texas. What a great silver lining to a dark cloud that was the MKT terminal demolition.

Born from the wrecked ruins of another historic place in Dallas, it is hoped that the same careless acts are not revisited on Big Spring. At every step of the way, in every stakeholder and Landmark meeting, I have openly questioned if the the Landmark status will protect the site. Mark, more than you, the wonderful advocate Daron Tapscott drove the point home about the limits of Landmark status. If you recall, a number of us sat in a small dining room for the Landmark Designation Committee meeting where time and time again Mr. Tapscott told me the limitations of enforcement. I understand that completely and respect the process.

I also respect the work that you have done Mark. I also thank you for the transparency afforded to citizen advocates for Big Spring in this process. I have a copy of at least one of your books, entitled Lost Dallas, that documents lost landmarks in the city. Great book.

100 years from now, I won't be around to tell a police officer that a 6-foot-high interior fence was put up inside the landmark area. Or that a commercial paid-for foot race lacked an educational component. Or any of the other half-dozen issues that would require a Certificate of Appropriateness. That's 100 years from now. When I see that going on, like I did last Saturday, you bet I'm going to speak my mind to the first police officer I find and ask them to file a police report. The officer politely refused, sighting it was likely a civil issue. I was not "bent out of shape," as someone suggested. I knew the process, knew the designation criteria, and knew that what was happening was not on the punch sheet we all worked so hard for the last 3 years.

There seems to be frustratingly little recourse for violating landmark rules. The email I sent yesterday vocalizes that frustration. It worries me quite a bit that if the message is not delivered the first time, that entities are sure to repeat it. That's the message that the City Council needs to hear. They need to know that there are limits to Landmark status. That protecting a piece of property even after Landmark designation with enforcement is in some cases not likely.

Your email, Mark, sort of drives that point home about "the need for better coordination and I'll make sure that occurs in the future." I hope you do not feel that it is a burden you or your office in the future should shoulder. It should be one that other City of Dallas departments and their project partners already know and respect. As of 11am this morning (4/20/16), ONCOR cannot find documentation for use of their right of way for the event held Saturday.

I more than anyone else want to see Big Spring become a Landmark. It would be a wonderful way to honor our city's forefathers, history, and nature. At the same time I worry that a false sense of security will be installed along with Landmark status. One that would reduce the watchful eyes of a citizenry that is desperate to see Big Spring protected.
If you have a minute and if you are so inclined, you might let your City Council member know how you feel about this issue. You'll find their contact information here.
Get the D Brief Newsletter
Dallas' most important news stories of the week, delivered to your inbox each Sunday.