Chris Shull eventually became a respectable adult and got himself a wife and a real job, but when I entered his orbit, in 1994, he was the arts editor for the now defunct Met, a Dallas alternative weekly staffed by brilliant minds working hard to do stupid stuff. Most of us were just a few years removed from college. Shull — we all called him by his last name — was five or six years older, which seemed like a larger gap back then. He was an elder statesman but only because we were such punks.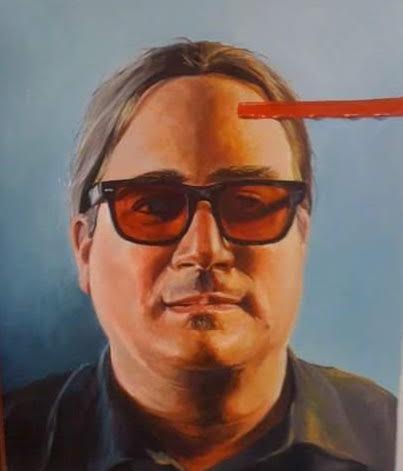 I've met few people with his breadth of expertise and interests. He was a horn player and knew plenty about jazz and classical music, of course, but he was also into drag racing. Somehow he convinced The Met's editor, Joe Guinto, that we should run a profile of Kenny Bernstein. This was circa 1995, and Bernstein hadn't lived in Dallas for more than a decade, but, come on, he was "The King of Speed," the first man to go 300 mph in the quarter mile. I remember that trivia because Shull conscripted me as his co-pilot for a road trip to Kansas City, where Bernstein was racing the week prior to an appearance at the Texas Motorplex, in Ennis. Shull would interview him there, then write the cover story for the following week. I'd like to say that on that trip Shull and I had a long, meaningful conversation about our hopes and fears and plans for the future. And maybe we did. But I don't remember that. What I remember is that I didn't think his car would make it to KC and back. I remember shutting down a bar with him. And I remember how cool he was, how he was equally at ease navigating the pit lane at a drag race as he was sipping Chardonnay at intermission at the Meyerson.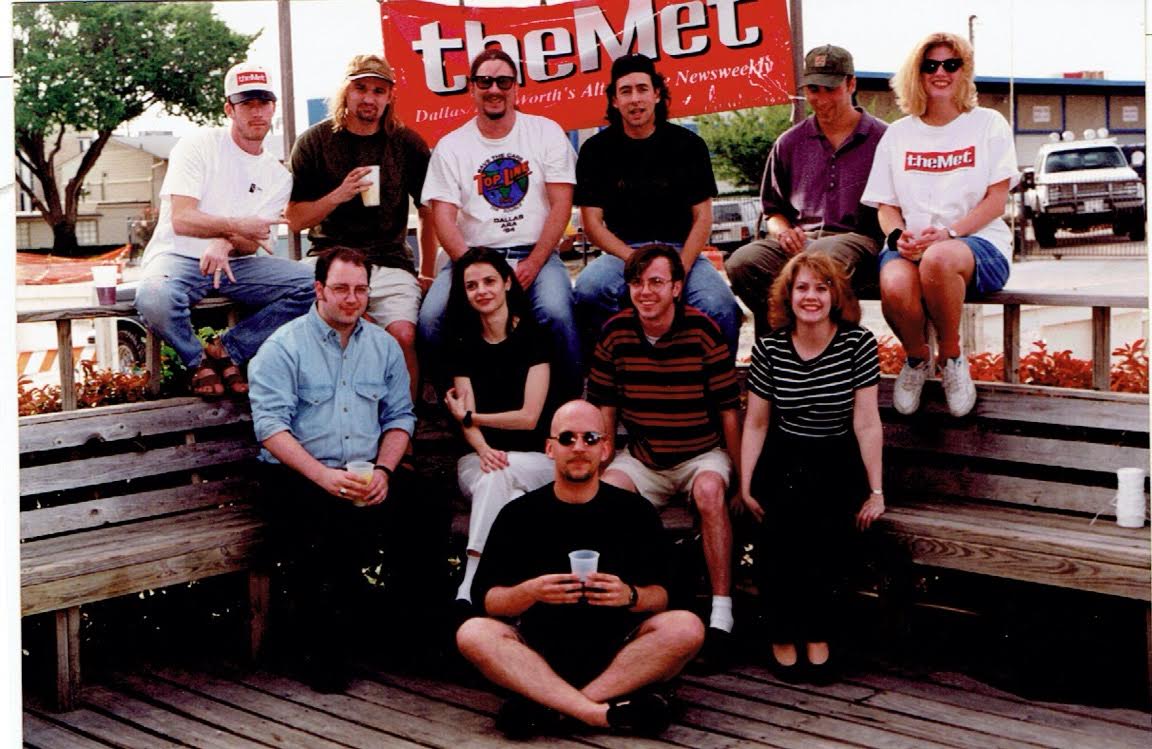 He did it all while wearing rose-colored Ray-Bans, no matter the time of day or night. They were prescription glasses. He explained to me once that he couldn't afford two pairs, so he'd chosen the sunglasses. After he became a respectable adult, he bought himself some proper indoor eyewear, but I'll always remember him in those sunglasses. God, he was a funny, profane, big-hearted dude. He had an enormous, explosive laugh.
Kim Jones worked with Shull at The Met. In a Facebook group DM earlier today, she told a bunch of former staffers: "I can still hear him laughing and calling every woman in the room a fabulous babe. And talking about his cat Maia. I am 48 years old and have been married for 14 years and have two children. I hope one day that someone will talk about me the way that Shull talked about that cat." It's true. Shull had a weird thing for that cat. (Go here to read a really funny Shull anecdote from Kim.)
Shull spent some time post-Met covering the symphony for the Wichita Eagle, in Kansas. That is where he met Charla Sanderson. The two were married 17 years. She now works for the Office of Cultural Affairs, here in Dallas. A couple weeks ago, Sanderson noticed that her husband looked jaundiced. A visit to a doctor revealed that his liver was failing. Shull spent a week in ICU but seemed, for a bit, to be doing better. That wasn't the case. He died yesterday morning. Shull was 55 years old.
Sanderson says there won't be a service. She plans to have some dinner parties, to surround herself with people who loved and admired her husband. I hope she has a big table. She'll need it to accommodate all those people, including many of the musicians at the Dallas Symphony. For those who wish to do something in Shull's honor, she suggests donating in his name to help cats at Operation Kindness.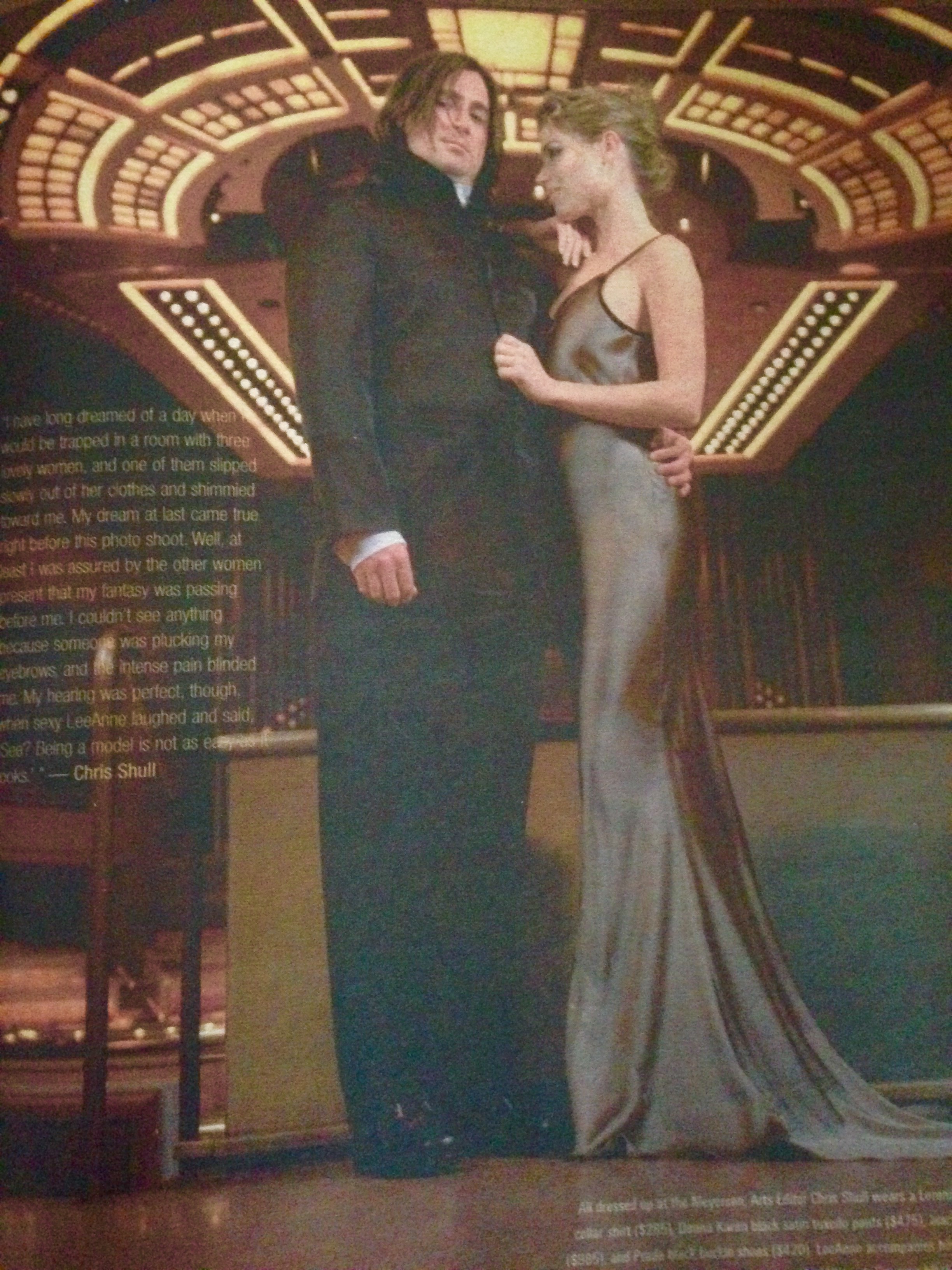 ***
FROM JOE GUINTO, FOUNDING MANAGING EDITOR OF THE MET:
When I was his boss at The Met back in the day, I could never be mad at Chris Shull for long, even though rage was my most honed leadership skill. It didn't matter if he missed deadlines — and, oh, how he missed deadlines — didn't matter if he assigned stories to writers I hated — and he did — didn't matter if he brought contraband along for a staff outing to a strip club at a gas station halfway between Dallas and Waco — and he did, despite my explicit, ranting instruction that he should absolutely do no such thing.
I loved Shull. Everyone loved Shull. And everyone hated me when I restructured Shull's full-time arts editor job into a part-time position — part of a short-sighted decision to move a few thousand dollars of Shull's appallingly low salary into some godawful fashion publication we'd just started (see above). Everyone hated me, that is, except Shull. When I broke the news to him, apologetically, he hugged me and he thanked me for being such a good boss. I wasn't. But Shull was a good man and a dedicated editor who cared deeply for the Dallas arts community, especially the city's classical musicians, and who made The Met's coverage of that community into something respectable.
Early on, we'd have been lost without Shull. Later, when he left for full-time work in Wichita, we were lesser for not having his connections to, well, everyone — Shull had friends in high and low places — and for not having his loud, hilariously vulgar presence in our midst on a daily basis. As it turns out, everyone was right to hate me.
Like a lot of Met people, I saw Shull very infrequently in recent years. But he served as arts editor for our one-week-only 21st-anniversary issue, in 2015, and he brought his big laugh to our reunion party. I talked to him a lot at that event. On his way out the door, he stopped and hugged me as if I'd just laid him off. "Thank you for letting me be a part of this, man," he said. But he had it backward. The Met wouldn't have been The Met without Shull. And I'm sure that for anyone who knew him back then or more recently, life won't be the same without him either.
***
FROM ERIC CELESTE, FOUNDING EDITOR OF THE MET:
Chris Shull was one of the few truly unique people I've ever met. He was also one of the kindest people you could ever know. He was a loving bear of a man who at once felt familiar and larger than life. He was Austin Powers without the lechery, The Dude with ambition, a redneck Mr. Holland.
Shull's swingin', cool-cat vibe was genuine. Twenty years after he worked for me, he still called me "boss." (He may have called everyone that, but I choose to believe not.) The prescription sunglasses he wore indoors, the long hair he constantly pulled out of his eyes, proclaiming every female friend/colleague/performer "a fabulous babe" — each felt honest and innocent. In a world where most eccentricities feel calculated and pretentious, Shull's were wildly endearing.
Women loved Shull, and he in turn really loved women. He loved their beauty, of course, but he found beauty in the things that mattered: their strength, their honesty, their hopes and fears. (And, it must be said, in less high-minded qualities.) At The Met, we worked above a bar called the Green Elephant, and after (or during) work, it was often we'd come downstairs and find Shull surrounded by young women, talking to each of them about their jobs, their boyfriends, school. He knew everything about them, he counseled them through their problems and concerns, and they never felt threatened by him. Despite proclaiming his love for each of them, they viewed him, correctly, as something of a father figure, someone motivated first by friendship and kindness.
But a man as fully romantic as Shull of course found love. Young love came in the form of women dazzled by his passion, awed by his encyclopedic knowledge of classical music, and tolerant of his more Texas-y pursuits (football and auto racing, in particular). As Tim pointed out, true love came later, when Shull moved to Wichita and met Charla. I didn't know her well, but I knew how happy she and Chris were together. Every time I saw them about town, they beamed. They were *that* couple, the one that made you feel all things are possible through love.
I hadn't seen Shull since last year, when he left the DSO, where he handled PR and publications. He would regularly email me and tell me to bring my "fabulous babe" of a girlfriend. Mostly because of him, we came often, and we always had a blast. He was great at his job because he loved the symphony so much, and he wanted to help me and other philistines share in what he found so exhilarating. He would dumb it down for me. "Don't come to that show, come to the next one, the program is SEXIER!" "When that movement starts, and you feel the boomboomboomboom — boss, it's like you're in FUCKING DIE HARD!"
I hope some of you can hear his voice there. The temptation with Shull is to only recall how open, honest, and caring he was, because he offered more of his heart to his friends than just about anyone I've ever known. But I don't want to forgot how wickedly funny he was. He was a World War II buff — again, endearing — and once, while writing a simple preview for The Met of a big Japanese-American art exhibit, he decided to write in the voice of an aggrieved veteran. I can still hear Shull laughing loudly, bellowing the words out, and us laughing maniacally around him. I'll end this goodbye with those words because they always make me laugh. Also because I'm tired of crying, and I don't want to go on about how much I want to hear him yell "Celeste!" and bear hug me one more time.
Here are the funniest, most inappropriate 192 words that were ever printed in The Met, written by our friend Chris Shull:
We have but one question for the fastidious organizers of "Sun & Star 1996," this fall's ubiquitous festival of Japanese art and culture that has relentlessly filled museums and concert halls since September: Remember Pearl Harbor? The sun and star have met and mingled before, and it wasn't in the cool darkness of the DMA or the quiet grandeur of the Meyerson in that breathless moment between silence and music. Oh no, my friends. It was on the blood-frothed beaches of Tarawa and on the fire-swept hell of Iwo Jima that sun and star first mingled, and it was no goddamned tea ceremony either. IT WAS WAR, dammit. WAR! It was a peaceful Sunday morning in paradise, shattered by treachery and well-aimed 500-pound bombs. But you got yours, didn't you, my little samurai? PAYBACK'S A BITCH, huh Tojo? You can make pretty little enamel lacquered boxes and folded paper cranes, but could you construct a simple self-sealing gas tank? HELL NO! Nimble is as nimble does, and your vaunted Zeros were just that: DUCKS IN A GODDAMNED SHOOTING GALLERY, from Midway all the way to Tokyo Bay. Never forget! Remember the Arizona!
Get the D Brief Newsletter
Dallas' most important news stories of the week, delivered to your inbox each Sunday.