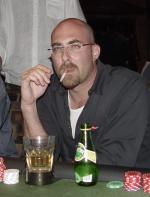 I meant to get to this yesterday, but our deadline for the December issue interfered. In yesterday's paper, Robert Wilonsky wrote a poignant column that is worth your time, if you haven't already read it. It's about a sermon his rabbi delivered on the first night of Rosh Hashana. It's also about one of the ugliest, darkest days in Dallas history, something that happened a hundred years ago, and how that event resonates today.
And because I can't just say something nice and leave it at that: this sort of work, I believe, is what the DMN would get from Wilonsky if someone there would tell him to stop running all over town, trying to report on every issue that arises, chasing clicks with breaking news. No one at the paper writes more than he does. Second place isn't even close. In fact, in the Metro section yesterday that contained this column, Wilonsky wrote two other stories. For most people, even those with superhero nicknames like Fingers of Fury, quality is inversely proportional to quantity. Cranking out too much copy can lead one to make ill-advised puns with Walt Humann's name. It can sucker one in to taking aim at conspiracy theories with nothing but blind faith in a mayor's promises.
Less Robert Wilonsky, and then I'll take more. 
Get the D Brief Newsletter
Dallas' most important news stories of the week, delivered to your inbox each Sunday.