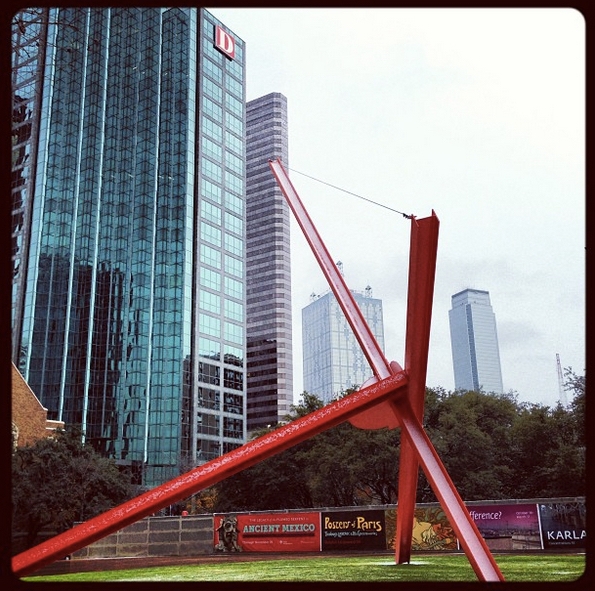 Take a minute to read what Jim Schutze has to say this morning about the DMN and its push to preserve historic structures in Dallas. His point: the paper has written extensively about the city's sorry track record of preserving historic buildings. The institution should put its money where its mouth is. Before it sells its George Dahl-designed headquarters, erected in 1949, it should seek historic designation for the building.
He makes a good point. It's all well and fine to decry developers who pay more attention to the bottom line than to history. It's harder to maintain that stance when the bottom line is yours. A historic designation and the protection that comes with it would almost certainly lower the sales price of the building. (Side note: I think Jim could have made his point more forcefully if he'd dialed back the snark by about 50 percent. (Side note to side note: suggesting that someone else dial back the snark makes me really uncomfortable.))
(Tangential note (which is totally different than a side note): in the stories I've read about the potential sale of the DMN building, it is referred to as the Rock of Truth, a nickname supposedly springing from an inscription on its facade. It's a slight variation of an address that George Dealey made to employees in 1906: "Build the news upon the rock of truth and righteousness. Conduct it always upon the lines of fairness and integrity. Acknowledge the right of people to get from the newspaper both sides of every important question." Pretty fantastic. It makes me think of some things that Wick has said that we could inscribe on our building. But here's what I'm getting to: no one calls that building the Rock of Truth. I don't know where this notion is coming from. No one outside the DMN calls it that, and no one who works there calls it that. The building is sometimes called 508 Young, just like City Hall is sometimes called 1500 Marilla. Or sometimes it's just called "downtown." But no one has ever said, "I heard there was big shakeup today at the Rock of Truth," or, "No, I didn't go the press conference. I was stuck in a meeting at the Rock." Anyway. Just one man's observation. I'll go back to my work here at the Tower of Probity.)
Get the D Brief Newsletter
Dallas' most important news stories of the week, delivered to your inbox each Sunday.