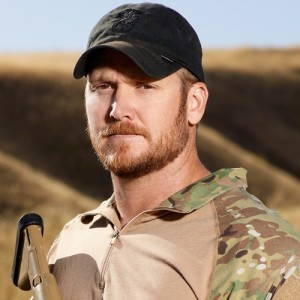 Was Chris Kyle a saintly defender of liberty or a racist serial killer? Possibly both or neither? A court has said he lied about taking down Jess Ventura, and he made other dubious claims during his life, but should that take anything away from his military service to our country?
The release of Clint Eastwood's film adaptation of Kyle's memoir, American Sniper — which still is showing in only four theaters in the U.S. (including AMC NorthPark) and won't go wide until next week — has brought renewed attention to our own D Magazine story about the man. You can see in the comments to that piece, as well as many of those other items we've posted about Kyle here on FrontBurner, that there is disagreement among readers about how he should be remembered.
This week the Guardian took note of the reaction to the film and reviews of it, and Lindy West correctly writes that among a certain group — those with a black-and-white/good-vs.-evil worldview — any criticism of Kyle is treated as an attack on America itself. For these people:
There is no room for the idea that Kyle might have been a good soldier but a bad guy; or a mediocre guy doing a difficult job badly; or a complex guy in a bad war who convinced himself he loved killing to cope with an impossible situation; or a straight-up serial killer exploiting an oppressive system that, yes, also employs lots of well-meaning, often impoverished, non-serial-killer people to do oppressive things over which they have no control. Or that Iraqis might be fully realised human beings with complex inner lives who find joy in food and sunshine and family, and anguish in the murders of their children. Or that you can support your country while thinking critically about its actions and its citizenry. Or that many truths can be true at once.
Get the FrontRow Newsletter
Get a front row seat to the best shows, arts, and things to do across North Texas. Never miss a beat.