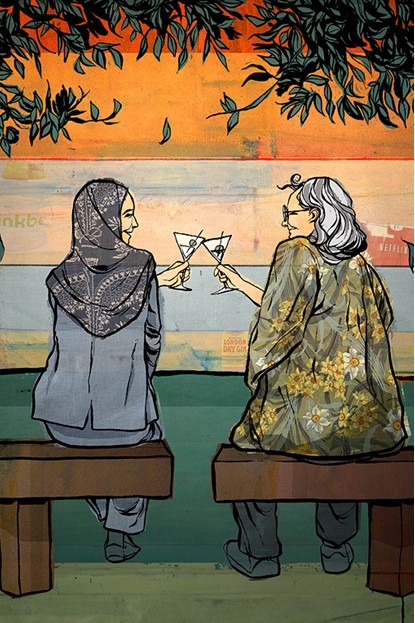 We come to the end of our 40 Greatest Stories series with Nancy Nichols' tribute to her mother — a tribute that unexpectedly became a farewell. Just read it, and don't be surprised if you find yourself giving your own mom a call immediately after.
I asked Nancy to share a few thoughts about the piece now that two years have passed since it was published:
When I wrote this story about my mother, she and I were living an active life. I sat down to my computer one night and wrote the piece as more of a diary log. The words just rolled off my fingers. It might have taken me 45 minutes.

I came across it one day and emailed it to my editor, Tim Rogers, with a note that said "just in case we need a short feature." Tim scheduled for publication.

Between the time I sent the story in and publication, my mother's pulmonary fibrosis flared up and she died within six weeks. I did manage to get a proof of the words in layout and show it to her several days before she left.

I bought my mother's house and now live in Grey Gardens as a single Little Edie. I still mix a gin and tonic most nights and curse my inability to make one as perfect as the ones she made. I've redone most of the interior to make the house mine, but I've left her books and crossword puzzles untouched. It's been over two years, but it's still too soon. I keep thinking she is going to walk through the door with too many bags of groceries.

She would hate this attention, but I love shining a light on her as often as I can. I hope this story gives you a sense of what a wonderful friend, mother, and mixologist my mother was. I encourage you to sit down and write about yours and save it, if only for yourself.
Get the D Brief Newsletter
Dallas' most important news stories of the week, delivered to your inbox each Sunday.