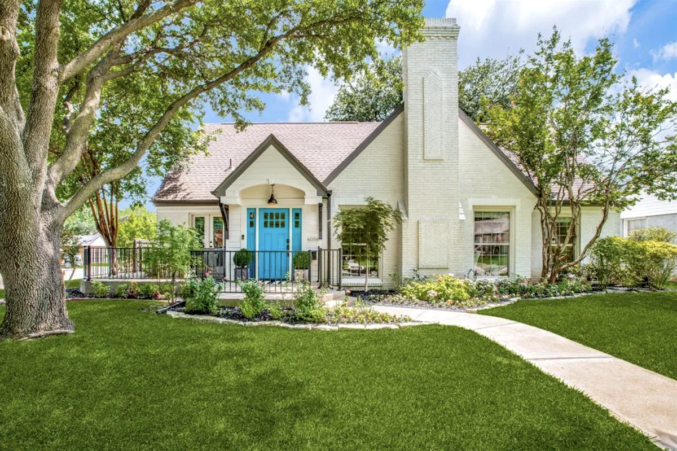 Hot Property: A Timeless Tudor Near Lower Greenville
This enchanting 1940s build may look small from the street, but it boasts four bedrooms and 3,000 square feet of living space.
Architectural trends can be polarizing. Some don't like minimalist modern builds, while others aren't wowed by prim and proper Victorian homes. There's just one style that you, our readers, always seem to love: a Tudor.
6058 Kenwood Avenue is tucked between the Stonewall Terrace and Wilshire Heights neighborhoods, just north of the M Streets. It occupies a corner lot at Kenwood and Skillman, and its neighbors are just as endearing as you'd expect, from white cottages with colorful shutters to tiny traditional builds with wraparound porches.
From the street, 6058 Kenwood looks like it could be a compact one- or two-bedroom home, the kind that is abundant off Lower Greenville. In fact, its small storybook façade is deceptive; this house extends deep into its lot and includes over 3,000 square feet of living space.
Step through the turquoise front door and take in this cheery 80-year-old home. Though it was freshened up with recent renovations, the home is still filled with antique-inspired accents like crown molding and arched openings.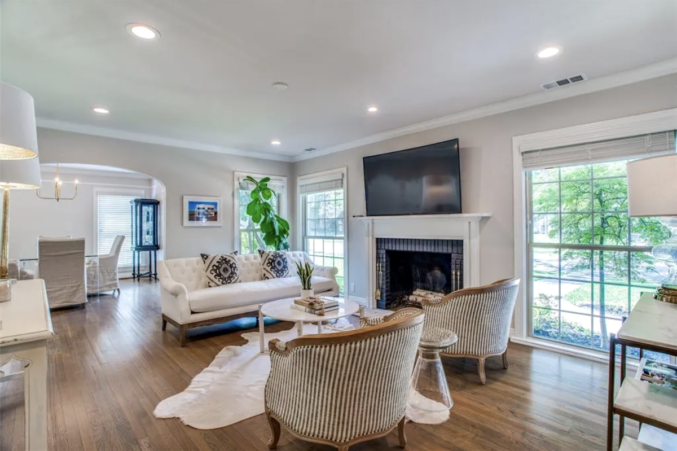 A formal living room is tucked behind rolling barn doors and has direct access to the wraparound front porch. The great room is right next door and features a wood-burning fireplace painted a classic slate grey. Oversized windows frame a view of the neighborhood.
The kitchen features a palette of blues, grays, and whites, with veined marble accents. It's full of thoughtful touches, like a six-burner stove, a breakfast nook, a coffee bar, and a wine fridge. (If you're a wine aficionado, you'll appreciate the additional, and much larger, wine fridge in the adjacent laundry room.)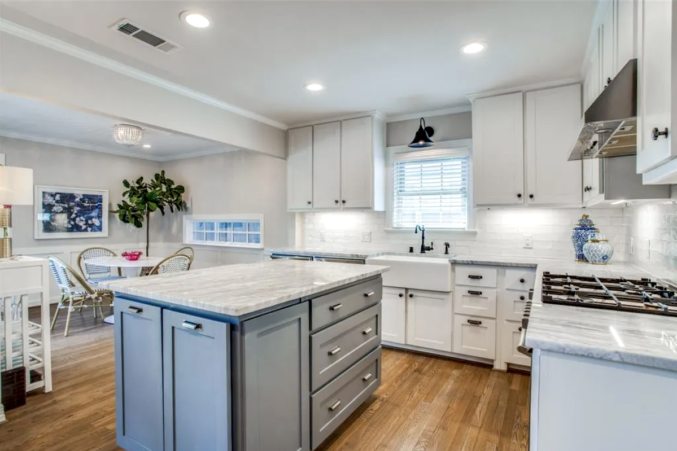 This home has four bedrooms, three full baths, and one half-bath. Both bedrooms on the second floor have pitched ceilings that reflect the home's Tudor silhouette.
Outside, a natural stone patio and fire pit are ready for alfresco entertaining. The backyard also includes a sizable lawn, raised garden beds, and a two-car garage.
To see more, check out the gallery below.