The Bryan Place neighborhood feels like a well-kept secret. It's right by the vibrant nightlife of downtown and Deep Ellum, but far away enough to feel tranquil. It's full of townhomes and condominium complexes, but it retains an old-school charm, with tree-lined streets and grassy front yards. Its walkability gives it a suburban feel, and it has a culture of its own, with new shops and restaurants popping up regularly.
Today, we're taking a tour of a pretty penthouse in the 3030 Bryan building, which boasts amenities like a gym and rooftop deck; the complex only has 38 units, and its residents appreciate its tight-knit community feel. Unit 405 is a one-bedroom penthouse owned by Drew Cekada and Danny Oviedo. The couple recently put their home of several years on the market, and though it's bittersweet to leave, they're confident that the next occupants will love it as much as they do. We chatted with Drew and Danny to hear more about their history with the home, their relationship with other residents in the building, and the tight-knit neighborhood feel of Bryan Place.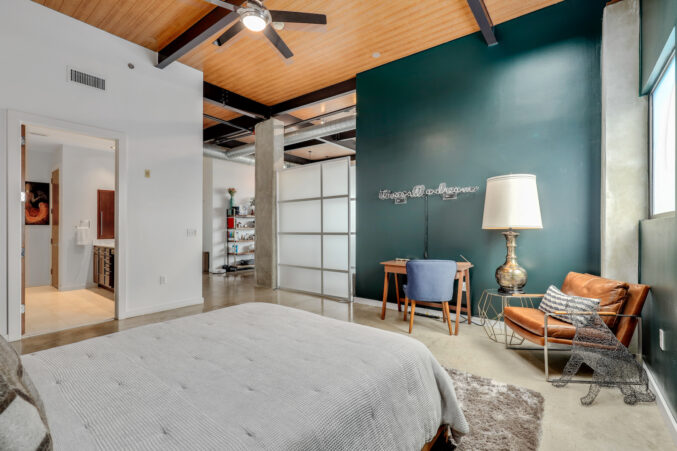 What first attracted you to your home? How have you changed the space since you moved in?


Sometimes when you know, you know. The moment we stepped foot into our place–after months of open houses and lackluster showings–we knew we had just found our new home. At first, we were charmed by the friendly neighbors and funky hallway art, but then the door opened to soaring hardwood ceilings and exposed beams that suggested we had stumbled upon something truly special. By the time we walked into the living room and saw that stunning view, we were sold. We submitted our offer before sundown.




In the years since, we've enjoyed the freedom to move walls and remake the space to suit our needs. Whether that was creating a guest suite for family visits, setting up a Peloton home studio, opening space for summertime parties, optimizing for us to work-from-home, or making way for a massive Christmas tree, our home has proven to be a beautiful canvas for us to live our lives.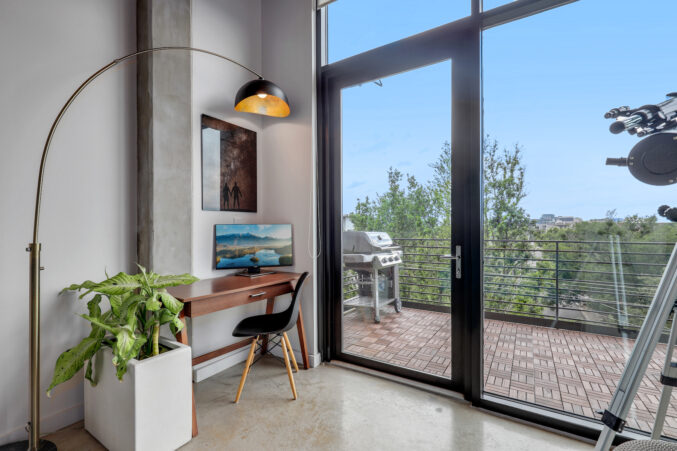 You have a great camaraderie with your neighbors. Can you tell us more about the sense of community in 3030 Bryan?




Our community at 3030 is packed with characters. There are just 38 units in the complex, so it's been easy getting to know our neighbors at building-wide socials or when lounging at the pool. Even while carrying in groceries from the garage, there's always a friendly face nearby. Two of our favorite events are the Bryan Place community Christmas tree decorating contest in Exall Park and the rooftop celebration for the Fourth of July, with 360-degree views of all the Dallas-area firework shows. And with such an eclectic mix of tastemakers, entrepreneurs, athletes, and artists in the building, there's never a shortage of good stories to go around.


What's the best part of living in your neighborhood? Any favorite restaurants, shops, parks, etc. within walking distance?


That's a tough one. The park-filled, tree-lined neighborhood makes for beautiful afternoon walks. There are also 5 a.m. community workouts if that's your thing. The nearby restaurants, co-working spaces, and locally owned coffee shops (our favorite is Fiction on Ross) make life in Dallas feel walkable. The new Tom Thumb grocery store at the end of the block makes last-minute grocery runs a breeze. We also have active neighborhood associations with a clubhouse just down the block for making connections beyond our little condo community.


How has the neighborhood changed since you first moved in? What do you think the area will look like in five years?


Fortunately, the community here in Bryan Place has been able to retain its charm even as the neighborhoods around us have absolutely boomed over the past few years. With cookie-cutter townhomes, high-rises, and massive apartment complexes popping up left and right, there's still something magical about having a cozy neighborhood of low-rises and single-family homes so close to downtown.


That said, all the growth in East Dallas has done a lot of good for us! New restaurants, boutique shops, grocery stores, gas stations, dog parks, and public transit improvements are all the result of the nearly 1300 new beds that have been built in the last five years. And with the Ross Ave. redevelopment project already underway, we can only imagine how great it's going to be. It pains us to leave.
See more of 3030 Bryan Place #405 with the gallery below.
Get the AtHome Newsletter
Enjoy Dallas' best trends, hot properties, and tips from local designers to help you nest in style delivered weekly.