Create Atelier's co-founder, Alexa Mendez, has a background in commercial architecture. Now, she and her team are focusing on residential projects, creating bright and airy spaces for individuals and families to enjoy. One of Create Atelier's first projects was 8648 Forest Hills Boulevard, a three-bed, three-bath home that just hit the market. It was built in 1940, and the Create Atelier designers were careful to preserve several original elements while infusing their signature style. We caught up with Alexa to learn how she chooses paint colors, why she loves incorporating plants, and what it was like to breathe life back into this 80-year-old home.
You started your career in architecture. Why did you transition to interior design?
I read recently that very few homes are designed by architects–most are by developers. There was a time where people built homes very intentionally. Now, it feels like developers are just building and building, and the intention got lost a little bit. So with Create Atelier, we're putting the best of everything we know about architecture into smaller projects that really get to impact people in their day-to-day life. We want to bring the love back to design.
How would you describe Create Atelier's design style?
All of our designs are super clean, minimalist, and full of brightness and energy. We still tailor every design, though, to the homeowner or the home's location. Whatever we create, we can't create it again, because it's very specific to the community. For example, in Little Forest Hills where this home is located, there are a lot of hippies and free spirits. They don't follow the norm. They're young and energetic. And we loved designing for that. Residents here don't use their backyard as often–they use their front yards because they want to socialize. So we created a front porch that just fits in the neighborhood, and whoever lives here is really going to enjoy it. This is the type of community that everybody wants to live in.
This house was built decades ago. What original elements did you keep, if any?
We live in a society where we buy, buy, buy, buy, and everything is new. When you restore something that already exists, you can keep the essence of it and showcase its beauty. That's what we did here. The ceilings were eight feet when we started. We restored and exposed the original vaulted ceilings, and now they're 18 feet. We want people to come in and think, wow, this is such a grand space. It feels so roomy now. We kept the original hardwood floors, refinishing them with a modern whitewash. The doors for the closets have original glass knobs. We wanted all these features to stay a part of the house–we kept its personality, but made it cool again.
The home's exterior is dark and moody, but the interior feels bright and cheerful. How did you decide on that juxtaposition?
The exterior is very stark and clean. The paint color is called Darkest Night. It's inspired by Norwegian architecture–simple, with raw materials. So the outside is cool, but the inside is so warm, and I think it mixes so well. In the interior, we kept a lot of white, but we also used earthy tones to incorporate the exterior's natural aesthetic. We were very intentional with the colors we choose for each room. You'll see a pink tone called Subdued Sienna; it lifts you up, makes you want to be social, and we used that in the dining room. In the bedroom, we used softer colors, blues and creams, because it's a space for relaxing and regenerating. In the bathroom, we went with darker colors to make it feel like a spa. And upstairs, we did a mural with a local artist to create a space that inspires you, makes you want to read, be productive, do things you like. The mural artist is Johanna Torres. Her scope is amazing; she's done our signage, our website, and she's excellent.
Which space do you think best defines this home?
The kitchen. A lot of houses have generic kitchens, and there's nothing wrong with that, but this one is so very special. We always try to work with people that love what they do. And so we had a local artist build these beautiful cabinets from rift-cut white oak. They have these tapered edges, and we used hairpin legs to integrate a midcentury look.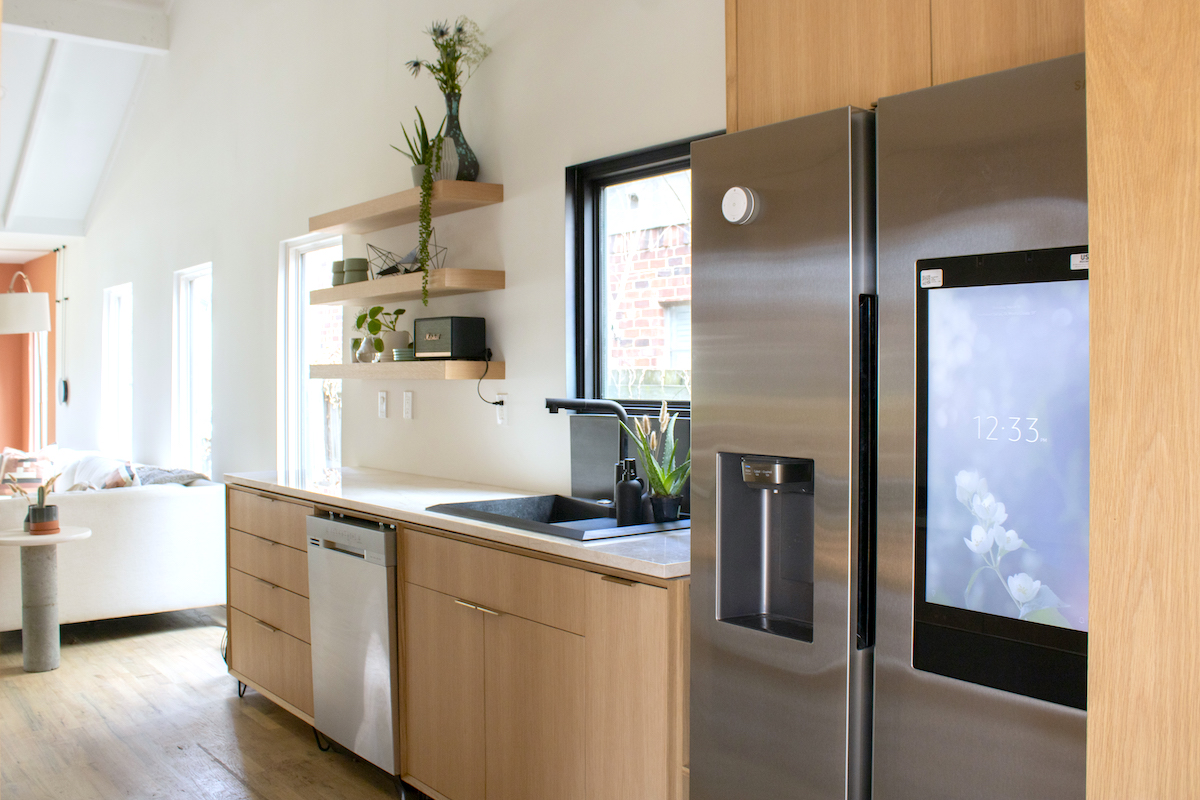 You use a lot of plants in your designs. Tell us about that.
Instinctually, humans love plants. We love being outside–that's where we're meant to be. We are regenerated by seeing the outdoors and co-existing with it. The backyard shouldn't just be in the backyard. It should be part of the house. It should be integrated. So plants are something we always use. At some point, we hope to develop homes with interior courtyards, to give even more opportunities to be inside and outside at the same time.
On that note, what can you tell us about the landscaping process?
The landscape was designed to be a part of this house. In the front and the back, there are concrete steps. The front steps are for socializing–you can sit and hang out. In the back, it's more of a waterfall concrete step. To complement them, we went with a xeriscape [a low-maintenance landscaping style that requires little to no irrigation] so you don't have to worry about maintenance. It's beautiful, and it fits with our crazy lifestyles.
Click on the gallery icon in the hero image to check out more of this home.
Author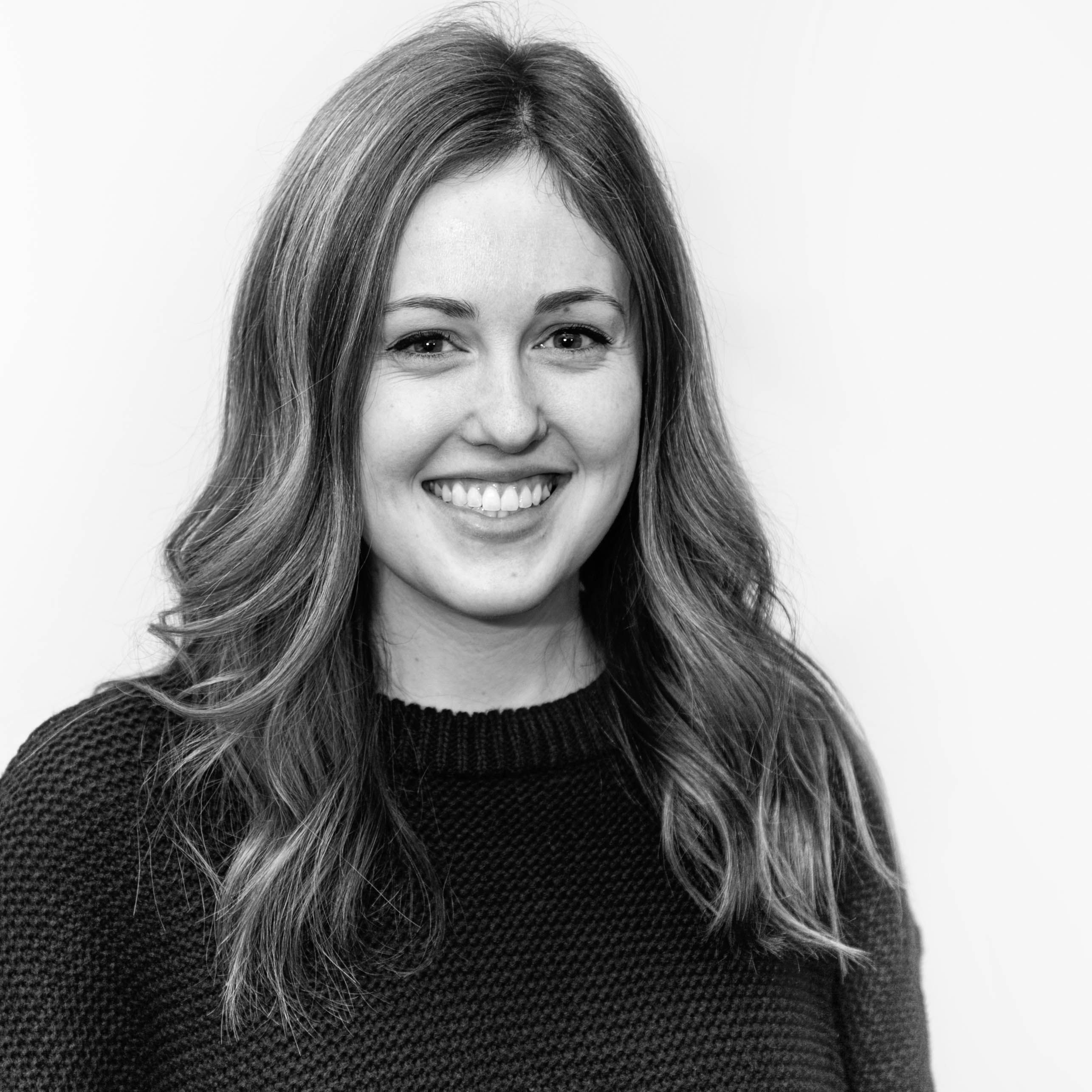 Emily Heft was born and raised in San Diego. In 2012, she enrolled in Southern Methodist University to pursue a…