What makes a property a hot property? It's hard to define that je ne sais quoi. It's not the address–we've found stunning homes across North Texas, from Devonshire to Denton. It's not the size–we love a charming two-bedroom Tudor as much as a sprawling contemporary. And it's not the age, either–we've been won over by decades-old homes with creaky floorboards, but we also love a fresh, thoughtfully appointed new build. So instead of telling you what makes a property hot, we let you tell us. Here are the 10 most popular Hot Property features from the past 12 months, the posts that our readers saw, shared, saved, and savored. Enjoy!
Fittingly, this bohemian build was most recently occupied by Brittany Cobb, the founder of Flea Style, and her family. Cobb's signature style, an eclectic mix of global and antique pieces, is omnipresent in the décor. Though it was built in the 1930s, the bones of the house are in tip-top shape. It's brimming with arched windows, crown molding, and built-in shelves. Every room has a tiny touch of modernity, like patterned wallpaper in the dining room or shimmering tile accents in the master bath.
Status: Off the market.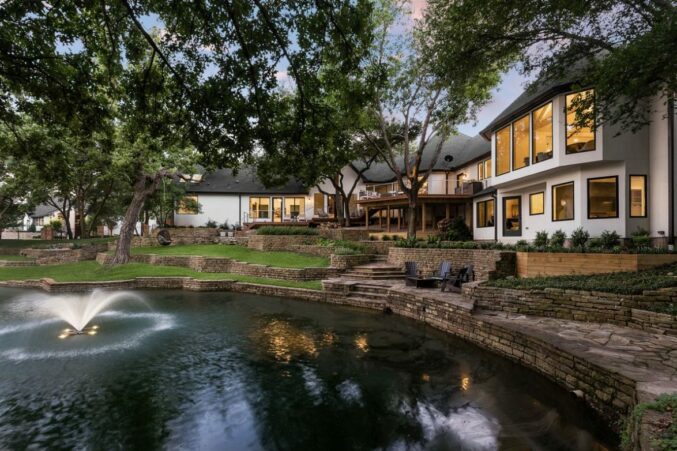 Though we love this home's tiny details (eye-catching marble backsplashes, midcentury light fixtures, and more), the true star of the show is, indisputably, the backyard. A private lake, accessible only by three or four other neighbors, stands just behind the home. Enjoy the view from a multilevel wooden deck with chrome wraparound railings. Seating options are abundant: Adirondack chairs by the waterfront, chaise lounges on the deck, a fire pit table and chairs for chilly nights, and an inviting tree swing. In short, it doesn't get more zen than this.
Status: Off the market.
Anytime a Marion Fooshee home hits the market, we stop what we're doing and look. He's an acclaimed Dallas architect, and the exterior of this Highland Park home is a perfect example of his style. Expect stone accents around arched doors and windows, ornate detailing framing the windows, and Mediterranean-inspired accents, like a terracotta tile roof. This home has so many windows that each room feels more enveloped in glass than in plaster, and its interior is bathed in light. It's one of the loveliest and most historical homes we've featured all year.
Status: Off the market.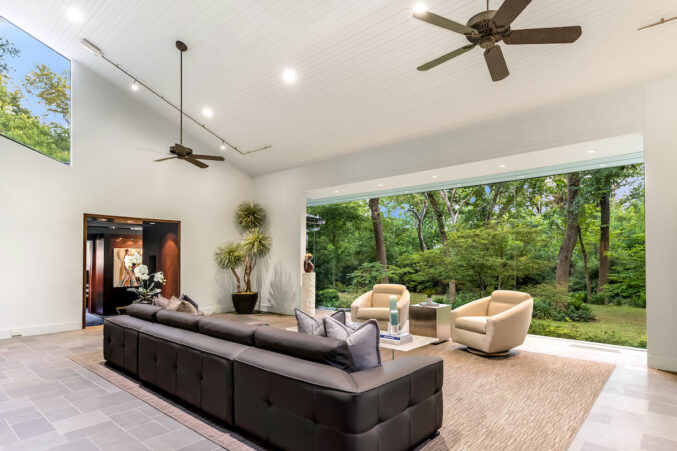 This 1977 build has a midcentury-inspired façade, and an extensive remodel in 2002 refreshed both the exterior and interior. Now, the peaceful landscaping includes an abundance of trees and walking paths that snake through the lawn. Inside, this home channels a laid-back, California cool aesthetic with a mix of light wood, white walls, and exposed beams. Each room has huge windows to showcase the foliage outside, and the living area has an entire wall of glass that offers an uninterrupted view of the backyard.
Status: Still on the market.
11704 Forest Court is a 4-bedroom build on a private cul-de-sac just off Forest Lane. It's tucked behind a geometric iron gate and shrouded by mature trees for extra seclusion. Black accents, from the roof to the iron-clad doors and windows, add a touch of modernity, while the exterior lights cast a golden glow. The foliage outside the home is like living art–it peeks through every floor-to-ceiling window to offer a touch of greenery to an otherwise non-organic interior. Outside, the pool deck is crafted from an eye-catching mix of stone and teak, while two chaise lounges on a nearby patio create an ideal space to soak up the sunshine.
Status: Off the market.
Tucked away behind a row of lush trees and leafy plants is a sweet stone townhouse that sits cheerfully on Holland Avenue. Although far from the ocean, it's still a little piece of Oak Lawn paradise—Adam Gottschalk and Raven Gates, its former owners, can attest. The two met on the 2017 season of Bachelor in Paradise; Gottschalk purchased the property in 2015, and his fiancée moved in last year. During his five years at the property, Gottschalk loved it like most do permanent homes: he updated the entryway tile, installed new hardwood floors, and added a custom kitchen.
Status: Off the market.
Just off Lower Greenville is Palo Pinto Avenue, a quaint, tree-lined street filled with Craftsman homes in a rainbow of colors. This home is one of the newest builds on the block. Its architectural style that pairs nicely with its neighbors, but its modern details create a level of polish that sets it apart. The interior features a pretty palette of cream, copper, and wood tones, and with four bedrooms, it's the perfect layout for a family. The small but serene backyard is an added bonus: a pergola houses an outdoor fireplace and seating area, while a little green lawn offers just enough space for kids and pets to run and play.
Status: Off the market.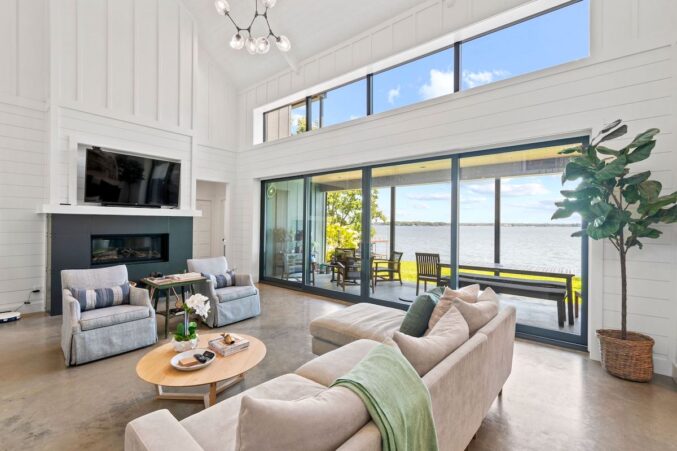 In 2020, few things are more appealing than a weekend escape within driving distance of Dallas, and this 2019 build fits the bill. 2208 Point of View is a sprawling half-acre property. The lawn is dappled in sunlight, which filters in through towering trees. Inside, the aesthetic is understated, bright, and airy–no kitschy fish-patterned wallpaper or anchor décor here. Instead, you'll find bright white shiplap walls, polished concrete floors (ideal for sweeping sand away), a custom staircase, and midcentury-inspired pendant lights. The lakefront views are on full display through the floor-to-ceiling windows in nearly every room.
Status: Off the market.
This residence is so awash with colors and patterns, it could easily pass as the interior of a Missoni store. Yes, the staging plays a part, but the interior is eye-catching on its own. The living room, for example, is centered on a turquoise tiled fireplace. In the kitchen, funky wallpaper creates the illusion of open shelving filled with oddities and art. The master bedroom has a similar print, this time resembling a built-in library. An envy-inducing master closet has been painted robin egg blue, while the bathroom sports a slightly cooler tone. There's even a herringbone pattern in the floorboards. With so much to look at, this home could easily feel chaotic. Luckily, this interior maintains a masterful balance thanks to the simple finishes and neutral colors that offset the prints and patterns.
Status: Off the market.
Even on the ground level, this home feels like a treehouse. Each floor-to-ceiling window frames a different vantage point of the thick, lush trees that line the property's perimeter. The second story master bathroom boasts unparalleled views of both the backyard and the creek, and we envy the future owners who can soak in the sights from the freestanding tub. We're talking a multi-level pool framed by a verdant lawn, a creek babbling nearby as it winds its way around the property, and an outdoor living area enveloped in pretty wood paneling.
Status: Off the market.
Get the AtHome Newsletter
Enjoy Dallas' best trends, hot properties, and tips from local designers to help you nest in style delivered weekly.