Meet the Builder of the Most Extravagant Playhouses in Dallas
David Verret builds his backyard mansions by hand, complete with working windows and air conditioning.
Backyard Mansions are not your average playhouses; they're essentially mini homes, with sliding windows, wood floors, painted interiors, air conditioning, and more. One would assume that they're the work of a team of builders or architects. Not so–each luxury playhouse is designed and built by a single North Texas hobbyist with no formal training.
David Verret, the founder of Backyard Mansions, perfected the art of building over time. He started with occasional odd jobs and construction jobs while in college. Years later when his children were young, he began to tinker and create small structures in his garage. By day, he worked for IBM as an operations manager; on the side, he started selling his playhouses to fund family vacations and his children's education. Last month, after 38 years at IBM, he retired to make his hobby a full-time gig.
"I got a nice shop with a storefront several years ago," he said, "so I walked out of IBM one day and walked into my shop that afternoon. Now, this is something I get to do, not something I have to do."
No two Backyard Mansions are the same. "Sometimes I paralyze my customers with flexibility," says Verret, "because I build each house from the ground up."
During the COVID-19 pandemic, Verret has seen a rise in orders since families are spending more time than ever at home. To start the process, Verret visits his customers to get a sense of what they're looking for in a playhouse: how it will be oriented in the yard, how it fits in with existing landscaping, and whether it will complement the family home's architecture.
From there, a customer visits Verret in his shop in Coppell to view his current projects and get a sense of the possibilities. Verret asks clients about their exterior preferences, such as wall height, roofing material, and window orientation. Then he determines interior finishes, like crown molding, beadboards, and flooring.
When it's time to choose the exterior paint, Verret steers his customers away from bold hues they might grow tired of, like bright pink or purple. He recommends a neutral exterior with a statement door, and if a customer really wants a statement color, he's happy to use it on the interior walls.
Verret then builds the modular playhouses in his workshop, disassembles them to make delivery easier, and reconstructs them upon arrival.
Though Verret's playhouses are built for children to use, he says it's the parents who care most about the design. "Kids will play in a cardboard box," says Verret. "They don't need a playhouse [that costs thousands]. But parents build these houses so that they're proud of them. They complement the landscaping; they look nice in the yard." If a child wants a desk, a bookshelf, or another interior feature, however, Verret is happy to oblige.
For adults who want a structure of their own, Verret can design a roomier retreat (also known as a "she shed" or "man cave"). He's currently developing plans for backyard offices, ideal for parents who are working from home and need a quiet environment.
"Get the kids out of the house to play, unplug, and be creative. We're encouraging independence. They can take care of the house, make sure it stays clean, and it becomes their own."
Each of Verret's builds is fully insulated and includes a working air conditioning system. "Some people think it's silly," says Verret. "I ask them, would you want to go play in your shed right now? It's too hot to enjoy the playhouse without A/C." Some customers also invest in mini electric fireplaces to keep the playhouse warm in the winter. "They're safe, and they provide enough heat to keep the house comfortable when it's cold," he says.
Though Verret doesn't install electrical wiring, he does provide raceway access so that customers can hire electricians to do the install.
Generally, each project takes around six to eight weeks to complete, though now that business is picking up, this window might grow.
Verret's favorite build to date was for a child who received the playhouse through the Make-A-Wish Foundation. He has also built playhouses for fundraisers at local schools, the Junior League of Collin County, and Dallas CASA's Parade of Playhouses.
If you're buying, though, Verret explains that it's nearly impossible to give a quote until he knows what a customer wants. "If you figure $100 to $125 per square foot, then you'll get a good ballpark," he says. (Most of his creations are between 60 and 80 square feet.) "Some people call me and want to spend $2,000, but I can't even go to Home Depot and get the materials for that price," he says. "At the same time, it's not going to be a $20,000 structure or anything. We just have to talk through what they want."
What the parents are buying, says Verret, is time. "Get the kids out of the house to play, unplug, and be creative, and you'll get to enjoy a little downtime. We're encouraging independence. The kids can take care of the house, make sure it stays clean, and it becomes their own."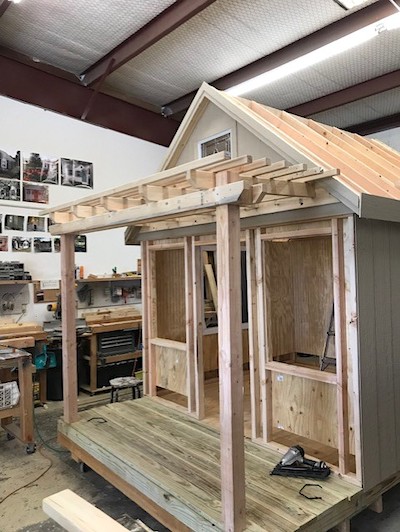 "My customers either had a playhouse as a child and they had fond memories of it, or they always wanted one and never had one," explains Verret. He also gets a lot of orders from grandparents who want to gift their grandchildren a playhouse or buy one for them to enjoy when visiting. "The [children's] parents have families they're raising, so they may not have the disposable income for a playhouse, but grandparents do," says Verret. "When we finish, there are three generations in the playhouse, and that's pretty cool."
Check out more Backyard Mansions builds with the gallery below.