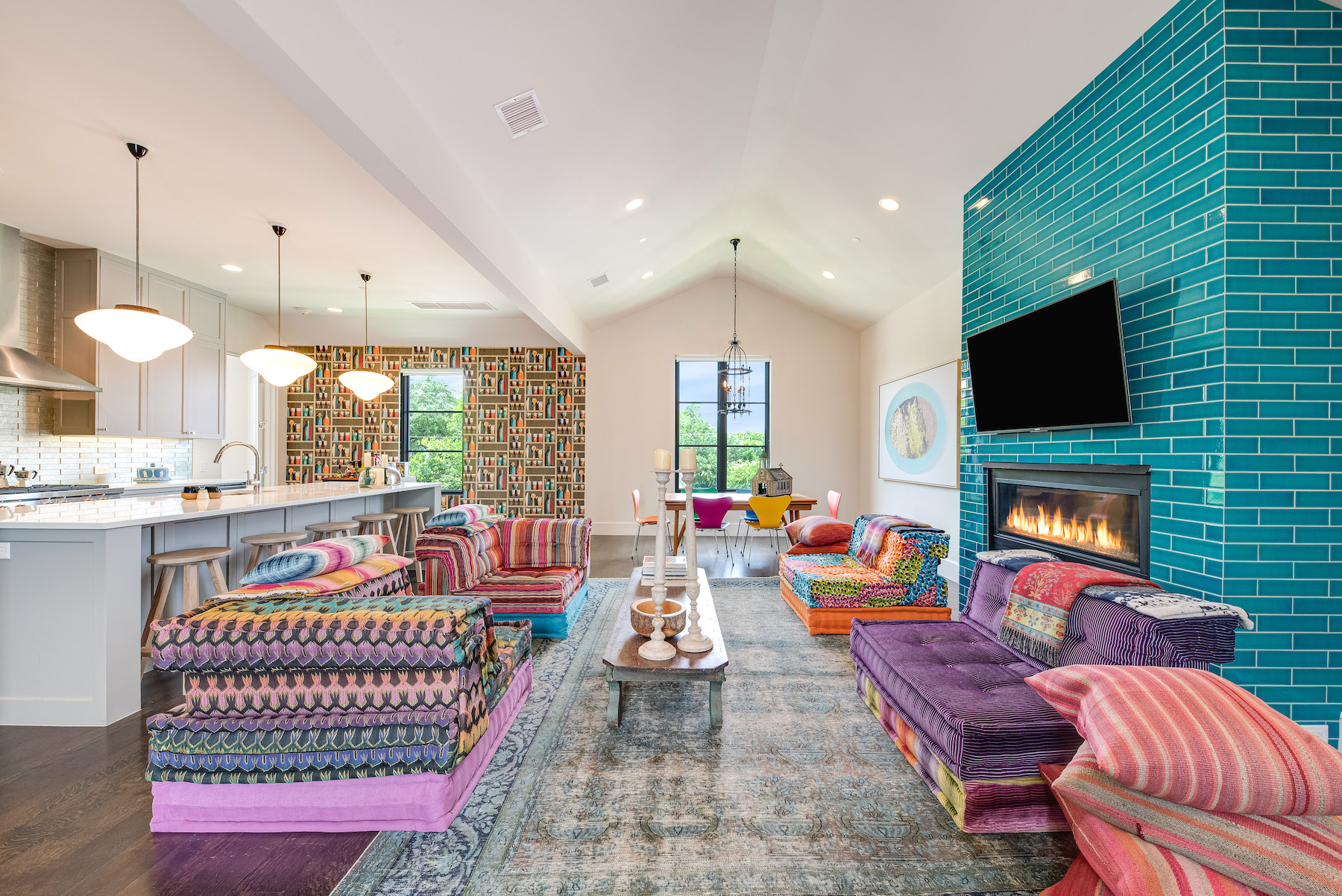 Hot Property: A Color-Filled Condo in Highland Park
This Abbott Avenue gem is adorned with a kaleidoscope of colors.
Abbott Avenue is one of Dallas's most coveted streets. On one side, it borders Highland Park, an idyllic neighborhood filled with historic homes. On the other, it borders Knox, a bustling walkable area with high-end shopping and notable restaurants. It's perfect for those who want their feet in the city and a suburb.
One particular condominium complex, located at 4502 Abbott Avenue, might be the most recognizable build on the block. The Mondara seems to tower over the tiny one- and two-story complexes that surround it. The exterior is painted a crisp white that's so bright it almost blends into the clouds when the sun hits it. Behind the building's iron gates, its residents enjoy amenities like putting greens and outdoor lounges.
We've featured other homes at The Mondara in years past, but Unit 301 is in a league of its own. This residence is awash with colors and patterns; it could easily pass as the interior of a Missoni store. Yes, the current staging plays a part, but the interior is eye-catching on its own. The living room, for example, is centered around a turquoise tiled fireplace. In the kitchen, funky wallpaper creates the illusion of open shelving filled with oddities and art. The master bedroom has a similar print, this time resembling a built-in library. An envy-inducing master closet has been painted robin egg blue, while the bathroom sports a slightly cooler tone. There's even a herringbone pattern in the floorboards.
With so much to look at, this home could easily feel chaotic. Luckily, this interior maintains a masterful balance thanks to the simple finishes and neutral colors that offset the prints and patterns. In the kitchen, understated cabinetry and a plain white backsplash pair nicely with the busy accent wall. This top-floor corner unit also has pitched ceilings and lots of natural light, which keeps the space airy and serene.
Unit 301 clocks in at 2,131 square feet and is currently listed for $1,550,000. It's a steep price for a condo, but you're paying for location, a lock-and-leave lifestyle, and beautiful finishes that would be tough to find elsewhere.
Take a full tour of this home with our gallery below.