How to Brighten Up Your Home for Summer
Dallas designers share tips for creating a sun-filled, summery home without breaking the bank.
Summer has arrived, and it's time to welcome the warm weather by refreshing our interiors. We asked three Dallas interior designers about the hottest summer trends for 2020. These fun designs projects will keep you occupied and help you enjoy the season from the comfort of your home.
SMZ Lux Home Services
HIGH CONTRAST
"As a designer, I absolutely love high-contrast designs," says Shayla Mackey, principal designer and founder of SMZ Luxe Home Services. "They add balance and depth to the space." Wallpapered ceilings, for example, will be big in 2020 and can add a dynamic effect to expansive areas like a living room. She also suggests black-and-white designs or incorporating bold, moody colors. Apprehensive about tackling this trend? "Start with a smaller space," says Mackey. "Powder rooms are the perfect spaces to try new design trends."
JUST A TRIM
Daring paint colors aren't just for walls. "Trims no longer have to be a pop of white, but can be painted the same color as the walls for a more monochromatic, crisp, luxury feel," says Mackey. While you're at it, paint your ceiling, too, for a more cohesive look. "Painting the ceiling the same color as the walls and adding crown molding can actually make the space look larger and the ceilings feel higher," she says.
GO GREEN
"Another way to get your home ready for summer is to add green," says Mackey. "Green sofas and green walls are trending. It's a color that goes with almost everything, so you can't go wrong." If you're not interested in a jade sofa or accent wall, Mackey says you can incorporate the color subtly by adding green houseplants to your home. "Not only are they great for health reasons, but [they] also brighten up any space. Some of the easiest indoor plants to manage and keep alive are ZZ pants, rubber tree plants, and fiddle leaf figs."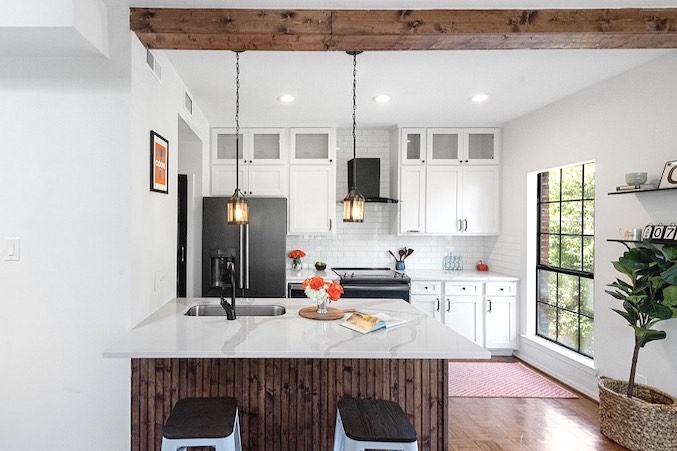 MAKE A STATEMENT
Mix and match bold patterns like floral prints, animal prints, stripes, or geometric designs to make your home more vibrant. Mackey recommends keeping your summer refresh cost-effective by switching out a duvet, putting a custom sofa cover over the couch, or using patterned wallpaper. "Peel and stick wallpaper is a good way to try a trend without damaging your paint or spending tons of money," she says. The kitchen is another great space to incorporate little pops of color. "Adding graphic paintings, colorful rugs, fresh colorful flowers, and vibrant dishes can transform your white kitchen easily and cost-effectively," says Mackey.
Courtney Warren Home
LIGHTEN UP
"The best use of trends this summer is to incorporate softer, lighter fabrics in places that are easy to change out," says designer Courtney Warren. Time to put away anything that reminds you of winter, like fire logs, heavy rugs and draperies, thick candles, and blankets in materials like sheepskin or faux fur. "Replace them with light linen throws that breathe and won't feel stifling on a Texas afternoon," she says. To keep an interior natural and airy, Warren also loves to use fresh flowers, rattan furniture, deep pile-woven rugs, and reclaimed wood.
EMBRACE THE OUTDOORS
With warmer weather and longer days, there's even more reason to take advantage of your outdoor space, says designer Courtney Warren. "Get party-ready by cleaning the deck, firing up the grill, and refreshing the outdoor pillows and rugs." When dining outside, Warren loves to use fresh flowers and coastal blues to create a summery tablescape.
Monica Wilcox Design
MIX AND MATCH
"This summer, I plan on using a lot of tribal, ethnic patterns and bold jungle prints," says designer Monica Wilcox. "Then I plan on neutralizing with black and white, and mixing in metallics like silver or gold, whether it's in the light fixtures or the décor."
GLOBAL GOODS
"Since we can't travel right now, this is the best time to bring beautiful African prints into your home or gorgeous silks from India or Turkey," says Wilcox.
MIRROR IMAGE
"Symmetry is also an essential element of summertime design as it helps to create balance and harmony," Wilcox says. "By adding the slightest symmetry, such as matching the pillows to the drapes, you'll end up with a more structured look."
LET SOME LIGHT IN
With summer comes lots of natural light. Wilcox recommends embracing the sun but balancing it out with window treatments. "Not so much the heavy layering, but definitely bold prints, textured heavier linens, and silks are often the top choice," she says. "I suggest dressing prominent windows, but allowing some windows to be free of window treatments for a nice balance."