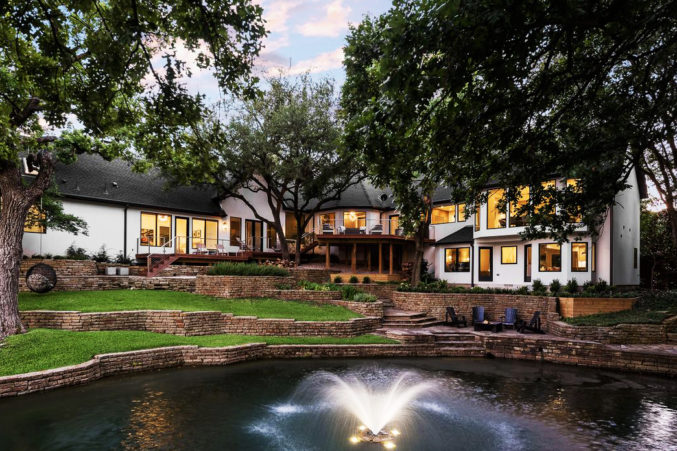 Hot Property: A Secluded, Contemporary Home With a Killer Backyard
You had us at tree swing.
When I came across a listing for 5615 Harbor Town Drive, I was certain the home was on a shady street in Preston Hollow, on a quiet cul-de-sac of Lakewood, or along the banks of Turtle Creek. Set back from the street a bit, it's effortlessly serene and secluded, just as homes in these coveted neighborhoods aspire to be. My guess was way off–this gem is in Far North Dallas (so far, in fact, that it's technically in Collin County). Perhaps you, like I, have fallen into a rut of browsing real estate only within the confines of 635. I'm here to tell you, dear readers, that this home is worth branching out for.
The façade on this build is contemporary yet classic. Beautiful brickwork complements matte black roofing and wood paneling, and the black iron window frames match the tasteful glass front door. Landscaping works with the home's angles, rather than competing with them; gnarled trees shade the roof and front steps, while precisely planted shrubbery matches the home's clean-lined exterior.
Inside, a crisp black-and-white color palette ensures that the 1980s home feels modern and fresh. Large windows in the kitchen, dining, and living rooms bring the outside in, with the leaves of the treetops fluttering against them. Cathedral ceilings use bright white shiplap to bounce light around and maintain an airiness.
Though we love the home's tiny details (eye-catching marble backsplashes, midcentury light fixtures, and more), the true star of the show is, indisputably, the backyard. A private lake, accessible only by three or four other neighbors, stands just behind the home, lightly rippling from a submerged fountain. Enjoy the view from a multilevel wooden deck with chrome wraparound railings. Seating options are abundant: Adirondack chairs by the waterfront, chaise lounges on the deck, a fire pit table and chairs for chilly nights, and more. A tree swing, oscillating above the multi-level landscape design, invites you to curl up inside.
In short: it doesn't get more zen than this.