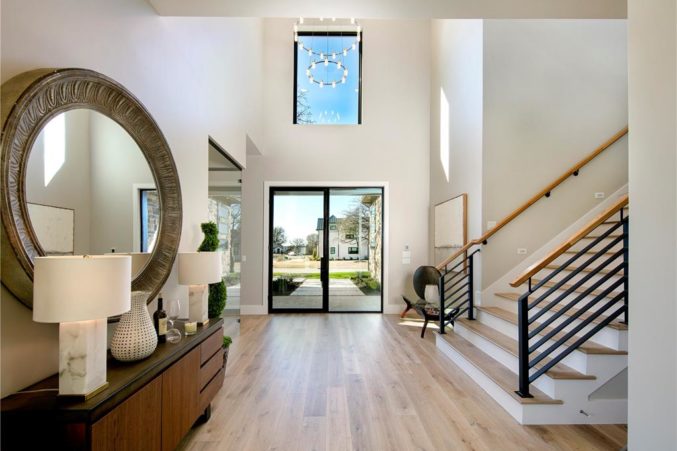 Hot Property: A Chic Sanctuary in the Suburbs
Freshly completed in December 2019, this understatedly elegant home is ready for its future owners.
5701 Oakleigh Lane is nestled in a gated community in the heart of Colleyville. We know what you're thinking, Hot Property readers, but get the image of a quintessential tract home out of your head. This Atwood Custom Homes build is a far cry from cookie-cutter.
The exterior is modern; the stonework is complemented by a palette of creams, whites, and browns as muted as milky coffee. Large glass windows and doors pop thanks to their matte black iron borders. Full-grown trees surround the home, and a contemporary concrete walkway cuts through the bright green grass, drawing the eye toward the front door.
Inside, windows invite rays of sunshine to bounce off bright white walls, ensuring that the interior (all 5,000 square feet of it) feels light and airy. There's no question that this home is family-friendly: it boasts five bedrooms, each with raised ceilings, substantial windows, and wood flooring. (A massive laundry room doesn't hurt either.)
Our favorite feature? The stunning in-home office. Enclosed by glass walls and a glass door, the room continues the flow of the open floor plan, but still offers a sense of seclusion.
The backyard overlooks a private park filled with trees. An outdoor living space provides an ideal setting to enjoy the view; motorized screens, a fireplace, and a cooking patio are on hand to elevate the experience.
This gem of a home is move-in ready and worth a visit. Check it out in person this Saturday or Sunday, from 1 to 4 p.m.