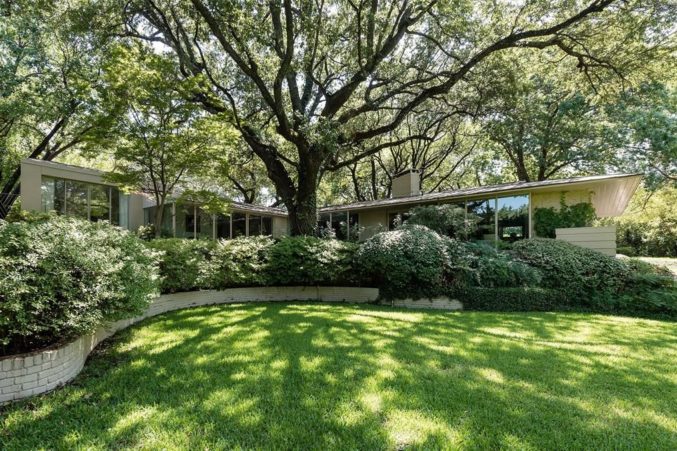 Hot Property: A Palm Beach Architect Takes on Dallas
A Frank Lloyd Wright protégé builds a mid-century classic in Devonshire.
Admittedly, there are a few things some might consider dated at 5315 Rock Cliff Place. There's a floral curtain situation in the master bedroom that I don't expect will make a 2020 design trend comeback. Another botanical wallpaper event makes its mark in the kitchen, and though I believe it's sort of perfect, it may not be everyone's cup of tea.
But those are minor details, easily tweaked to match a new owner's aesthetic if they so choose. What is not so easily tweaked is what should absolutely never be: the 1952 structure by Byron Simonson, a noted Palm Beach architect and protégé of Frank Lloyd Wright. Skylights and walls of glass windows bring in the lush Devonshire surroundings. A master bedroom offers an intimate view of a serene outdoor setup, and the master bathroom practically immerses you in your leafy backyard.
An understated pool blends in perfectly with the well-manicured grounds, and fronts a glass-walled guest house (one with a full kitchen) that might have some of the address' most interesting surroundings.
In all, it's a rare opportunity to own one of Simonson's Dallas works, and a true mid-century classic on a rolling estate (another local rarity).