Give the Gift of French Design
Betty Lou Phillips' new book, "French Refreshed," makes a perfect addition to your coffee table.
By Mary Grace Metheny
Published in Home & Garden
December 17, 2019
2:49 pm
Celebrate the holidays with good design. For the aesthete or Francophile in your life, veteran designer Betty Lou Phillips's new book, "French Refreshed," makes the perfect gift. Phillips recently signed copies of her book at Highland Park Village's Ralph Lauren on October 2 and at Ellis Hill on November 12. Here, we sat down with Phillips to learn a bit more about the project.
D Home: Tell us about the ways in which you go about mixing styles and eras.
Betty Lou Phillips: Inspiration does not always come from within. We happen upon it in our travels, during excursions to museums and the theater, on fashion runways, and, quite naturally, in the design industry itself.
Taking our cue from the French, we begin reworking a site by building around a treasured wood piece (or two). We then meld styles, merging contemporary furnishings with existing or earlier influences, while keeping in mind that some furnishings simply are not meant to share a setting. Ultimately, design is a balancing act. The most inviting areas are often awash in furniture set on an angle, floating in space, thus opening up the room and perhaps, above all, resulting in a sense of ease.
Teaming the understated with more grand [pieces] reflects French schooling. Replacing the skirted table with a bar cart instills contemporary flair. Window treatments that puddle or pool no longer work in contemporary settings. (The difference between curtains and draperies? Although both are window coverings, curtains are lighter, thinner or sheerer. Since curtains aren't lined, they don't block the light, nor do they guarantee privacy. Draperies exude a more formal look.)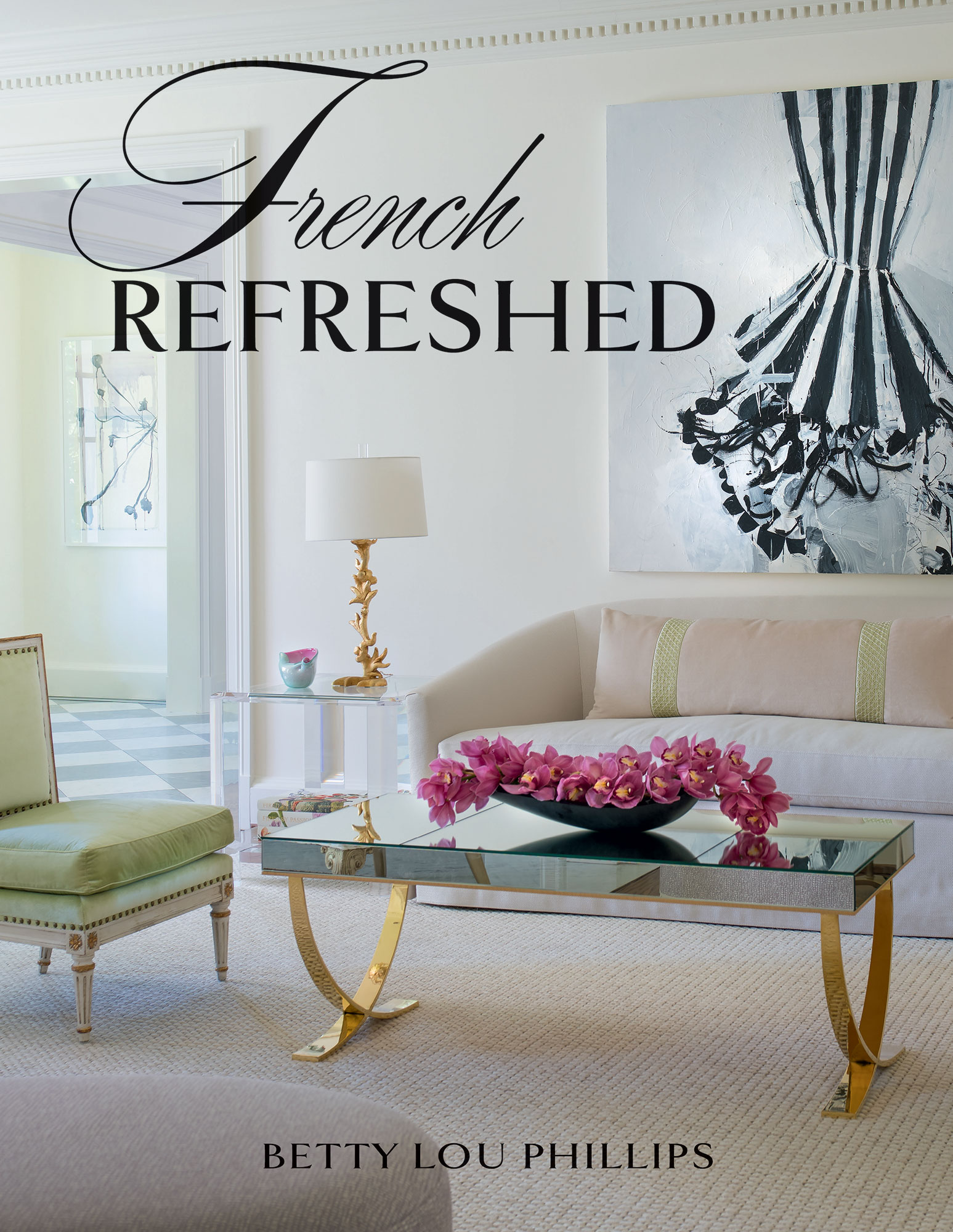 DH: What inspired you to write "French Refreshed?"
BLP: Like millions of Americans, I was—and remain—struck by the flair of the French. And why not? With their self-assured approach to design and way of projecting a rich cultural heritage with sophistication and lack of showiness, they quite rightly have captured our respect. The land that produces the world's choices Champagne, cheese, and chocolat—not to mention haute fashion by Chanel, Hermès, Louis Vuitton and Lanvin—shows no sign of loosening her grip on the planet's tastemakers.
For a while now, we have been layering possessions with classical French lineage with clean-lined, compelling furnishings that temper the seriousness of everyday life. We've been opening the window to a world awash in options, nodding to the past, and pushing the  borders of luxury, whether redefining, reimaging, or refreshing French design.
With designing and writing my passion, proposing French Refreshed for a large audience was only natural.
DH: How has French culture influenced your own design concepts?
BLP: Like millions of other Americans, I am struck by the flair of the French, so it is only natural to take a cue from a people who leave nothing to chance. A dear friend—a journalist who went to Paris for work as a fashion editor and stayed for love—has been my window into France, its culture, and the lifestyle of its people for more than thirty years. As a result, I like to think of myself as a translator of Gallic style for American tastes, tailoring a chic blend of cosmopolitan glamour to each client's desires and needs.
"French Refreshed" can be purchased at Ralph Lauren in Highland Park Village or here on Amazon.