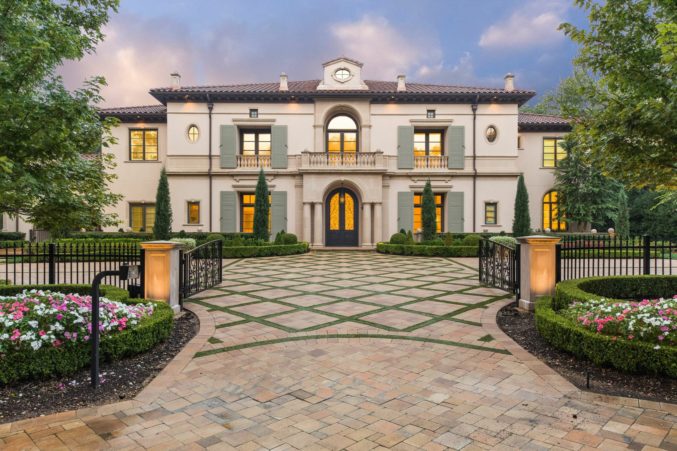 Hot Property: An Opulent Custom Home in Preston Hollow
Please join me in ogling this Italianate manse.
Can you count all the chandeliers in 10121 Waller Drive? I keep trying and I can't. There are several big glittering ones, but then there are smaller pendants in areas like the glass-enclosed wine cellar. Do pendants count as chandeliers? It depends! Or take this photo, for instance. Is it a chandelier-style sconce or does this room straight up have two chandeliers?
It's a futile and not particularly rewarding endeavor, but the point is, a bedroom at 10121 Waller Drive could totally have multiple chandeliers. Everything about this home, designed by architect Lloyd Lumpkins and built by Bella Custom Homes, is pure opulence. Even the driveway, with its pristine, geometric turf, classic columns, and a low-pitched hip roof, is a work of meticulous art.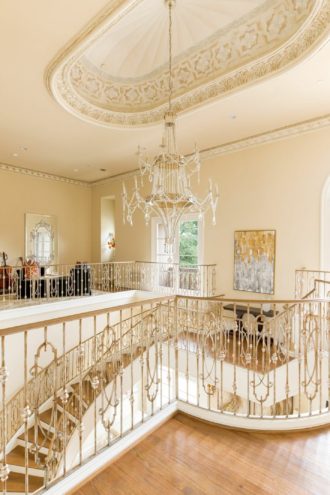 The fact that this isn't a home of one of The Real Housewives of Dallas is an unbelievable missed opportunity.  Just think of the dinner parties that could be had with that wine cellar setting the scene. The meltdowns we could witness in this walk-in closet. The entrances that could be made on this stairwell. If you added a little more pink, this home would have "Kam" written all over it. I don't know. Something to think about.
Anyway, all 10,000-plus square feet of this Preston Hollow manse is newly on the market. Whether Bravo catches them or not, the future parties will be solid.