A Dallas Couple Creates a Spa-Like Retreat Downtown
Nothing is accidental in Lindy Corley and William Tyler Story's apartment.
By Meghan Lally
Published in Home & Garden
August 23, 2019
10:10 am
Interior styled by Lindy Corley
When two creative minds come together to design a space, aesthetically pleasing results are inevitable. But it's not always the case that each decorative decision tells a story.
Lindy Corley, a prop and fashion stylist, and William Tyler Story, a model, painter, and Instagram influencer, met in their downtown Dallas apartment's gym during a chance afternoon workout and began dating almost immediately. This past January, they moved into the building's two-bedroom penthouse, which they've transformed into a retreat from their fast-paced lives.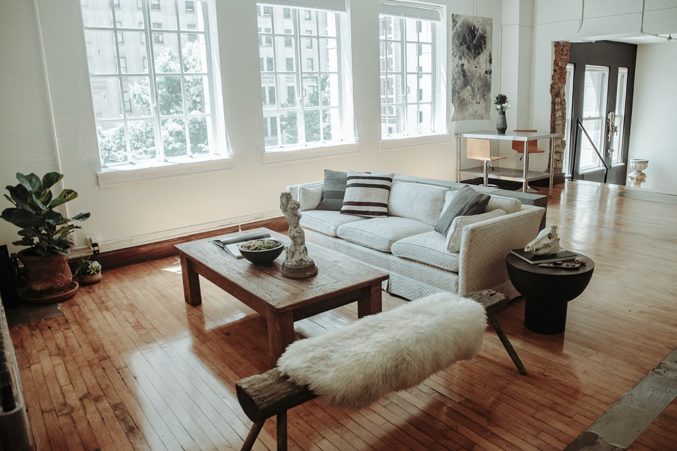 To create a zen environment, Corley and Story went minimal, curating a selection of natural pieces (petrified wood, tumbleweed, cotton branches, and beach rocks) as an ode to the outdoors, which according to Corley, makes them feel calm and centered.
"You know when you go to a spa that has white walls or moody lighting? You might see a beautiful piece of pottery or a statue, but there's nothing else besides a few candles flickering, and it makes you, or at least us, feel calm," says Corley. "We're not being overstimulated."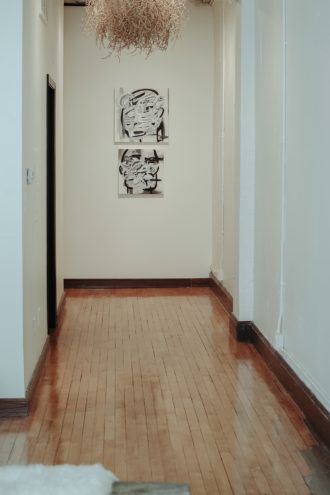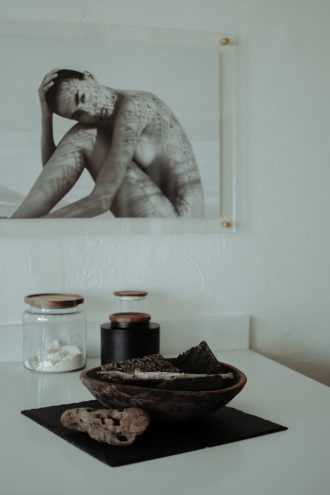 Corley and Story have designated a focal point in every room, choosing each item and furnishing deliberately. The end result is a space that not only evokes serenity, but tells a story of the places they've been and experiences that otherwise might have stayed archived in their mind.
"We didn't want to fill up walls or space just because. We wanted each nook of our apartment to read as genuine," Corley says. "It was important for us to feel our presence throughout our home, incorporating Tyler's art, my styled photography, as well as pieces from our travels."
If black is the base color of their apartment's design, then cement is the base material, whose clean but textured look complements the space's organic feel. To complete the ambience, the pair burns Le Labo candles or Palo Santo—an incense that is said to provide a positive energy in the environment.
Scroll through the gallery for a peek inside their space and more on the origin of their creative decisions.