Chayce and Hannah Wilson are the husband-and-wife duo behind Blank Slate Renovations. They flip homes across Dallas, turning unwanted properties into hot commodities. Having married young, the couple was initially focused on their respective careers, only conducting home renovations on the side. After realizing they had a knack for it, the two quit their jobs to pursue design and renovation full time. They restarted their lives with Blank Slate, which Hannah says is representation of the couple's personal story, career ambitions, and how they approach renovations.
Recognizing that the market is especially saturated with HGTV home renovation couples, Hannah and Chayce find their edge in experience. Chayce flipped his first home when he was 17 years old in 2003, long before the pop-culture craze. They're not interested in what they like to call "lipstick flips": slapping some paint and carpet in a home and putting it right back on the market. Both Chayce and Hannah prioritize design and quality.
When asked whether or not their design styles ever clash, Hannah said that, for right now, their styles are almost perfectly aligned. "When one of us gets a crazy design idea, the other either jumps on board or reigns the other back to reality," she says. "We've been pretty successful at finding our design sweet spot—so far."
Having moved more than 16 times through their 12 years of marriage, Hannah shares that Dallas is the only place that has ever really felt like home. With that sentiment, the city is also just the right spot for them to make a mark with their signature, bold statements. In choosing a home to renovate, they say a successful flip is a numbers game. They look for large value-add opportunities, usually taking the "dumpiest" home on the block. "It's the one that most people run away from screaming," she says. An example: the recent remodel we've included in our slideshow.
The couple decided to push the boundaries of neighborhood norms by painting the exterior of the home white, a sharp contrast to that of all the red brick homes surrounding it. The interior features black accent walls, board-and-batten-style effects, and two-tone hexagon tiles. While the process took a little longer than anticipated—about six months—the final result was a happy surprise.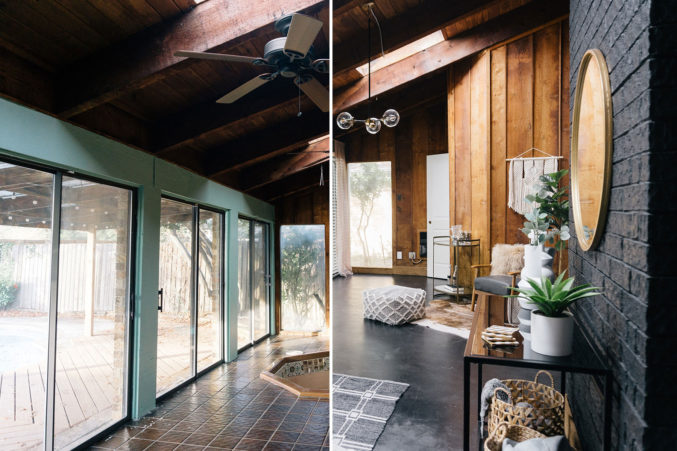 Their favorite feature in the finished home is the sunroom, something Chayce and Hannah had initially deemed their largest renovation obstacle. The couple managed to breathe new life into the space, converting a somewhat awkward room into an additional sitting area. "You can enjoy a good book, host a dinner party or watch the kiddos splash in the pool, all with the comfort of the AC," says Hannah.
*Visit our slideshow for more before-and-after photos. 
Get the AtHome Newsletter
Enjoy Dallas' best trends, hot properties, and tips from local designers to help you nest in style delivered weekly.