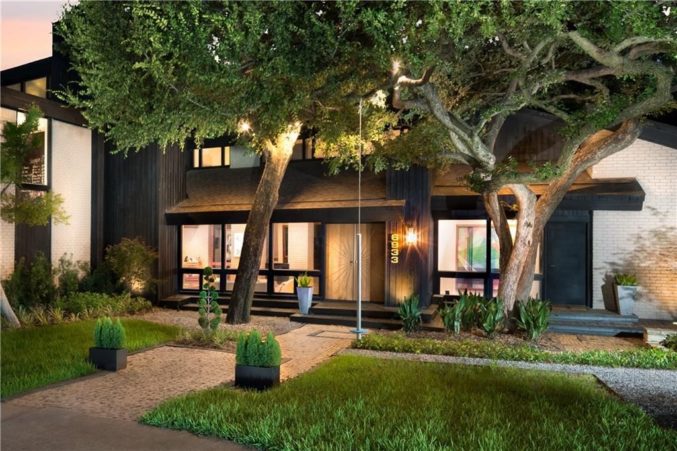 Hot Property: A Dreamy, Treetop Escape in Lakewood
The '70s-era gem recently underwent a major revamp.
It's not often that we repeat an "Open Houses" listing as a "Hot Property," but local real estate posting rules were never made at all, and therefore cannot be broken. Plus, 6933 Delrose Avenue is, like, really pretty. And a beautiful example of thoughtful renovation. And features an extremely fun-looking zip-line situation only a home in a nature-centric neighborhood like Lakewood can achieve. Go on this journey with us!
Dallas architect David Ludwick originally designed 6933 Delrose as his own longtime residence back in 1979, and it received a loving update from another AIA architect, Eddie Maestri, in 2017 (the home was actually featured on the AIA Dallas Home Tour last year). Passionate preservationist that he is, Maestri was careful to maintain the home's glamorous '70s vibes. A brass starburst adorns the front door, a wall of windows connects the interior with the property's treetop views, and a mid-century fireplace in the heart of the home takes its painted brick to the top of a soaring ceiling.
More modern touches include an ultra-cool kitchen, with rift cut white oak cabinets, a Sub-Zero range, quartzite-quartz countertops, and brass lighting that—though minimalistic—really brings it all together. And then of course there's that zipline, taking participants from the tri-level deck (which spans the length of the home) to… it's a bit unclear, actually. But regardless, we're sure it's quite the ride.