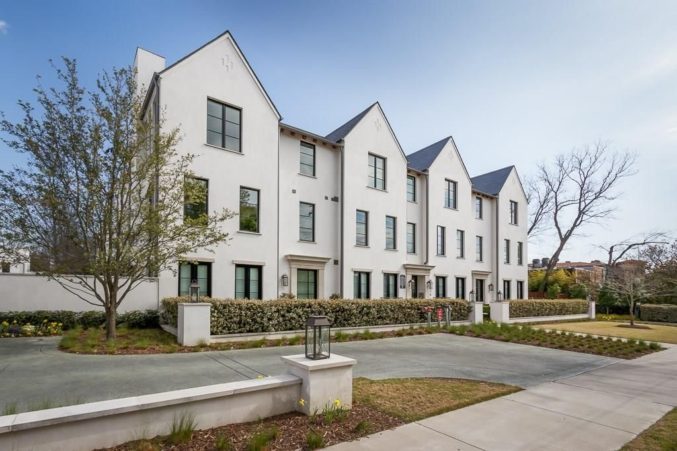 Hot Property: A Timeless Highland Park Townhome Off the Katy Trail
Take a peek inside this compelling contemporary.
In Highland Park, you'll find opulent mansions on every street, pretty brick builds at every corner, a scattering of ultra-modern houses here and there. But you'd be hard-pressed to find anything resembling the townhomes at 4502 Abbott Avenue.
Who exactly, we pondered, lives in these lock-and-leave townhomes at 4502 Abbott? If you were to knock, would a door be answered by a pair of sophisticated retirees who love to travel and take their grandchildren to nearby Wild About Harry's? Or perhaps a bachelor, with an interior full of dark leather couches and toys for his Frenchie? We may never know.
What we do know, however, is that we'd happily move into unit 214 now that it's on the market, no matter who our neighbors may be. The exterior is sophisticated and minimalist (like something you might find in all-white Alys Beach). Clean lines are punctuated by dark iron windows, and carefully curated landscaping hugs the paths of each walkway. Stroll into the communal courtyard and you'll find a plethora of sitting areas, bubbling fountains, and even a putting green.
Step inside to be welcomed by dark wood floors, bright white walls, and sun streaming through the windows. Finishes are simple, and nothing is too showy. The elegant and understated design choices create a fuss-free aesthetic, where everything from Midcentury, clean-lined furniture to color-filled gallery walls could find a home.
To future residents: please report back when you've learned who your neighbors are and what life is like inside those intriguing white walls. In the meantime, we'll continue to drive by and daydream.