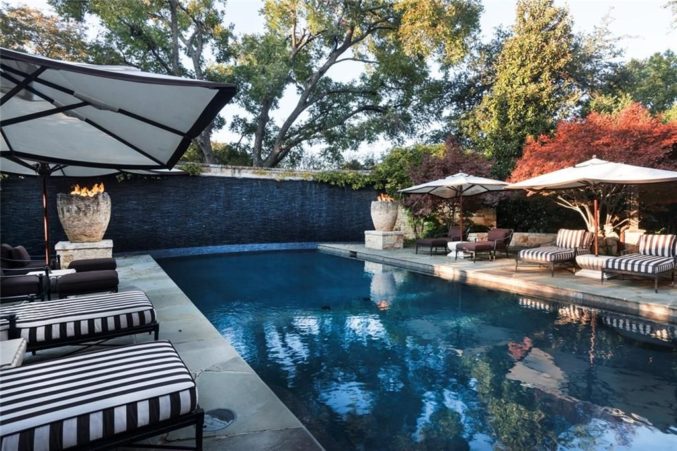 Hot Property: A Moody Mansion in Preston Hollow
Y'all can keep your "bright and airy" new builds.
We all have our word crutches. For me, particularly when I'm writing about real estate, they tend to be "light," "bright," and "airy." (If you're thinking all of those modifiers mean exactly the same thing, you're correct. I'm not proud.)
Part of this can be attributed to laziness, sure. But the other reason for my occasionally less-than-inspired way with words is the current look, which just so happens to be–I'm so sorry to say—bright and airy.
So it's refreshing to see a glorious Dallas listing like 5031 Deloache Avenue, which eschews crisp white walls and practically iridescent finishes for richer hues. That fills its surface areas with dark wooden beams and textured walls made of sophisticated stonework and wainscoting. In general, I get very excited to see that picture-frame-hung-on-library-bookshelves thing. Of course, in this Preston Hollow home's case, the library bookshelves are brooding and elaborately detailed all on their own—the hanging frames are nowhere near the most interesting thing about them.
This is a home that begs for copper cookware (stored so everyone can see it), and the furniture from Restoration Hardware so giant that you can't imagine where it could possibly live comfortably. A home where I didn't even notice a massive, leopard print rug until my fourth time through the online slideshow.
I'm obsessed with this home and all the things in it, particularly the "wine basement" and the gorgeously appointed pool and patio that goes heavy on that sophisticated stonework. Until next week, dear readers, when things inevitably shift back to what's en vogue and I have to whip out my thesaurus once again.