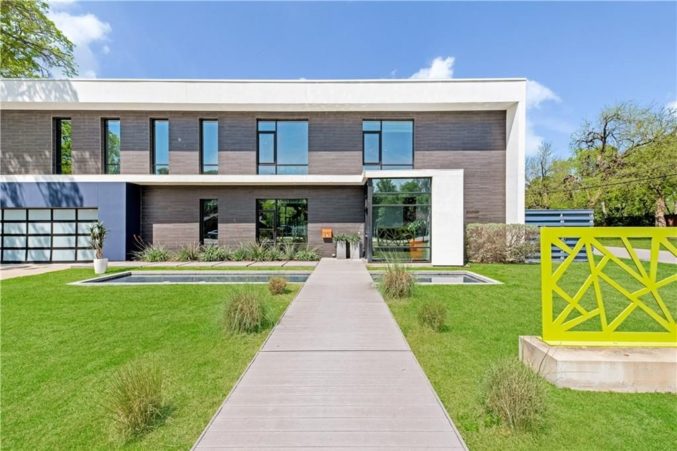 Hot Property: A Bold Custom Build in Devonshire
A collab between a Madrid-based architect and a Mexico City designer, 5771 Berkshire has a look that's all its own.
I don't drive around Devonshire often, but if I did happen to be up north, I'd certainly notice 5771 Berkshire Lane. Not just for its boxy modern façade, but for its landscaping—the purposefully uneven drive up to the garage, the bicycle sculpture that looks plucked right out of a park, and the straight up pool (or moat, if you will) just beneath the boardwalk walkway.
It's a lot to take in at once, but its apt preparation for the interior, which might feel busy if it weren't so thoughtfully planned. The project, designed by Mexico City designer Ana Seyffert and Madrid-based architect Antonio de la Carrera, is in line with your typical contemporary new build (open floor plans, light finishes, etc.), but there's a bit more to it all than meets the eye. The ample windows are commercial-grade, the bright and airy finishes are made of organic materials, and the high-end lighting fixtures were custom-made. Built-ins and interesting partitions abound, and the floating stairwell, touted as the "centerpiece of the home," does not disappoint.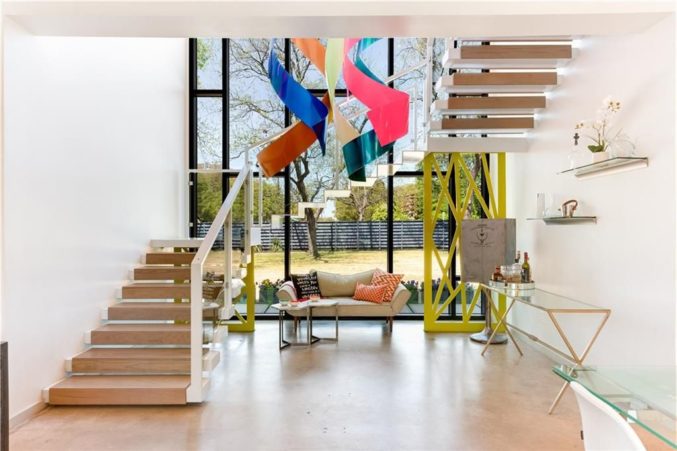 5771 Berkshire's boldness won't be for everyone, but it will be perfect for someone, and isn't that sort of beautiful? If we all loved the same things, how boring would life be? The answer is very boring, which is the opposite of the energy that the custom design sculpture anchoring the floating stairwell is giving off. Visit our slideshow below to take it all in.