Five Homes, Five Different Styles of Stone
The Stone Collection helps you find the right slab for your dream home.
By D Partner Studio
Published in Home & Garden
April 26, 2019
7:00 am
Choosing the right stone for your space informs the rest of your house. Whether you're building a modern manse, decorating a rustic getaway retreat, or remodeling your Tudor's kitchen, make sure you choose a stone that complements the architectural style of the house. But before you start to design, do you know your quartzites from your granites from your Calacattas? If you do, you rock. But if you don't, there's no need to lose your marbles just yet! We asked the experts at The Stone Collection to choose the perfect selection for five types of homes. The showroom's expansive inventory (over 10,000 slabs in Dallas!) of first-quality stone boasts just about every shape, size, color, and material. Each slab is displayed gallery-style, so it's easy to view each piece to make sure it's right for your space. Read on to see what they picked, and stop by and visit the 100,000-square-foot space chock full of rock-solid options. No appointment necessary.
Rustic Contemporary
Stone Choice: Quartzite or Granite
It's all about showing off some natural beauty. Rustic contemporary boasts simple color schemes, clean modern lines, exposed beams, and scenic windows with tons of natural light. Think: natural hues and accents inspired by nature. Most have open floor plans and touches of textures like cowhide and suedes. Stick to natural tones for the countertops and backsplash, such as granite or quartzite—they mix well with the modern cabinetry and windows. Plus, the stone is durable and easy to care for. Here, Sea Pearl quartzite is used in both a dramatic waterfall countertop and backsplash.
Midcentury Modern
Stone Choice: Caesarstone Quartz
This design style is best characterized by open, efficient floor plans, clean lines, modern style, and personality with pops of color. You'll also notice that most midcentury modern kitchens are galley-style, with the island and countertops running parallel. For this reason, select a stone that doesn't distract from the clean lines or interiors. Most midcentury homes are outfitted with rich, natural materials such as walnut, so stones with lots of movement may disrupt continuity. Caesarstone offers up more than 100 colors and many styles, which makes it ideal for interiors. It's heat-, stain-, and scratch-resistant, so it's perfect for the kitchen. It even retains its beauty without any sealants or waxes. You can preserve the beauty of your stone along with the beauty of your midcentury architecture.
Modern Farmhouse Kitchen
Stone choice: marble or soapstone
If you're a fan of shiplap, wood cabinetry, and subway tile, the farmhouse is probably on your list of dream architectural styles. (Oh, how we love a farmhouse sink.) Because most accents in the kitchen are neutral or white, add warmth with textures, like Carrara or Calacatta marble or contrasting soapstone. Remember, marble is susceptible to etching when in contact with red wine, lemon, or tomato juice; go with a matte, honed finish, and any etching that occurs will become part of the stone's story and add character. Soapstone is more resistant to chemicals and heat but still may scratch. To that we say: beauty is in the imperfections! In Photo: Design by JC Custom Remodeling
Sleek, Minimalist High-Rise
Stone Choice: Neolith or Geoluxe
Our version of a dream high-rise is an urban industrial style with concrete floors, exposed ducts and pipes, high ceilings, large windows, and iron columns and beams. For this, go for a stone with a durable aesthetic such as Neolith. The all-natural, high-performance material is comprised of granite materials, glass minerals, and natural oxides. Neolith brings life to a surface that is extremely resistant to scratching, high temps, and chemicals. Along with near zero porosity, it is a perfect fit for any kitchen surface. Geoluxe is another fantastic option. Made from a mixture of 100 percent mineral-based materials, Geoluxe is sophisticated but sleek, and its realistic marble-like veins make it a fresh choice for a minimalist high-rise or condo kitchen. Consider pairing with a natural stone backsplash to bring in some warmth.
Traditional Colonial Revival
Stone Choice: Quartzite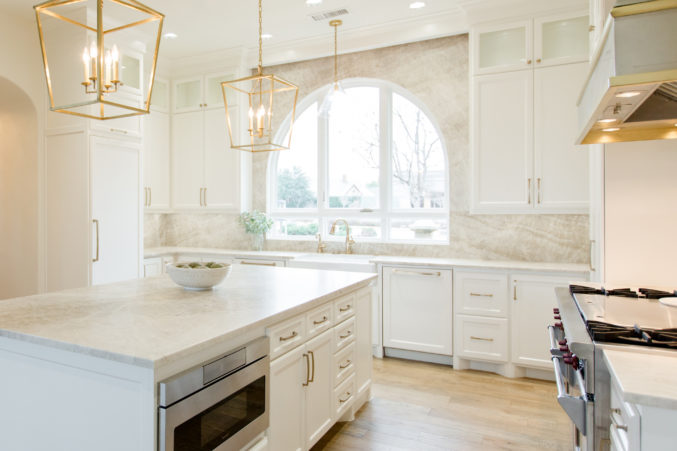 Inspired by history, Colonial Revivals usually feature muted, traditional colors in the kitchen, which include high-quality woods and fixtures and antique hardware in metal like oil-robbed bronze. Durable materials such as quartzite are fantastic choices. Quartzite's exceptional strength, density, and hardness make it resistant to almost all elements, allowing for its use in almost any application. Quartzite will complement any period-inspired features of the home, as well as have color palettes that easily tie in the various woods and hardware featured in a Colonial design. Select a complementary natural stone backsplash to create more variation. In Photo: Design by JC Custom Remodeling
Learn more about The Stone Collection here.