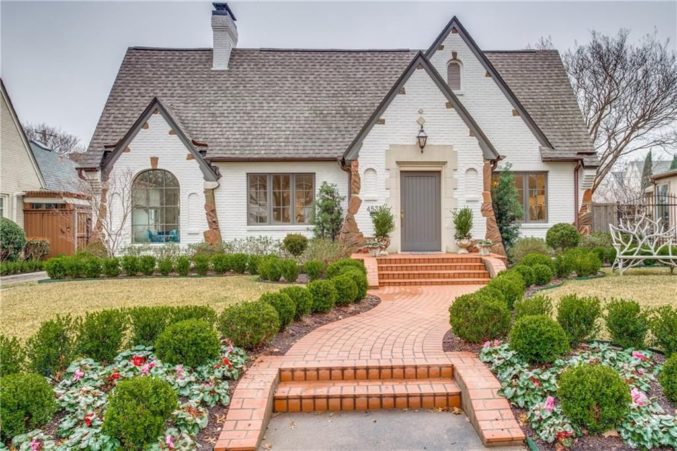 Hot Property: A Picture-Perfect 1930s Tudor in Highland Park
If Taylor Swift's song "Delicate" was a house, it would be this house.
I don't care how you feel about Tudors, or three-bedroom homes priced at over one million dollars (Highland Park, baby), or kitchens so white they're practically blinding — 4533 S Versailles Avenue is lovely. It's well-preserved, 1930s-era lovely. It's a teeny tiny lantern over a cute front door and white-painted bricks lovely. If Taylor Swift's song "Delicate" was a house, it would be this house. (Which makes you wonder what other Dallas houses could be T. Swift songs. What does "…Ready For It?" look like in home form? I bet it would be some sort of clunky blend of old and new trends, but that's just my opinion.)
I digress. Once inside the real estate version of some sort of gossamer aura, things get unsurprisingly feminine. There's a lot of light, linen furniture, a butterfly painting, and a slew of white fur pillows. There's a very pretty headboard in a girl's room that I believe is a John Robshaw piece. These things may or may not float your interior design boat, but it matters not. What matters is the gleaming hardwood floors throughout, the living room's white marble fireplace, a chandelier-festooned dining nook, the porcelain farmhouse sink, and the cozy, intimate way Tudor homes tend to lead you from room to room.
Is it cool that I said all that?