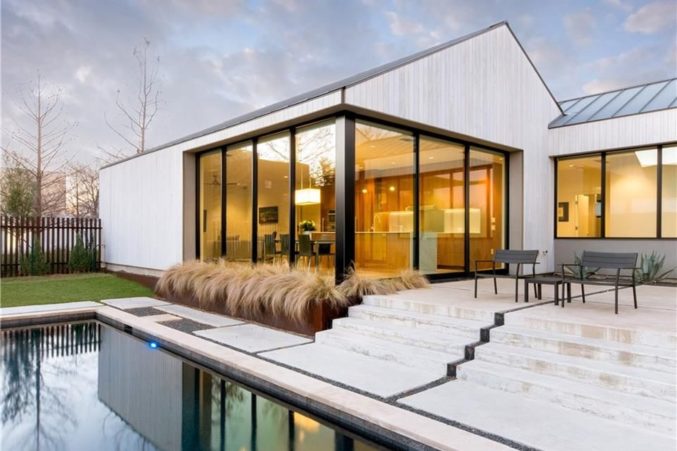 Hot Property: A Custom, Canopy-Equipped Dream in the Urban Reserve
In a neighborhood full of standouts, 34 Vanguard Way still makes an impression.
I'm sorry if this is déjà vu for you. You're not crazy — I did just touch on this home in last Friday's open house roundup. And I don't love revisiting houses. It makes me look lazy, and I don't like to look lazy. But this house is so cool, and I'm worried I won't I may never get to talk about it again if I don't write this "Hot Property" today.
And, like, of course it's in the Urban Reserve, where all aggressively cool homes tend to be. That being said, after eyeing Dallas real estate for a few years, even the neighborhood's nature-inspired dwellings, all designed by award-winning architects, can start to look a bit homogenous.
But not 34 Vanguard Way, which manages to stand out amid all the other modern gems. There's so much attention to detail in the custom-built home, from the American walnut millwork used uniformly throughout to the simple, sun-soaked layout and smart home-ready rooms. In usual Urban Reserve style, the sustainability factor is high. High-performance Accoya acetylated wood siding lines the home, the air conditioner is 20 SEER, the water heaters are tankless, the roof is made of long-lasting standing seam metal panels, and the Toto Neorest toilet in the master bathroom is as ecology-minded as it is luxurious.
But 34 Vanguard Way's most memorable feature is it's backyard setup, with a 40-foot lap pool, concrete patio, and steel canopy surrounded by lush grass and gorgeous shrubbery. I couldn't stop looking at it, obviously.