All We Want for Christmas Are These Houses
Closing documents are so easy to deliver.
By D Home Editors
Published in Home & Garden
December 18, 2018
9:15 am
After another year scouring real estate listings for the hottest of "Hot Properties" in Dallas, we understandably fell in love with a few. So many, in fact, that we'd really like to use this post to wax poetic about them all. But we don't have all year, and what year we do have left is already pretty skimpy. So we each chose just one property so hot-to-the-touch we couldn't forget it.
We do it for you.
Sarah Bennett
Managing Editor at D Home & D Weddings
Property Status: On the Market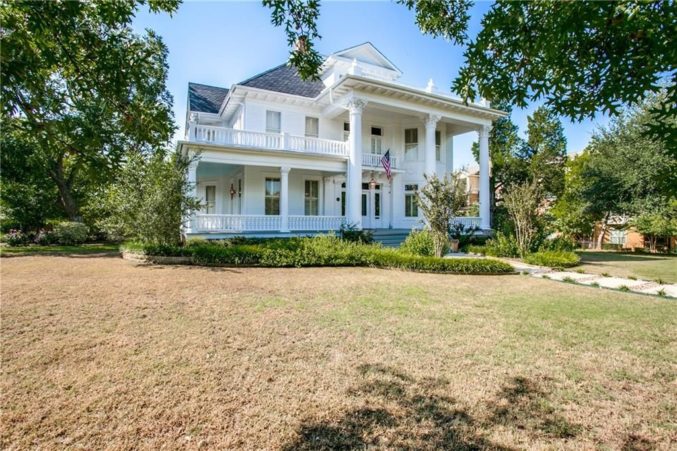 I love the idea of a big, white, historic home—but usually you have to go out in the country to get it. If you don't want to sacrifice access to a city for your own slice of history, there's this historic gem in Denton for a cool $1.7 million. The wrap-around porches and tall columns of the Evers Mansion are enough to bring a tear to my eye. 
Jessica Otte
Executive Editor at D Home & D Weddings
Property Status: On the Market
Looking at beautiful homes for a living is a blessing and a curse: As fun and inspiring as it can be, it also ruins you. You're just not going to be impressed by any ol' cut of meat when you dine on Wagyu Kobe beef every day. So when perusing real estate listings for our What This Buys You feature each issue, I usually have ice water running through my veins—I'm looking strictly for a good mix of price points, neighborhoods, and property styles. I am immune to charm. But then something like 1206 N. Clinton Avenue comes along. From the arched gables to the yellow front door to the cobblestone walkway, it is the storybook definition of adorable. And lucky for me, it's currently on the market.
Santa, I've been really good this year.
Caitlin Clark
Associate Editor at D Home 
Property Status: Off the Market (too hot!)
There's a lot of name dropping involved with this home, a veritable who's who of Dallas design talent and what's what of high-end brands. Architect Wilson Fuqua (for reference) and decorator Cathy Kincaid (also for reference) lent their discerning eyes to a 2013 remodel of the iconic 1930s-era Spanish Colonial in Highland Park. Inside, you'll find custom Gracie wallpaper, Ann Sacks tile, P.E. Guerin pewter hardware, and custom-mixed Farrow and Ball paint colors. You'll also find a Finnish sauna, hot and cold plunge pools, and a covert, climate-controlled wine closet.
Sadly, seeing as 3806 Beverly Drive is currently off the market, someone else is probably plunging in those pools at this very moment as their just-the-right-temperature wine teeters both worrisomely and winsomely on the edge. But there's always next year.
Morganne Stewart
Production Manager for D Home & D Weddings
Property Status: On the Market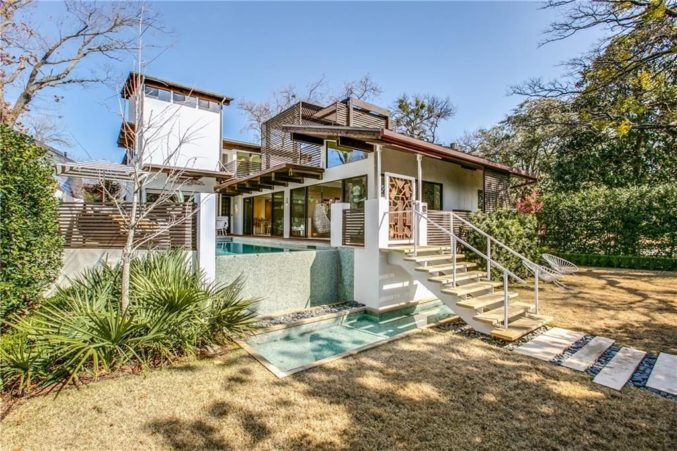 So being newly 30, I feel like the whole world is telling me it's time to get a house. So, I have been "shopping" for about two weeks, and all I want to do is rob a bank and steal all the furniture from the Design District! Especially looking in Dallas, where there are beautiful, huge houses like this one. I love 4801 Abbott Avenue so much because of all its character and color. The layout is also so cool — the kitchen's view of the pool, the patio space, and the fireplaces are just some of the greatest features. Also, I love that the house has that old (but not too old) 1970s feel, with a modern twist.
Trust me when you have lived in apartments for the last ten years, the last thing you want to see is plain white walls or the "modern' plastic kitchen, and boxy layouts. So Santa, either bail me out of jail after I steal the money for this house, or just gift it to me on the 25th. Along with a furniture budget, of course.