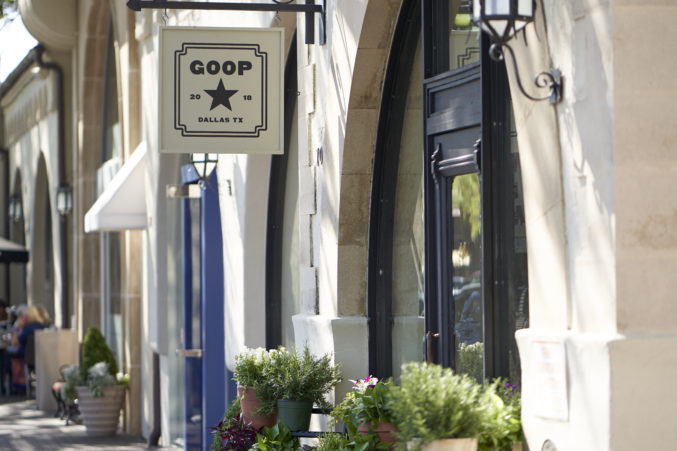 Where You Should Be Shopping in Dallas This Week
Neighborhood Goods debuts a new kind of department store in Legacy West, and Goop's infamous gift guide comes to life in Highland Park.
There are things to do, and then there are things to shop. Here are the local retail highlights this week.
We've attempted to imagine what the new retail concept from local entrepreneur Matt Alexander and real estate investor Mark Masinter will look like, but Neighborhood Goods may just need to be seen to be truly understood. Fortunately, we can finally witness the pair's fresh take on the department store this Saturday (November 17) when it opens its doors in Plano's Legacy West.
Goop's Gift Pop-Up
Each year, Goop's gift guide makes virtual waves for being, well, pretty Goop-y. Past installments have become infamous for carrying gifts such as a portable yurt, a $2,500 razor, or a camel milk subscription service. This year, Dallas will get to experience whatever wellness wonders Paltrow signs off on when the Highland Park Village pop-up transforms in a tangible way to shop Goop's sure-to-be-wild 2018 Gift Guide from November 15 to December 24.
This Wednesday, artist and designer Michael Aram (the man behind your friends' favorite wedding gifts) will be stopping by St. Michaels Woman's Exchange from 12:30 to 4:30pm with an exclusive jewelry collection in tow.
Stash Design's Sylvan | Thirty Pop-Up
Stash Design, the local masters behind your favorite clean-lined, reclaimed wood-heavy Oak Cliff interiors, is popping up for a limited time in Sylvan | Thirty. The sustainability-focused design firm will be selling one-of-a-kind furniture and custom accessories, such as cutting boards, modern wall hangings, and sculptures through the holidays.
Highland Park Village's monthly outdoor market returns this Saturday with plenty of fall-appropriate goods and new kid-friendly vendors. One new booth to watch out for: I See Waffles, which sells the authentic Belgian Liège version of the treat with a variety of toppings.